About midway through the year last year, I felt like my life was suddenly crashing down.
It started off with being notified that I needed to find a new place to live after I had just moved three months prior. This followed with bad news about a chronic health issue that I had been dealing with. In addition, when it came around to be "that time of the month" my PMS was at the absolute worst that it had ever been in my entire life. All I wanted to do was lay around curled up in a ball for an entire week. This all then concluded with a notice that I had been let go by my part-time job.
Needless to say, I panicked. I freaked out. I was overwhelmed with anger that all these things had to be happening to me all at once. I had a complete emotional and mental breakdown.
I felt like my body was breaking down. I felt like my entire being was breaking down. The only thing I could do -- or even have the physical energy to do -- was to cry.
... and that's what I did. I cried. I cried a freaking lot. And I did something else too -- I stopped trying.
I stopped looking on Craigslist for apartments and jobs. I stopped debating on what actions to take. I stopped pushing myself to do all these things in hopes to find a solution to all my problems.
Instead, I just did what I could. I let go and decided to go with the flow. I stopped trying and pushing myself and decided to surrender and take care of myself.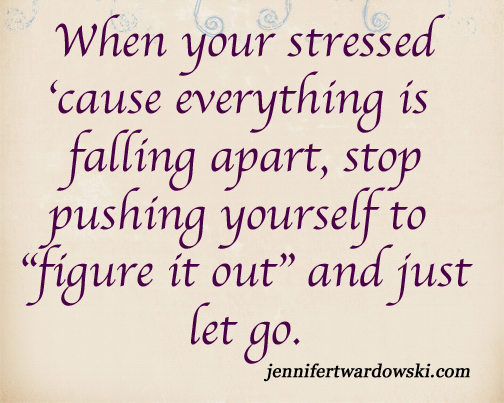 Click to Tweet: When your stressed cause everything is falling apart, stop pushing yourself to "figure it out" and just let go. via @jenilyn8705
It was then that I allowed myself to really relax and enjoy all of the incredible blessings that I had experienced around that same time, such as:
... having an astounding result to a TinyBuddha article of mine that I never would have expected!
... making new friends who are also life coaches or entrepreneurs.
... celebrating my amazing boyfriend's birthday.
... moving forward in my relationship by both of us exchanging our first "I love yous"
... finding out that my parents were coming to visit me the next month.
... a childhood friend finally having her baby.
... having the time (and living in an area) where I had the opportunity attend group meetings for extra support.
... and so much more!
Often times when we find ourselves in a period of our lives where everything seems to have been uprooted and we have everything but security, we find ourselves all stressed out and caught up with feelings of anxiety and anger over what happened to us. We find ourselves so caught up in these emotions that we completely overlook all the wonderful little blessings that are going on around us at the same exact time. We can find ourselves so incredibly focused on all the "bad" that is happening that we cut ourselves off from seeing the "good."
So what should we do during these moments of high-stress when it feels like everything in our lives is crashing down?
Breathe. Often times when we are super stressed out, we completely forget about the most essential thing that keeps us alive and healthy: Breathe. So stop and take a moment to take some deep breaths. Take a very deep inhale and allow your exhale to be longer than your inhale.
This technique of breathing where we do a longer exhale than our inhale is a great technique to help calm down the body and help us relax. I have personally used it on the nights where I'm having trouble sleeping to help me dose off peacefully and it has worked wonders.
Take time for yourself. When we're super stressed because all of our plans seem to not be working out, we tend to get so focused on fixing all of our problems and life challenges that we have forgotten the most essential aspect for our growth and progress: Our own personal well-being.
So give yourself a one- to two-hour break to simply do "nothing." For for a walk. Take a warm bath. Read a book simply for the joy of it. Cry... cry a lot. Eat and really savor a nutritious meal. Watch reruns of your favorite TV comedy. Focus on you and what you truly need for the health and well-being of your own mind, body, and spirit.
Reflect on your blessings. Moments before you go to bed, get out a journal and make a list of all of the blessings in your life. Is it a blessing that you have a certain amount of money in your checking account? Is it a blessing that you have a friend or partner to support you during this difficult time? Is it a blessing that you have made new friends recently?
Write down a list of all the blessings that come to you. After you finish writing them down, go through each one and say out loud to yourself, "I am grateful for _______" in order to really acknowledge to yourself and to the universe that you are thankful for all these current blessings in your life.
Take action now!
What are some of the blessings in your life? Share them in the comments below!
This blog was originally published on JenniferTwardowski.com
Jennifer is a self and relationship coach and teacher. She helps women worldwide create fulfilling relationships and lives by helping their hearts' true desires to become a reality. Click here for her Free Self and Relationship Healing Meditation.
Connect with her on Facebook, Twitter, and Instagram!