This easy apple pie recipe is a simple French twist on a favorite sweet treat: apple galette.
I needed an easy win. After my failed attempt last week at getting my kids to try a classic French leek soup recipe, I was looking for a confidence booster in the form of something simple and deliciously tasty to get us back on track with our 52 New Foods adventure. So I went right for the comfort food and decided to make an easy apple pie, French-style. So much for no emotional eating!
It was no surprise to me that my kids were excited about trying apple galette. A perfect combination of their favorite flavors and textures - crisp apples, gooey cinnamon, and flakey, buttery pastry -- it was a new food I knew everyone would enjoy. Inspired by Martha Rose Shulman, we decided to add this French-style, easy apple pie recipe to our list of 52 New Foods. Without a doubt, this will become a regular part of the lineup at our family table!
What we Liked: Although this is a sweet treat, this easy apple pie recipe has a minimum of sugar. Like Martha says, "It's all about the apples!" That's what we loved.

Get Jennifer's Easy Apple Pie Recipe on Crunch a Color.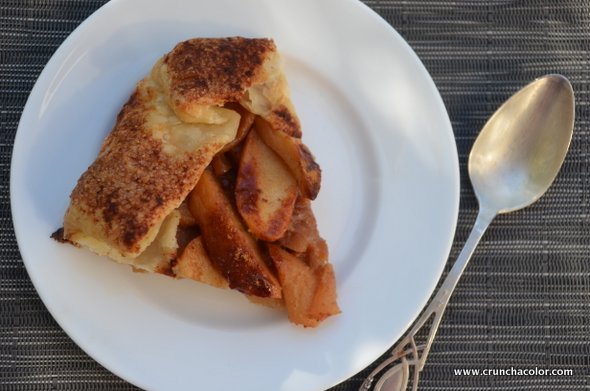 About the author: Jennifer Tyler Lee is a mom of two children and the creator of Crunch a Color® -- award winning nutrition games that make healthy eating fun. Like most parents, she struggled to get her kids to eat healthy, balanced meals, so she decided to make it into a healthy eating game and she's giving back to support non-profit kids' nutrition programs. Winner of the Dr. Toy and Parent Tested, Parent Approved awards, Crunch a Color® and Jennifer's 52 New Foods adventure has been featured by Jamie Oliver's Food Revolution, Rachael Ray's Yum-O!, Laurie David's Family Dinner, Kiwi Magazine, Dr. Greene, Yum Food & Fun For Kids, and Edible Silicon Valley, among many others, as a simple, fun and playful way to get kids to eat healthy and try new foods. Jennifer's passion is making mealtime fun and healthy for busy families. Her easy recipes, quick tips, and new food adventures are regularly featured at Pottery Barn Kids, Jamie Oliver's Food Revolution, The Huffington Post, and on her weekly recipe blog at crunchacolor.com.