While the Boy Scouts of America's discriminatory practices never cease to amaze me, it seems that they have a new partner in bigotry: the National Geographic Channel. The channel will air a new reality show called -- you guessed it! -- Are You Tougher Than a Boy Scout? Nat Geo reps say that the cable network is an equal-opportunity employer, and that it does "not discriminate in any capacity." Well, I disagree with Nat Geo. I believe that support of the BSA is support of its anti-gay policies. They go hand in hand. This fact was demonstrated when the National Geographic Channel refused to issue a disclaimer expressing disagreement with the BSA's policies.
That decision is being challenged by a 20-year-old Eagle Scout named Will Oliver, who received his Eagle rank in 2010 and is also gay. He recently started a Change.org petition asking Nat Geo not to take the show off the air but simply to add a disclaimer stating their disagreement with the BSA's anti-gay policies. Nat Geo responded with this statement: "[W]e certainly appreciate all points of view on the topic, but when people see our show, they will realize it has nothing to do with this debate [over the Boy Scouts' anti-gay policy], and is in fact a competition series between individual scouts and civilians."
Once again, I disagree! I had a chance to speak with Will recently and ask him a few questions.
Jennifer Tyrrell: Introduce yourself. How long have you been in scouting, ect.?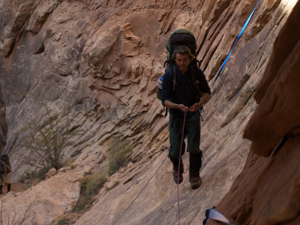 Will Oliver: I started as a Bobcat Cub when I was 6 or so and earned Eagle before I turned 18. I'm one of four boys -- four Eagle Scouts now -- and scouting has always been part of our family culture. My father has served as a troop leader for over a decade, and in that role he's pushed to expose the troop to rugged outdoor experiences, especially in the wild places of New England. I owe much of my relationship with the outdoors to those early encounters.
Scouting has been a part of my life for as long as I can remember. My troop, being the supportive community that it is, benefited my brothers and me immeasurably. It was fun for us. I remember my patrol winning the Klondike Derby within our council one year and not really caring about the award after a day of pulling our sled through the freezing cold.
Looking back, I consider the best aspect of Boy Scouts to be its emphasis on what kind of person you will become -- that is, whether you will choose to lead a life guided by values. In addition to learning to build a fire, I was taught about my duties as a resident of my town, as a U.S. citizen and as a member of the world. Those lessons were invaluable. I think the Scouts' attention to holistic education, in this sense, is unique among other organizations.
Tyrrell: What prompted you to start this petition?
Oliver: In mid-July I read that the BSA was upholding its previous policy excluding openly gay members from participating. I was sitting in my living room, and I felt a shock. I remembered the visceral feeling of being closeted as a kid -- "terror" is the only word to describe it -- and I had a sense of exactly what this rule means for the many young Scouts who may be struggling with their sexual orientation. The memory was enough for me. A few days later I started a petition on Change.org.
In September I found out that the National Geographic Channel was airing a new reality competition series about scouting, Are You Tougher Than a Boy Scout? On the show, civilian adults will compete with current Boy Scouts in challenges similar to earning merit badges. It has become clear that this series is significant to the BSA's branding as a "cool" and relevant organization, and that, for this reason, National Geographic might have particular sway.
So the Change.org petition was redirected towards National Geographic, who have been supportive of gay rights in the past. The idea was for the channel to issue a disclaimer about this policy each time an episode is aired, basically to inform viewers that National Geographic does not stand by the BSA's position.
Tyrrell: What is the ultimate goal of the petition?
Oliver: Let me be clear that I don't want the show to be taken off the air. The goal is for National Geographic to apply some pressure through this business partnership by publicly disavowing the anti-gay policy. I want scouting to be relevant, too. But it is becoming increasingly difficult for the BSA to maintain its appeal to American families if the national board continues to take such an extreme stance. The reality is that the tides are turning on this issue.
As an Eagle, I believe the leadership of BSA and its mission should be saying the same thing. Right now the mission says to be fair, to be supportive, to be kind toward others. The leadership is saying something completely different.
Tyrrell: Do you want to see equality in BSA? Do you think it is a possibility in 2013?
Oliver: I can't say what the future holds. I'm hopeful, although I'm not naïve to the BSA's long history of discrimination. I'd like to believe that the perspectives of ordinary Scouts and their leaders, like you, Jen, like Ryan Andreson, and like Zach Wahls, will be taken into consideration.
Personally, I don't see any acceptable alternative to equality. If the Boy Scouts adopted a policy of nondiscrimination, sexual orientation, like race or religion, would be just another difference between people, as it is for the Girl Scouts and the Boys & Girls Clubs of America.
Tyrrell: What kind of effect do you think the BSA policy could have on a boy who realizes he is gay after having been in the Boy Scouts for a while?
Oliver: The experience of having to hide who you are can be traumatic. Until July I never took the policy seriously, because in all my years of scouting I never encountered any prejudice of this kind, though the possibility of my being gay was no secret. I thought of it merely as a relic. (I came out after earning Eagle; the two events were unrelated.) I imagine that for those Scouts who are being targeted by this policy right now, difficult choices lie ahead. I encourage them to have conversations with people they trust -- parents, family members, friends -- if they are unsure about whether to continue in scouting.
On the positive side, several councils have joined Scouts for Equality's efforts to overturn the national board's decision, including my own council in Massachusetts. Many communities are deciding that the harmfulness of this policy is worth their attention.
Tyrrell: Do you think President Obama's stand for equality will help the fight for BSA equality?
Oliver: President Obama's stand is certainly historic and implies that our country is prepared to move forward on equality. Gay families and individuals are being embraced as equals like never before. As for the BSA, I think decisions over membership shouldn't be overly politicized. Ultimately, the shots should be called by Scout leaders and Scouts who are invested in the health of this organization.
* * * * *
So is this show a smoke screen by the BSA to divert attention away from its bad press? Herdon Graddick, president of the Gay & Lesbian Alliance Against Discrimination (GLAAD), thinks so. Graddick said in a Washington Post article, "It's all too clear that this show is just a marketing ploy, crafted by the BSA to boost dwindling membership and distract Americans from the Scouts' long history of discrimination. National Geographic Channel is the means to that end and must therefore make it clear where the network stands." GLAAD has been a strong supporter of equality in scouting from the beginning and has joined Will in his mission to bring awareness to this conflict of interest. GLAAD has called out Nat Geo, looking for answers.
Whether or not you are involved in the Boy Scouts, achieving equality in the BSA is a step in the right direction for equality in all aspects of our lives.
Sign Will's petition and take a stand for equality.
You can read more on what GLAAD is doing to help here.
To find out more on how to help, get involved and stay updated, join Scouts for Equality, an organization founded by Zach Walhs.
This blog post was originally posted on pghlesbian.com, where Jen also blogs.
Click here to visit Pittsburgh Lesbian Correspondents on Facebook. Please read our amazing blogs and "like" us!