Leaving law school for a semester in the middle of my second year to go work for an NGO in Northern Thailand was easier than I thought it would be. At least it seems that way now, looking back on it, but at the time it was daunting. The vast majority of my fellow law kids are currently working at firms, researching fiduciary duties and drafting legal briefs - at least that is what I imagine they are doing. Until pretty recently the thought of not doing that was outright anxiety-inducing. The fast-track to the big firm and all the perks that come with it (free pens and coffee mugs! Who could resist?) can be hard to get away from.
After starting first year law classes I quickly became eager to get away (far, far away) and experience something that had nothing to do with law school. I ended up applying for and getting an internship with an organization called Bridges Across Borders in Phnom Penh, Cambodia. The internship was a twelve-week summer program with a number of other North American law students working with their Community Legal Education (CLE) program.
I arrived with exactly no idea of what that meant, or what I would be doing. And Phnom Penh is intense. I was overwhelmed and took pictures of everything and anything. No one follows the rules of the road, I started taking moto-taxi rides to get around town (first motorcycle ride ever!) and the chaos and visible life of the city had me living with a constant sense that I was learning something new. And I love that.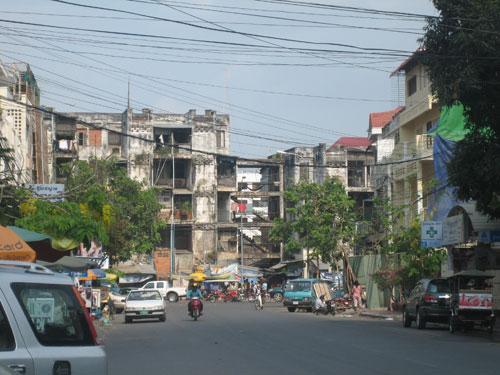 The streets of Phnom Penh.
The internship itself exposed me to people, places and issues that I could not have imagined or anticipated. The CLE program in Cambodia works to increase legal awareness and access to justice in poor, rural and otherwise marginalized communities. The program develops manuals on different areas of the law (land law, domestic violence, etc.) and trains community legal advisors on how to use the manuals to teach people about the law, their rights, and how to access the legal system.
As an intern with the CLE program I worked on developing lessons on children's rights. My first shock was that there is actually no specific domestic law in Cambodia on children's rights, so the bulk of the manual would be based on the Convention on the Rights of the Child (CRC). More importantly, while Cambodia has ratified the CRC and is legally obligated to implement it, what this really means for children in Cambodia is difficult to see. What does the right to education mean when there is no school, or when you have no money to pay the bribe to get into school? The disconnect between the law and reality was difficult to accept - especially as a law student.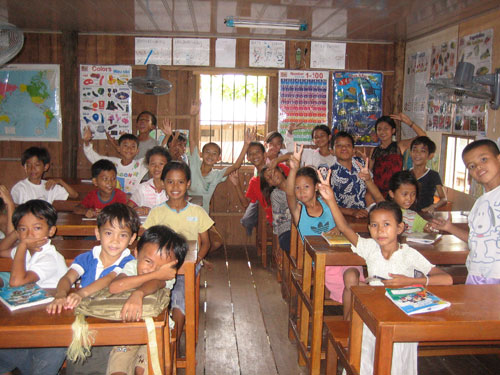 Students at the Rudi Boa Center in a community on Boeung Kak Lake, Phnom Penh.
In addition to working on developing the children's rights manual I also had the opportunity do go on various site visits in and around Phnom Penh. I visited an orphanage near the garbage dump on the outskirts of the city, and one of the biggest slums in Phnom Penh - which is located on Boeung Kak Lake and is currently under threat of eviction. I also had the opportunity to teach a lesson on human trafficking to a group of young girls who had been identified as being at high risk of being trafficked. All of these experiences and particularly the people that I encountered at these places and along the way had a deep impact on me that. An impact which I hope to impart to you in future posts.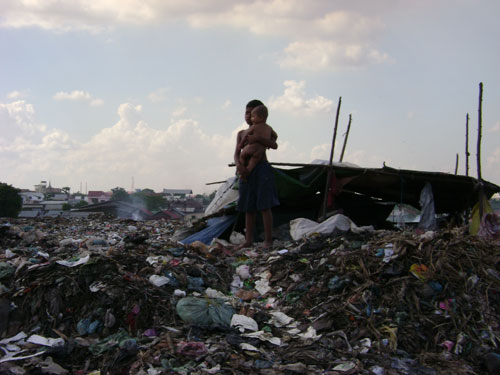 Two children standing on the garbage dump on the edge of the city of Phnom Penh. Many adults and children live and work on the dump picking through the garbage.
Before I arrived in Cambodia I definitely had an interest in doing international law-related work, but three months later I had completely changed my perspective on life and what I want to do with mine. And so I headed back home and back to law school with a resounding determination to... leave again, as soon as possible.
And so I did.