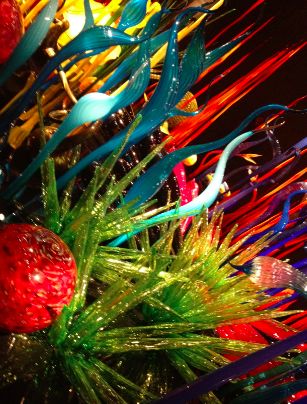 A magical garden of glass
They say it's easier to hate someone whose story you don't know. I'm starting to wonder if that's at least part of the issue when it comes to the lack of understanding of the work of Dale Chihuly -- a man who for years awoke, went for a swim and began creating earlier in the morning than most of us even consider rolling over and hitting snooze. A man who dreams something one day and wills it into life the next. A man who one day stopped thinking about what glass does and began challenging what it can do.
To walk through the new Chihuly Garden and Glass in Seattle, Washington is to begin to understand this man. It is a walk through artistic history in the making and a glimpse of how it all came to be. His drawings fill the walls. His inspirations fill the galleries. His work is shown in progression, each step and stage informing the next.
And the work is astounding, particularly when viewed in such razor sharp context and in an environment that is Chihuly. The museum embodies his aesthetic from ceiling to floor, from building materials to layout. At Chihuly Garden and Glass, located just steps from the Space Needle, you can begin to feel the energy that is Chihuly, the sensibility that led to the work he has done throughout his long and impressive career.
It is also a taste of the very place that is the essence of Chihuly, the boathouse. Once his live/work space, now one of his studios, including a hot room where glass is still being blown seven days a week but where philanthropic events are sometimes held. For obvious reasons, the space would inspire even the Grinch to give his last dime to support art being made. The aesthetic, the feel, the layout, look... every inch of CGG echoes the boathouse, a place that defines Chihuly like nothing else could or does.
The boathouse nearly defies description. It was once a factory. It is now a vision crafted of the materials and filled with the collections that are the hallmarks of what drives Chihuly. Rough hewn materials and an excitement of textures mix and mingle and play and exude the energy and life that is the hallmark of Chihuly's work from the 84-foot-long continuous piece of Douglass Fir that serves as a table to the pressboard on the walls and the metal on the ceiling. The boathouse isn't just by and about Chihuly. It is Chihuly.
Everything at GCC is Chihuly's vision from the design to the contents. It is the most comprehensive collection of his work and to see it is to begin to understand who he as, what he does and how his work has influenced the world of glass art -- as well as the art world at large. It is the experimentation, the inspirations and the influences that are the markers throughout his career.
In the galleries you will find his "Glass Forest" done in the '70s while he was at the Rhode Island School of Design. Crafted by blowing into the glass blowing pipe, allowing the glass to drop and then filling it with neon, it was a brand new way of working with the medium at the time. Chihuly not only works the glass, he also works with the glass. He trusts it and cajoles it to do as it pleases.
There's a free audio tour that includes recordings made with people with whom Chihuly worked. And a professional photographer is available to take your photos -- which are free if guests would like prints.

What you will find in the galleries are some of Chihuly's many collections: Northwest baskets (some of which have slumped over time, inspiring some of Chihuly's own slumped glass designs), trade blankets and Edward S. Curtis Native American portraits.

One gallery is full of sea. Dale grew up in Tacoma, surrounded by water, so it's no surprise that water would inspire him. Vessels with stoppers topped by sea creatures encircle the room and Chihuly's sketches for those hang on the walls. The glass creates amazing shadows on the walls, making it seems as if the room is filled with it.
Another gallery boasts a glass ceiling with piece after piece of Chihuly's work resting atop it, including nine little putti (chubby, naked male babies with wings), hiding amongst it. It's titled "Persian Ceiling," referring to the name Chihuly has given to the shapes found there, Persians.) Walking beneath it is like being underwater with dappled sunlight playing above you. I think if I had a room like that in my house, I could finally write the next great American novel.
A magic forest of glass and light fills yet another room. The intention was not to recreate a garden, but instead to capture the elements of a garden. And, as always, the pieces are all about letting the glass do what it does best: letting it do what it wants, letting it, well, freak out.
GCC is a brilliant study in installations. Chihuly mocks up everything before he puts it in. You can feel his thought in every room. The lighting, the black plexiglass, the colors of the walls, the pedestals -- every bit is vital to showing this work at its best.
Yet another room holds his "Float Boat" and "Ikebana," which is almost as gorgeous inside the gallery as it is exhibited outside. Speaking of outside, the walkway at CGG is graced with Chihuly's chandeliers hanging above. They're marvelous. Truly. But, the glass house is perhaps the biggest show-stopper. The massive dimensions make for an explosion of light as it hits Chilhuly's work suspended from the ceilings. Chihuly has long loved glass houses, and this one is a spectacular example.

When Chihuly lost sight in one eye, the attending lack of depth perception made Chihuly nervous about being on the glass-blowing floor. But he actually believes that his work would not have progressed as far as it has if he hadn't been injured and been forced to slow down and sketch before blowing the glass.
In the garden, the plantings are based on the glass to be shown and Chihuly will change it out periodically when the mood strikes him. The work seems to bloom among the plants in a variety of colors and shapes, familiar if you've ever seen one of Chihuly's garden installations like the one currently at the Dallas Arboretum (through November 5, 2012).
Eating at Collections Café is as important as visiting the galleries and gardens since so many of Chihuly's collections are there hanging on the walls and from the ceiling, as well as resting under the glass of each table. You'll find postcards, bottle openers, accordions, plastic radios, glass juicers, you name it. Chihuly likes to acquire collections as collections. He'll walk into an antique store, see a variety of something and say, "I'll take them all," sometimes including the case they're in as well. He is enthralled with the visual whole and doesn't show just one of anything in a collection.
As luck would have it, Chihuly was there on the day of my visit having lunch with Anne Gould Hauberg, who was instrumental in Chihuly's creation of the Pilchuck Glass School. He was so sweet and friendly, and you can tell you have his full attention when he speaks to you.
After I mentioned having seen him speak when he was in town for the opening of his show at the Dallas Arboretum, he asked me, "How big was that hail you got in Dallas?" Some of his work was damaged in that storm. Interestingly, despite how often his work is shown outside, when Chihuly spoke in Dallas, he mentioned hail being one thing he wasn't sure his work could survive. Thank goodness it did, with very little being damaged.
Despite what some might say, CGG is really as much about supporting local arts community as it is about sharing his work. The work of local artists fills the gallery's beautiful shop. The majority of people enjoying that work would likely never have seen it if it were not for CGG. Yes, it is a celebration of Chihuly, but -- more than that, so much more than that -- it is a celebration of art and design that Seattle is lucky to have.
While you're there, it'd be a shame not to visit the Space Needle, currently celebrating it's 50th Anniversary. The Needle was built for the 1962 World's Fair, "The Age of Space and Technology."
Inside the Needle are touch screens connected to a live camera on top of the Space Needle; an annotated, illustrated map of Seattle, photo kiosks where you can print out or email your Space Needle green screen photos for free; memorabilia from the 1962 World's Fair; and time-lapse photos of the view from the Needle.

Folks in the know at the Needle recommend that visitors to Seattle come to the Space Needle first and use it as their guide for deciding where to go. And as long as you're there, you'd be wise to grab a bite to eat. Their restaurant, Sky City, serves all local food and 98 percent local wine. The vibe is retro/mod, keeping as much of its original vibe as possible

The menu features posters from the 1962 World's Fair and on some of the walls you'll find Chihuly's paintings. Sky City is one of the top 25 busiest restaurant in Seattle and the oldest revolving restaurant in the country. (It revolves once every forty-seven minutes.)
Chihuly is all about energy and freedom and exploration. He's all about innovation in glass. He leaves symmetry at the door and lets gravity out to play. He challenges the glass, putting images on it to see how they distort, allowing it to flow to see how it will bend and fall, and blowing it to its limits to see just how thin he can make it. Chihuly Garden and Glass plays homage to the remarkably inspired work of a man who simply doesn't believe in limitations in glass, in art, in beauty.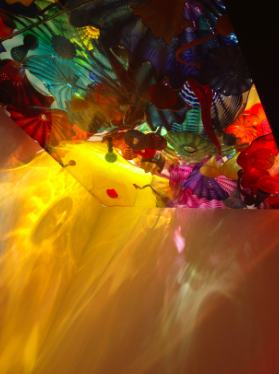 Chihuly's ceiling of glass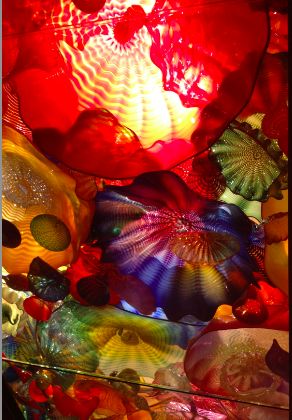 A ceiling of glass close-up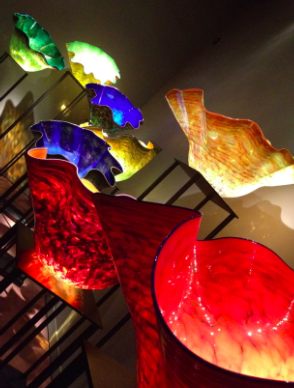 Chihuly in light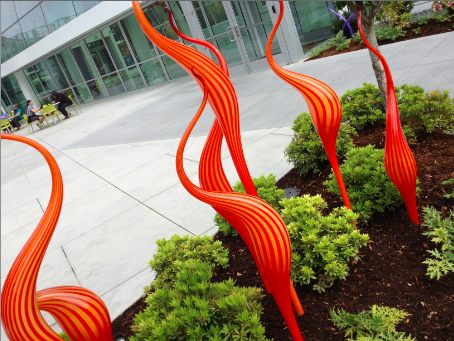 Outside of CGG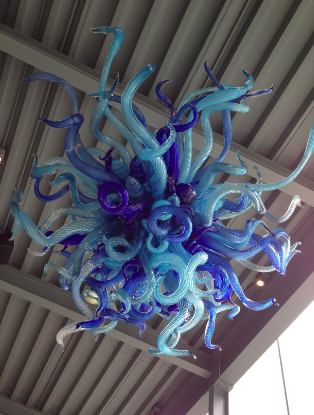 A Chihuly chandelier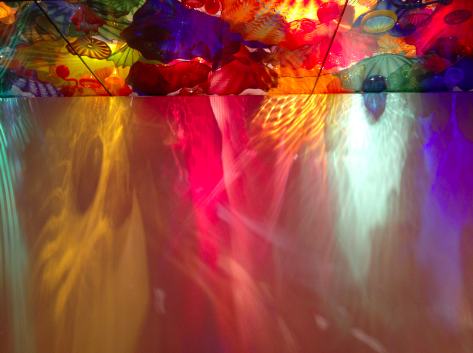 Reflections of the Chihuly ceiling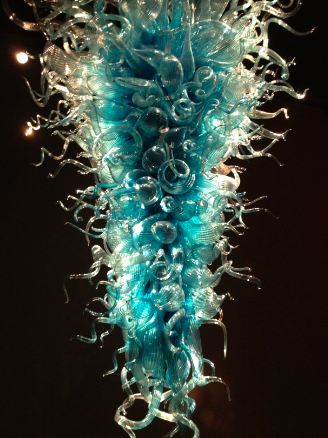 A study in contrasts
Light and dark shine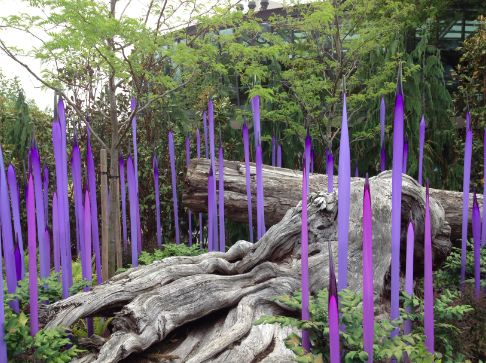 Chihuly in the Garden, CGG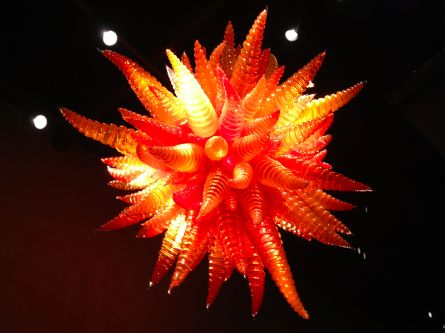 Bright as the sun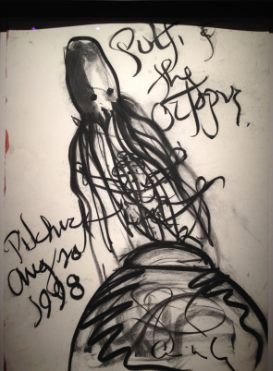 Sea life sketch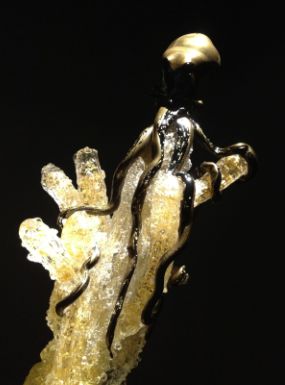 Sea life topper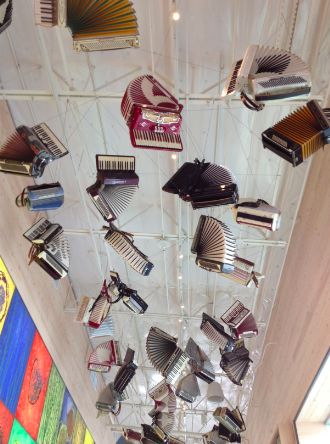 Collections Cafe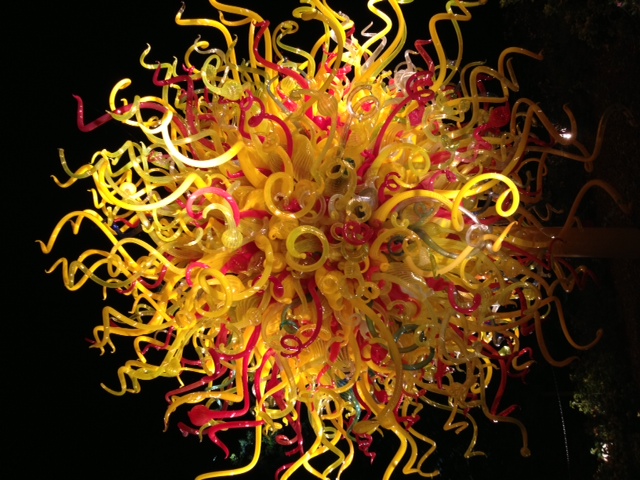 Chihuly at Night, Dallas Arboretum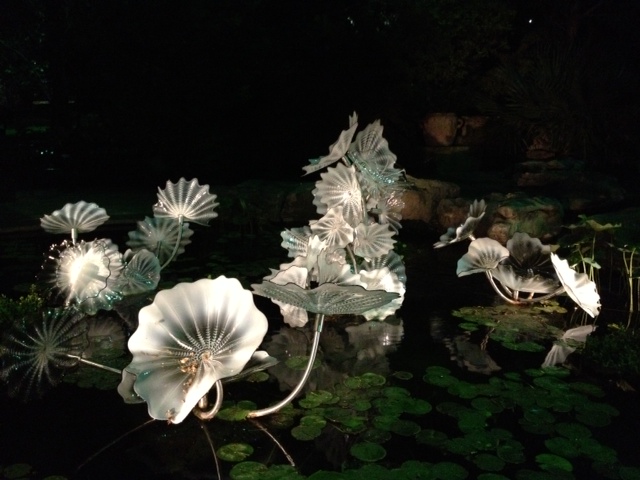 Chihuly at Night, Dallas Arboretum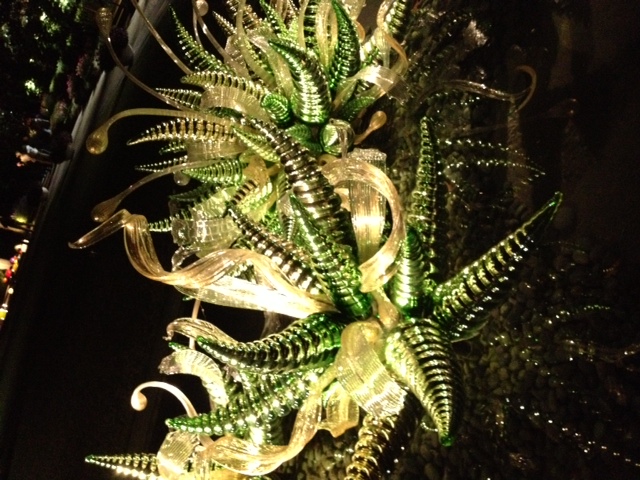 Chihuly at Night, Dallas Arboretum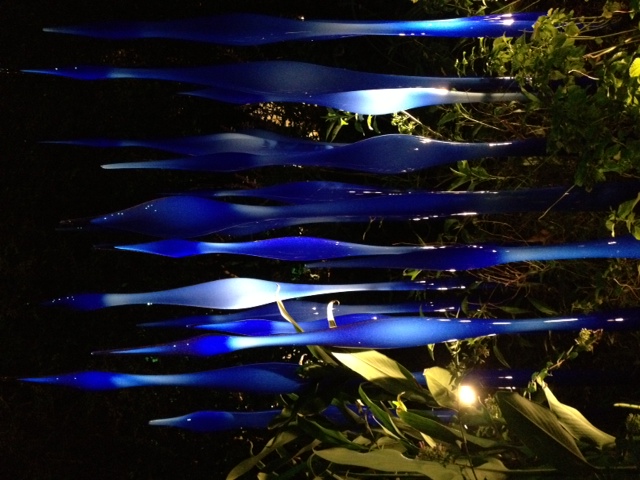 Chihuly at Night, Dallas Arboretum
Chihuly at Night, Dallas Arboretum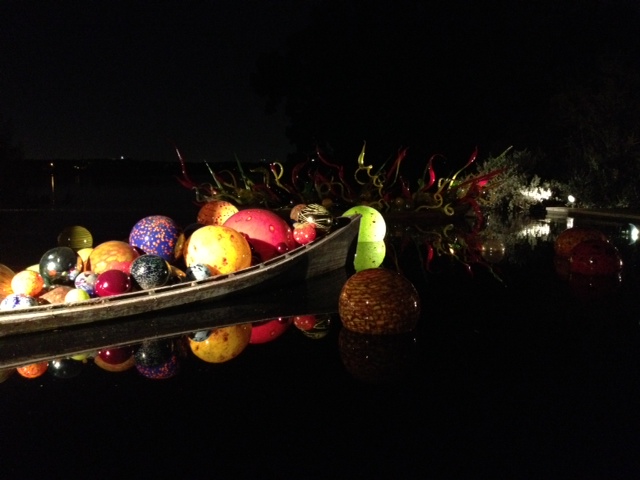 Chihuly at Night, Dallas Arboretum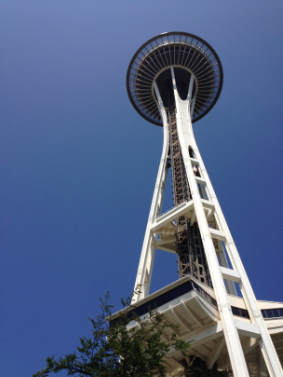 Space Needle
Note: October 20, 2012 through February 10, 2013, Chihuly's work can be seen at the Virginia Museum of Fine Arts.