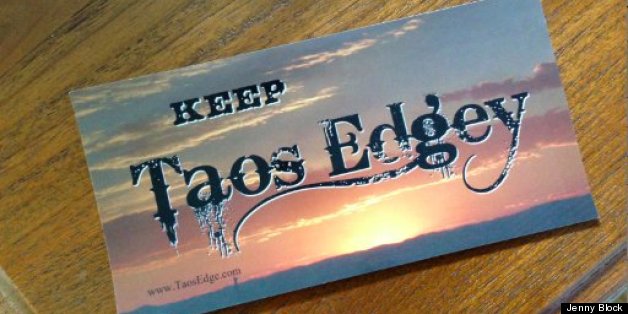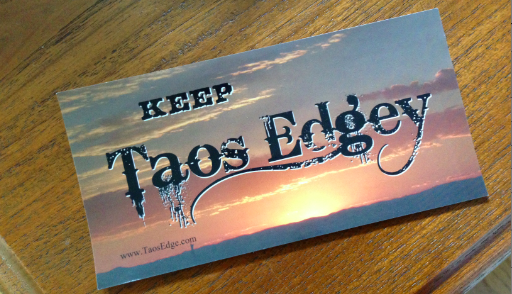 In Austin, TX, you can find bumper stickers that say "Keep Austin Weird." In Taos, you'll find one that says, "Keep Taos Edgey." It's Taos resident and Taos Edge owner Susan Dilger who created that phrase. She helps artists get their work out of the studio and into the world.
"I had some friends who are artists and make no money because they don't know how to promote themselves. So I put fine art images on bags, shirts, and belts. And the artists get a royalty," Dilger explains. She "retired" after a twenty-seven year career in retail with May department stores - both coasts. "I was in just about every aspect of the business -- buyer, finance, operations, marketing."
Now, having moved to Taos from Hollywood, CA in 2006, she's like a lot of people living there, totally in love with the place and reinventing herself later in life for no reason other than the chance to live in the land of enchantment.
Spend 10 minutes there and you'll know exactly why they call it that. The mountain vistas are surreal, the people are preposterously friendly, and the art abounds, from museums like the Blumenschein and the Harwood to the galleries of Kit Carson Road, including Lenny Foster's Living Light Gallery and David Anthony Fine Art.
Spend a few days and you can live on the "edgey" side in Taos too. Here are eleven ways, in fact, that you can experience the Taos "edge."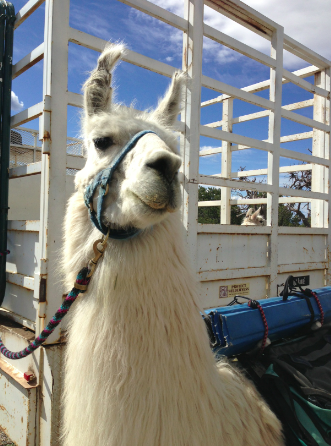 K2, the llama
1. Trek with a llama. That's right, with a llama. Not on a llama. Stuart Wilde, of Wild Earth Llama Adventures, rescues llamas that people no longer want and cares for them. He also gives them a job they love. Wilde takes groups on day and overnight adventures where you do the walking and the llamas do the carrying. They're sweet and steady and true, making the hardest part of the adventure saying goodbye to your furry companion.
2. Visit the houses that dirt and trash built. They call them Earthships. The materials are recycled. The look is post-apocalyptic. And the yearly utility costs are zero. (Or $100 a year if you want propane.) The homes are built from tires and earth with things like recycled bottles used as décor. You won't believe them until you see them. And people are actually living this way in a neighborhood just outside of Taos. It looks like a scene from a Dr. Seuss movie. But it's real. If you want to test it out, you can even rent one for a vacation - from reality.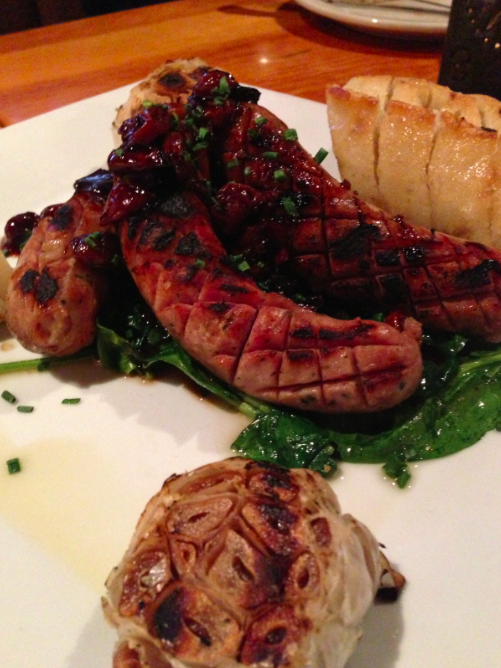 The rattlesnake and rabbit sausage with ancho chile dried cherry sauce
3. Eat rattlesnake. Doc Martin's Restautant serves up a rabbit and rattlesnake sausage that you won't believe is made of either. And, no, it doesn't taste like chicken. But it does taste delicious. And the texture is reminiscent of pork sausage. You'll never know the difference. Plus, there's something truly satisfying about telling people you had the nerve to give your taste buds a walk on the "edgey" side.
4. Sleep with a ghost and dance in the living room. The Taos Inn is rumored to be haunted. A close friend, staying alone at the Inn, swears she was shoved in the night. Luckily all the spirit seemed to want was for her to scoot over. I didn't see anything myself. But it sure was fun to think about. If you prefer to get into the Taos spirit in a different way, you can dance to live music every night of the week in what would be a lobby in any other hotel but in what has been dubbed the "living room" of Taos at the Taos Inn.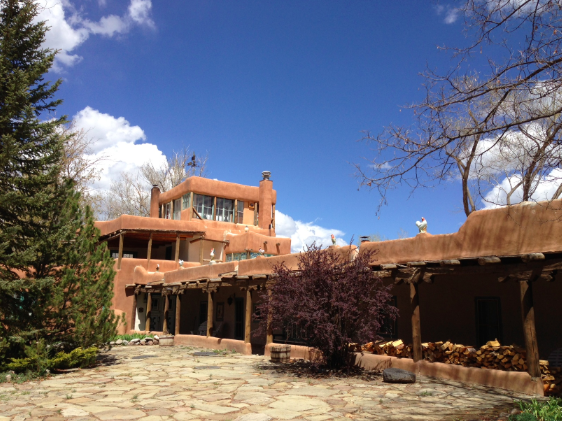 The Mabel Dodge Luhan House
5. Walk a labyrinth. If you stay at the Mabel Dodge Luhan House you can experience a bit of history and enjoy a moment of spirituality. Georgia O'Keeffe; D.H. Lawrence; Ansel Adams; Martha Graham; and Carl Jung all stayed there. There's something about the place that will feed your spirit and your mind, including walking the adjoining labyrinth. It's new to the property. But the vibe is ancient.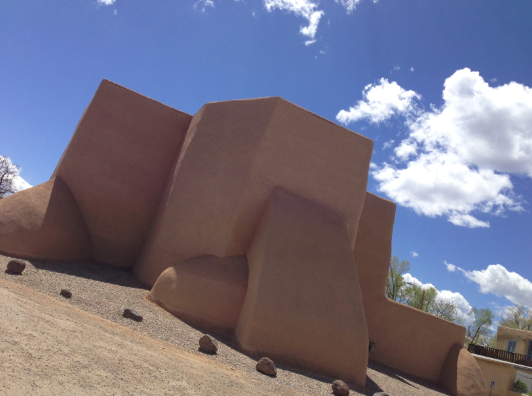 The San Francisco de Asis Church
6. See through the eyes of an artist. Georgia O'Keefe was inspired by the unique beauty of the San Francisco de Asis church and you will likely be too the minute you lay eyes on it. You can tour the outside, visit the inside, and, if you really want to spend some quality time with the building, you can enjoy a leisurely lunch directly across the street from it on the deck of Old Martina's Hall. (Note: Whatever you do, don't miss Chef Erica Miller's candied bacon BLT.)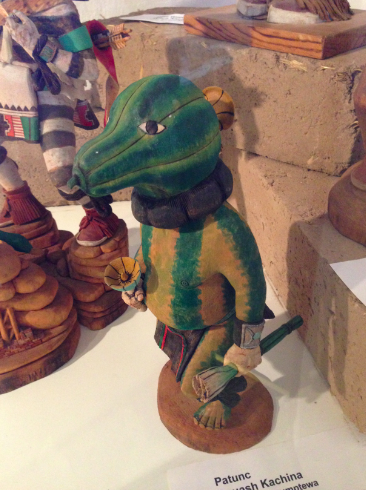 A Kachina doll at the Millicent Rogers Museum
7. Peek in an heiress' closet. Millicent Rogers. They call her the "Standard Oil Heiress." The only thing more impressive than her wealth was her sense of style. Although Rogers, sadly, passed away in 1953, her spirit and style did not die with her. Visitors to the Millicent Rogers Museum in Taos can marvel at her jewelry and belts and clothing that would put most modern heiresses to shame.
She was dramatic, bold, and entirely her own person and the Museum's impressive collection pays homage to all that she was. The Museum also houses a wealth of New Mexican art and craft, including that of Maria Martinez who, with her husband, Julian, from San Ildefonso Pueblo, was responsible for a revival of the San Ildefonso ceramic tradition.
8. Walk across the Rio Grande. Just outside of Taos is the Rio Grande Gorge Bridge. Walking across on a clear day is not for the faint of heart. It is a heck of a long way down, 660 feet to be exact, and you would swear the thing is moving, at least a little. But the view and the photo ops are well worth any bridge- or heights-related jitters you might have.
9. Experience the pueblo. Luckily some things never change. That's certainly the case with the Taos Pueblo, where people still live the way their ancestors have lived for generations. Visitors can enjoy a tour and a valuable history lesson before shopping the native crafts in the various Pueblo shops, filled with jewelry, pottery, art, and other items. Don't miss the cemetery and the church, both filled with stories of the Pueblo people.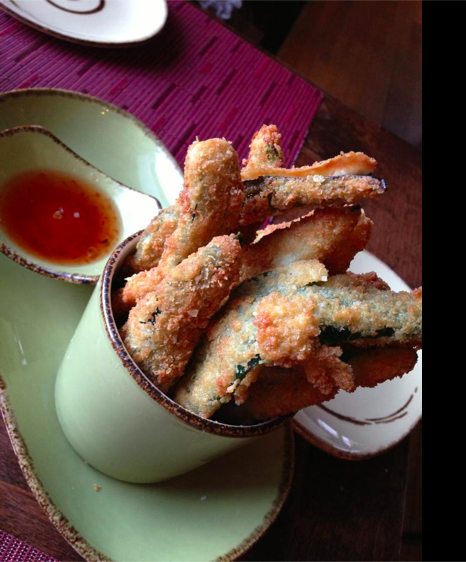 Green Chile "Fries" at Artesian Restaurant
10. Soak in ancient waters. Not far from Taos lie the waters of Ojo Caliente. It's worlds apart from anything you've likely ever experienced. But it is Taos edge all the way. Soak in the springs; cover yourself in mud and warm in the sun; enjoy a private soak by the light of the kiva fire; savor green chile "fries" in the Artesian Restaurant; hike the hills while hawks circle above you. Whatever you choose to do at Ojo, it will be hard not to feel the magic that seems to hang in the air there.
11. Uncover the mystery of the Taos hum. Ok. You may not be able to uncover it. But you can certainly have a lot of fun trying to. They say Taos has an audible hum and no one quite knows why. Maybe you'll finally be the one to figure it out. But even if you don't, you definitely won't regret the quest.