One country, two coasts, two incredibly different, but equally awe-inspiring aquatic experiences. That is precisely what I discovered when I packed my dive gear and boarded my first of eleven flights in nineteen days to check out the vast and wild land of Australia.
I began my two and a half week long journey by flying into Brisbane, on the east coast of Australia, a city with just over 2.2 million people. I was thrilled to get a great overview of what to see and do by signing up for a "Brisbane Greeter," locals who offer free tours based on what you're interested in. We had a blast wandering the city. Then it was times to get adventuring.
I was amazed at how many different kinds of adventures there were to be had in Brisbane. I climbed the historic Story Bridge, which was not half as scary as I imagined. I segwayed around the city, which was not half as dorky as I imagined. And I cuddled koalas and hung out with kangaroos at Lone Pine Koala Sanctuary, which was way more fun than I could have ever imagined.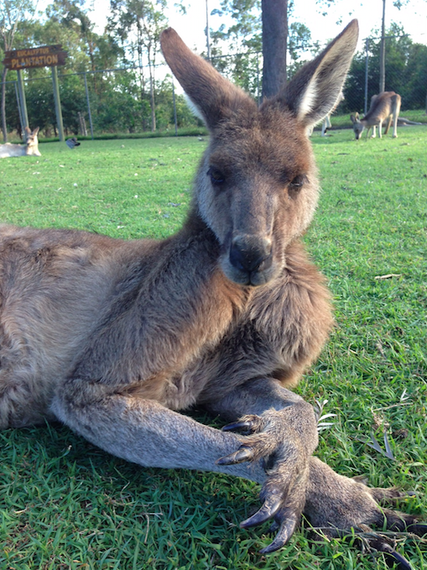 Kangaroo lounging at Lone Pine Koala Sanctuary, outside of Brisbane.

When it was time to dive, I flew to nearby Hamilton Island, one of many entry points for diving the Great Barrier Reef (GBR), which has an average depth of 35 metres in its inshore waters, while continental slopes extend down to depths of more than 2000 metres on the outer reefs. It's rightfully known for having some of the most dramatic underwater vistas in the world.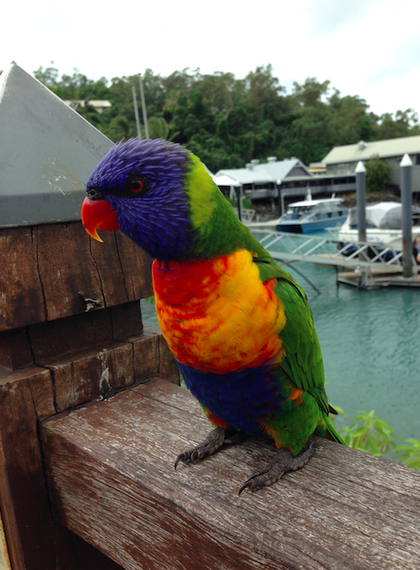 A Rainbow Lorikeet on Hamilton Island.
One of the most inventive ways to experience the GBR is with a "ReefSleep" on ReefWorld. I was so excited to find out you could actually to sleep floating over the reef under the stars. So I caught a ferry from Hamilton Island to the permanent pontoon at Hardy Reef in the Whitsunday Islands.
I did three day dives that day and it was downright dreamlike, with the most unbelievable catalogue of underwater life teeming beneath the surface, including giant Queensland Grouper, massive Humphead Maori Wrasse, and a bounty of coral from boulder to branch to spaghetti. My dive instructor was tireless in taking me to all the best spots and pointing out species after species and feature after feature. It was a spectacle beyond all spectacles.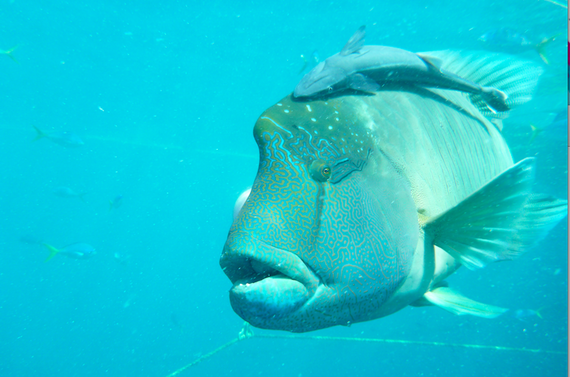 Humphead Maori Wrasse at the Great Barrier Reef, Hardy Reef, ReefWorld Pontoon Dive.
And even though I was exploring the same reef, it was a whole new world each time I jumped in. I simply could not get enough. After the sun set, I decided to face my biggest fear - a night dive. I was so glad I did. The experience was what I imagine floating through outer space must feel like, the tiny bits of plankton glistening like a thousand stars as I literally drifted through the water. I could not have felt any more grateful for the experience.
That night I slept under the most glorious swath of sky, glittering with stars in a very Australian rig called a swag, basically an all-in-one sleeping bag, pad, and tent. The next morning, after a hearty breakfast, I did two more dives before sadly saying good-bye to ReefWorld.
Following twenty-four hours on Hamilton Island (required after diving) I flew across Australia to Perth to begin my WA adventure (how Aussies affectionately refer to Western Australia). Perth is a totally and up and coming city with just under two million residents. I hope to get back there in five years. With all the work going on, especially at the waterfront, I'm looking forward to seeing it really blossom.
The grooviest area in Perth is Fremantle, with a weekend market and chic dining. I had the best time roaming the market and checking out the shops and drinking beer at the insanely cool Little Creatures Brewery. One morning, I took a short ferry ride to Rottnest Island. It's a great place to wile away the day. People were riding bikes all around the island and sitting in the sun eating and drinking and enjoying the insanely good weather.
I spent my time having a lazy lunch of the freshest shrimp imaginable and taking pics of the playgul quokkas and the fiesty pelicans.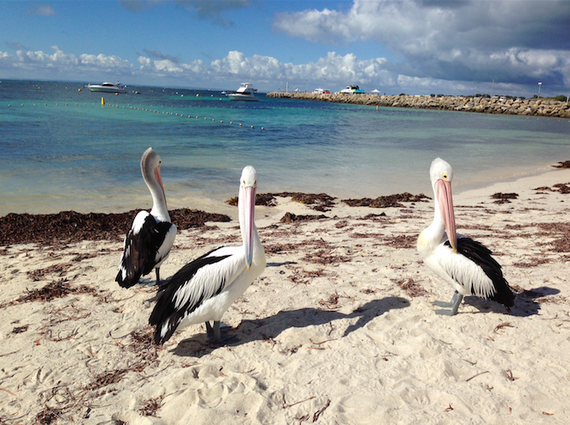 Rottnest Island residents.
After a lazy day on Rottnest, the next morning, I took the thirty minute drive out to Swan Valley, a place revered by foodies and wine buffs alike. The Valley boasts a food and wine trail with more than 150 wineries, restaurants, breweries, distilleries, and shops. I managed to taste a wealth of honey, wine, chocolate, and coffee, all before lunch! Since it was nearby, I couldn't resist stopping at Caversham Wildlife Park, and I was so glad I did. Although you can't cuddle the koalas as you can in Brisbane, I did get to pet and photograph them till I just couldn't take the cuteness any longer.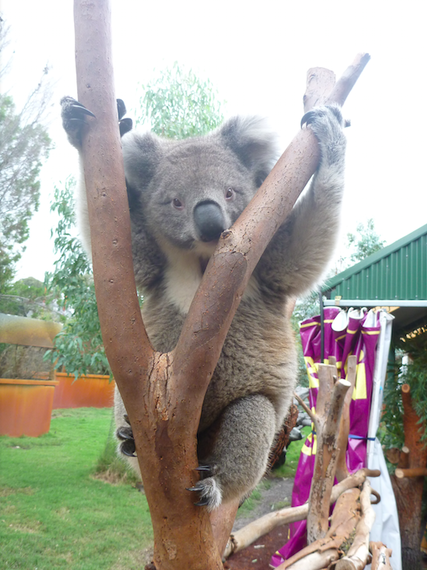 Koala scene stealer at Caversham Wildlife Park outside of Perth.
But the biggest surprise in Perth was that I got to swim with wild dolphins just forty-five minutes outside of the city. An outfit called Rockingham Wild Adventures picks guests up in Perth and drives them to Rockingham, where you board a boat, get fitted for gear, and head out into the sea.
When the Captain spotted a pod, I slid into the water with my group, and we all held onto one another by the belts around our waists. I could not believe how close we got to the dolphins, who were happily playing and swimming all around us.
Then it was time for my WA diving adventure. So I hopped a short flight to the tiny town of Exmouth with a population of just 2,200. I've always wanted to stay somewhere that felt like ends of the earth, and I certainly found that on Exmouth at a place called Sal Salis. The property is nothing more than a series of elevated tents tucked inside Cape Range National Park.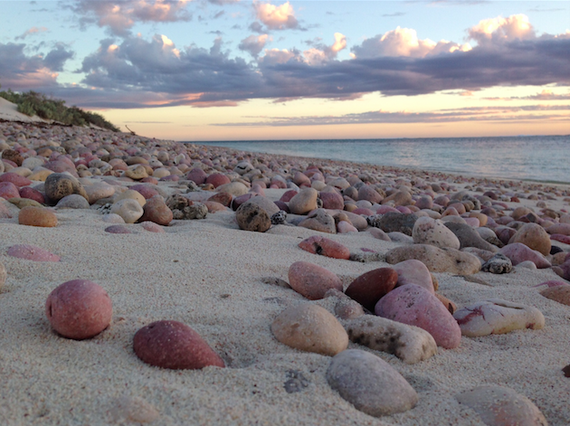 The shores of Sal Salis in Cape Range National Park.
It's perfect for adventurers who want to explore Ningaloo Reef, a fringing reef, one of the largest in the world, that stretches for 260 kilometres. At Sal Salis, you can walk from your tent right into the water and snorkel with masses of fish, as well as turtles, reef sharks, and rays. I spent what seemed like forever following a sea turtle as he wound his way through the coral and I followed along with school after school of colorful fish as they raced through the current. I was downright giddy.
If you dive, the site that you simply cannot leave WA without doing is the Navy Pier, ranked as one of the top ten shore dives in the world. Just a short drive from Sal Salis, you descend into the water (14 metres at its deepest) right off the pier.
I would have sworn I was in an aquarium. All around me were lion fish, dolphins, moray eels, white tip reef sharks, octopus, and enormous schools of trevally and barracuda. The thrill of being underwater and so close to so many different variety of seas life is nearly indescribable. The minute it was time to come up, all I could think about was going back down again.
Swimming with the whale sharks is another big attraction in Exmouth. The enormous creatures migrate between April and June each year. The day I went out, the massive creatures were being a bit elusive, and I only got to see one for a split second. My friends who went the day before and the day after swam with them again and again all day long. So, you never know, it is nature after all. Still, I was thrilled to have gotten even just glimpse of these magnificent creatures from underwater. It was truly spell-binding.
I was terribly sad to leave Sal Salis. Guests all gather together for meals and the staff feels like family. Staying there was an amazing way to get a real feel for the land and the sea and the people who love it. I truly fell in love with Cape Range National Park, where kangaroos and wallabies and dingos and echindas - all of which I saw in the wild while I was there - roam and hop and live and play. I had the chance to hike one of the canyons there, but so much more of the park calls to be explored.
Australia is a massive country with so much to see. It was impossible to do it all in one fell swoop. But diving and snorkeling both coasts and checking out a couple of lesser-known, nearby cities was an amazing way to get a glimpse of this incredibly versatile country. It was only a taste to be sure, but it certainly whet my appetite for my next adventure down under.
For more on where I stayed, where I played, where I ate, and what I packed, visit my blog.