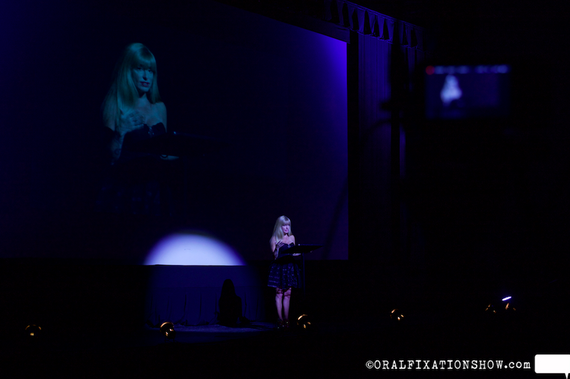 On stage at Texas Theater.
It's always been one of my favorite things to do. Perform for a big audience. I know. Many people would choose death over public speaking. But I love it. The lights. The people. The butterflies in my stomach. The fellow cast members. All of it.
So when I heard about Oral Fixation here in Dallas, I was eager to submit an essay and see if they might be game to have me. Oral Fixation is the brainchild of Nicole Stewart. She calls it a live storytelling series. "Think of This American Life on NPR....live and starring our very own Dallas citizens! Oral Fixation is a series of hour-long evenings of TRUE, personal stories, each with a new theme performed by a cross-section of seven Dallasites."
Stewart establishes a theme, solicits essays on the topic, chooses seven, works with the storytellers to edit their pieces, coaches them through a rehearsal, and then puts them onstage for two nights.
To my delight, Stewart said yes to my story which I submitted under the "Outside the Box" theme. Although she said no to the particular essay I sent. It was an older piece, previously published. Stewart wanted new and now and she wanted it written to be performed aloud. I won't lie. It stung a bit. I mean I'm a writer by trade for goodness sake and had written an entire book about my life living "outside the box" in an open marriage.
She asked me to go back to the drawing board. And she ended up being right, very right. I felt great about the new piece and she was tireless in her editing and her over-the-phone sessions about those edits. I was delighted with the final piece and blown away by both her dedication and how intuitive she was about stories and how to tell them.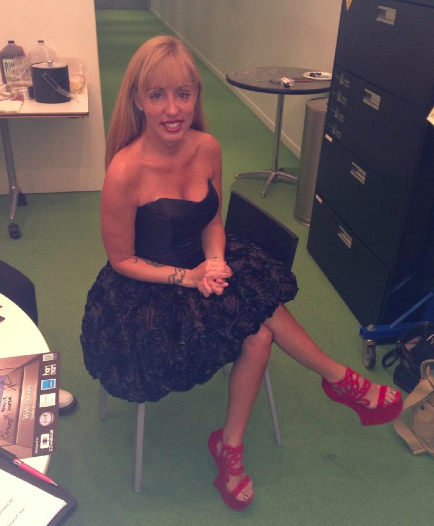 Backstage at the Wyly Theater.
Finally came the first big night at the Wyly Theatre. In a black, cupcake of a Betsey Johnson dress and insanely high, red suede, Jeffrey Campbell, platform shoes, I took the stage. And it was just as thrilling as I remembered. I have the pleasure of appearing on TV and radio occasionally, and when my first book came out, I did readings across the country. But it had been many years since I had been on stage and I didn't realize how much I missed it.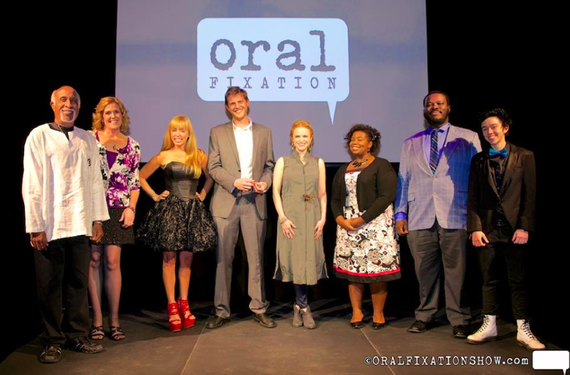 On stage at the Wyly Theatre.
Two nights later, we all performed again. This time at the Texas Theater and it was equally as thrilling. I was part of an incredible cast of people with compelling stories and it was the most empowering thing in the world.
My story is about being an out lesbian in a committed, monogamous relationship with a girl I adore, still married to and living with and parenting with the father of our child. It's a true story. It's my story. And it's also a scary story to share. I had no idea how people might react. But it was amazing. People just kept coming up to me after the show, one after the other, to congratulate me on my bravery for sharing my truth.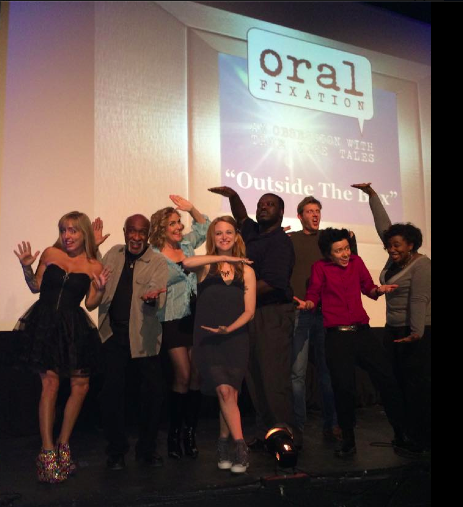 Onstage at the Texas Theater.
I don't know about brave. Brave is crossing enemy lines or wading through crocodile infested waters or sitting in a lunch counter in a city ruled by segregation. But, in my own small way, I do consider living authentically and speaking my truth to be a political act. I share my story to inspire others to, as my girlfriend always says, "Do you."
It really is the only things any of us can do.
You can see the video here: