Celery lime soup seems a likely candidate for the menu at a sleek urban bistro whose aesthetic tends toward brushed chrome and glass. It was certainly not what I expected to encounter at the cafeteria-style Polakowski restaurant in Krakow, Poland, whose whitewashed walls are lined with cabbages and 5-liter jars of pickled beets.
Yet, that homage to Slavic agricultural kitsch is precisely where the inspiration for this recipe struck me. The apron- and kerchief-clad woman behind the counter offered my travel partner Anna and I a taste of a faintly green, citrusy brew as soon as we stepped in for lunch. It was served hot, with a creamy potato base and almost certainly a few chunks of bacon tossed in the pot for good measure.
I'll gladly whip up that version in January, but while I can still fry an egg on the sidewalk, only cooling soups will do. I came up with this summer variation after returning home as an edible souvenir. The celery-lime combination tastes as fresh as a rainstorm, while the avocado and yogurt lend a creamy texture and tangy body to the soup. Cilantro, red onion, and cucumber brighten it all and add a hint of crunch.
Celery Lime Summer Soup
Serves 4-6 as an appetizer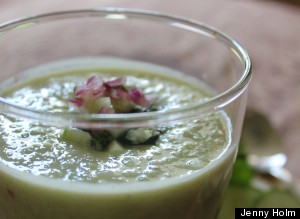 1 bunch celery, ends and leaves removed, chopped into 2-inch pieces (about 4 cups)
1 avocado, peeled and roughly chopped
1 cup chopped red onion
2 cups cold chicken broth (or water, for a vegetarian soup)
Juice of 2 limes
1 tsp. ground coriander
1 tsp. kosher salt
1 tsp. sugar
Few grinds of black pepper
1 cup plain yogurt
Finely minced red onion, peeled cucumber, and fresh cilantro to garnish
Puree celery, avocado, red onion, chicken broth, lime juice, coriander, salt, sugar, and black pepper in a food processor until smooth. Stir in yogurt. Adjust seasonings to taste. Chill soup in the refrigerator if desired. Pour into individual bowls or glasses and garnish with finely minced red onion, cucumber, and cilantro to serve.