The souvenirs I value most are recipes (or inspirations) for dishes that I can recreate at home to conjure up taste memories of a place again and again. I first tasted this soup, called okroshka, at a hotel lunch buffet in Kazakhstan, where its cool and tangy flavors played a welcome foil to the heavier meat-and-noodle dishes that predominate there. The soup showed up again in Kyrgyzstan a week later, under considerably different circumstances: on the menu at an outdoor restaurant straddling a river in the Tian Shan mountains. I savored it while sitting cross-legged at a low table, my shoulders wrapped in a wool blanket against the cool highland breeze. Horses were grazing on the opposite bank.
The soup's name comes from the Russian word kroshit, meaning "to chop finely," a reference to the way cooks must cut each of its components. Russian dishes gained popularity throughout the Soviet Union while it existed, and this one can be found on summer menus across the former USSR. Often, a bittersweet beverage called kvas made from fermented rye bread is used for the broth instead of yogurt, but this creamy version is more popular in the 'Stans, where fermented milk products have long formed a cornerstone of the local diet. It's a light and refreshing antidote to the oppressive summer heat, no matter what hemisphere you're in.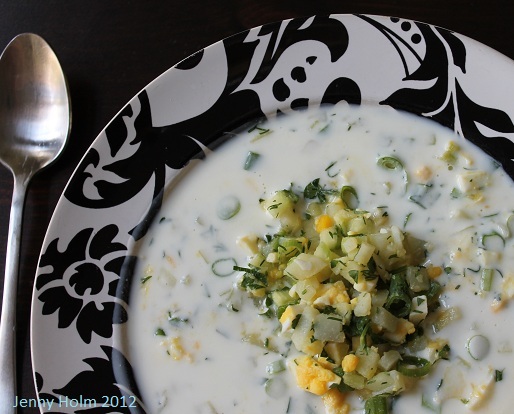 Okroshka (Cold Yogurt Soup with Eggs, Potatoes, Cucumbers and Herbs)
Serves 4
3 cups plain yogurt or kefir
1 ½ cups cold chicken broth or water
4 eggs, hard-boiled, peeled, and chopped into ¼ in. dice
2 medium waxy new potatoes, peeled, boiled until tender, and chopped into ¼ in. dice
1 medium Persian cucumber or half of one American or English cucumber, peeled, seeded, and chopped into ¼ in .dice
4 medium radishes, chopped into ¼ in. dice
3 scallions, finely chopped
¼ cup fresh dill, finely chopped
2 Tbsp. any combination of fresh mint, flat-leaf parsley, celery greens, and/or cilantro, finely chopped
1 tsp. kosher salt, plus more to taste
Mix all the ingredients together. Put in the refrigerator to chill and allow flavors to meld for at least an hour, but preferably overnight.
A version of this post originally appeared on DCist.