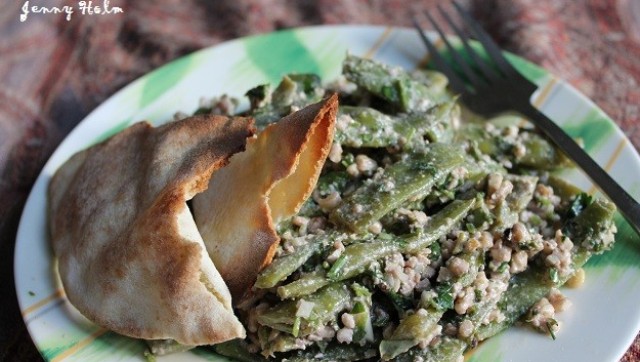 This nutty, herbal, slightly tart preparation is a classic Georgian flavor combination and can be used to dress up just about any vegetable. Try it not just on green beans, but also roasted beets, potatoes, eggplant, cauliflower, or kale. The salad can easily be taken along on a picnic since it's meant to be eaten at room temperature. It makes a mouthwatering side for meat, fish, or grain dishes, or you can serve it with Greek yogurt, crusty bread, fruit, and wine for a simple yet luxurious meal.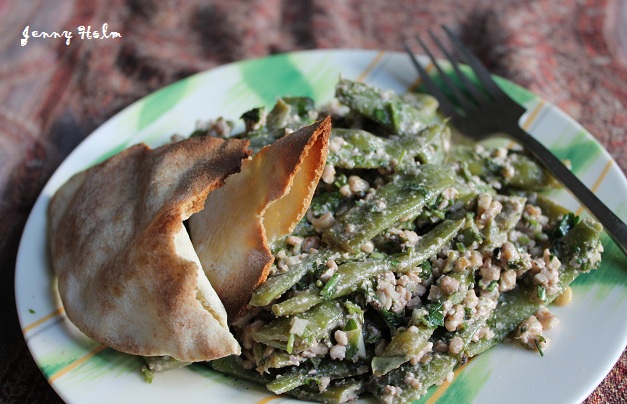 Georgian Green Bean and Walnut Salad (Mtsvane Lobio)
Serves 3-4 as a side dish
1 lb. green beans (preferably flat ones like Romano beans), stems trimmed, chopped into 1 or 2-in. pieces
1/2 cup chopped walnuts, ground to the consistency of coarse sand
2 cloves garlic, minced
2 Tbsp. vegetable oil, preferably sunflower, walnut, or peanut
1 Tbsp. vinegar, preferably cider, wine, or tarragon
1/2 tsp. kosher salt
Few grinds of black pepper
Dash of crushed red pepper flakes (if desired)
3/4 cup finely chopped mixed herbs (cilantro, flat-leaf parsley, basil, mint)
1. Bring 1 cup of salted water to a boil, drop in the beans, and cover tightly. Reduce the heat to medium and steam the beans 6-9 minutes, until tender but not limp. Drain, rinse with cold water to stop the cooking, and drain again.
2. Add ground walnuts, garlic, oil, vinegar, salt, pepper, and herbs to the beans and stir well to combine. Serve at room temperature.