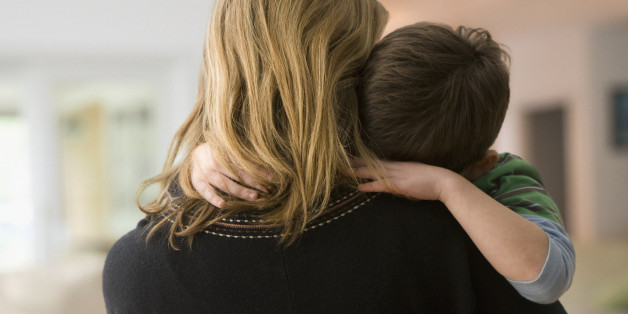 How many months or years in the making? I don't know; I feel duped. I guess I let myself be.
My husband, typically passive, decided. He sat with it, absorbed it, and lived it for months, maybe longer. He pretended, laughing at family dinners, fathering, cuddling, kissing, celebrating my birthday, Christmas, changing jobs, and making other major life decisions. He didn't want to face it, I guess. He's not devious. He's scared.
But he was cold. It was a 20-minute conversation delivered in a familiar emotionless tone. It was a sucker punch to the gut. "I don't love you anymore. I'm done. I've only stayed because of a promise." Well then, 17 years and two kids.
Because of who I am, I talked about wanting to make the marriage work. But his resolve was steelier than ever, and his words were sharp.
I finally said: "OK. I don't want this, but if you do, then that's it." Did he expect me to try to talk him out of it?
He wanted to wait to tell the boys. He wanted to stay in the house for a few more months, keep up a front, maintain an "intact household." That's denial. The players may be there; intact is something else entirely. I don't pretend.
"No," I said. "You chose this. I won't pretend, watching you make nice with our sons while I crumble and we both sit in a big pile of denial shit. You want this? You got it." And, although I'm hurt and angry, I want my children to feel safe in their home, at peace. And I want all of us to be happy. And, we weren't.
We told them gently, said all the right things -- it's not your fault, we love you, we need to be apart right now. I know what it's like to hear parents badmouth each other year after agonizing year. I won't do it to my children.
I held my younger son for an hour after his father left for a nearby motel. He keened; inconsolable. "I want Daddy back. Bring him back." My chest imploded.
My older boy said, "Mom, I know you're going to deny it but this sounds like divorce."
"We don't know right now, Daddy and I need to live apart. You've seen the stress; it's not healthy. We'll talk about it anytime. You can ask anything, of me or Dad."
And later, on night one, the sweet older brother holding his weeping "little baby boy" brother cooing "It's OK, baby, it's OK."
I'm their mom. I have to ride this storm with them. Meanwhile, I'm riding my own; gutted.
In the 48 hours that followed, I raged a shit-storm of emotions including shock, sadness, fear, anger, regret, relief, and exhaustion.
And, yet as my personal life crashed, the universe reminded me of my strength. Within hours of his leaving me, I was invited me to join BLUNTmoms as a regular contributor; a cadre writer. I gaped at the email. Well played, universe. I had wanted this for months, not just professionally, but because it feels like home to me. The writers' voices, the editors' feedback and support; it's my virtual family of women who get me, have my back, hear my voice, and want more of me, all of me, not less. He may have fallen out of love, but I have them.
The next morning, I awoke to another email. The Good Men Project accepted an essay I had submitted weeks ago. Because of the holiday, there was a delayed response. I had assumed a rejection. This was a "big fish" goal. A site I admire, with writing that needs to be read, absorbed, and internalized about men, women, relationships, and raising boys in a hard world, among other things including honest takes on racism, poverty, and politics. I am now a regular contributor with a weekly column.
My first essay was about my amazing sons whom I will parent as a single mother, my compassionate sons who heal me, and who have changed and rocked my world. And it was shared with hundreds of thousands. Five months ago, I had a poorly designed personal blog with 235 followers and no external presence. I had an out-of-print novel that is now selling on Kindle. I know have over 1,000 followers. Twitter is abuzz.
I am soaring with a band of sisters (and Good Men brothers) at my flank, protecting me at all costs. My fingers fly across the keyboard, my craft flourishes, my audience responds. I am a writer. I am an artist. I am a mother who loves her children and will give them a safe place for happiness. And I will have my safe place. I got this.
We're looking for new bloggers on HuffPost Divorce! Have an inspiring story about moving on post-split? Email your blog pitch to divorcestories@huffingtonpost.com.
PHOTO GALLERY
13 Quotes To Help You Let Go