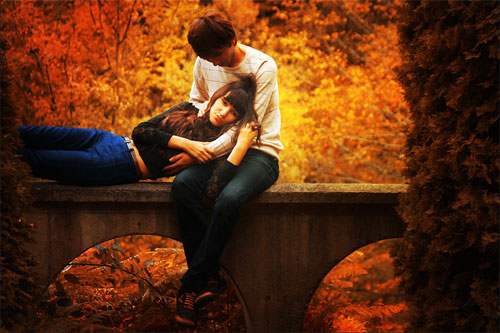 It's that time of year when we see the colors begin to shift from light and bright to warm and neutral. It would be remiss not to address the shift in our tone and mannerisms as well. Most marriages experience this shift and often times it is not addressed. Let's talk about how to get back to that warm and fuzzy feeling that the busyness or business of summer takes away from day to day relations.
The fall season, or autumn as some prefer, is a precursor to winter and cooler temperatures. Summer love and romance can be hot and sizzling and fizzle just as quickly as soon as the thermometer dips below 60 degrees. Being aware of your mood shifts and the need to feed the addiction for affection is vital. Here are eight ways mates can spice it up in the wonderful season of browns and oranges.
1) Hot Apple Cider -- This drink could almost be considered a "drank" for those that choose to stay on the non-alcoholic side. You can get it spicy or mild and it's perfect for the fall as apples become more of an aphrodisiac.
2) Sit Outside a Café and People Watch -- It might be a little cool outside but nothing beats real life entertainment. Watching people go by has to be a little better than visiting a corn maze or taking a hay ride (or both) -- innocent voyeurism is not a crime and can make the time go by with interesting conversation.
3) Cuddle Night -- Summer nights can be unbearable without air conditioners. The fall brings cooler temperatures and a good excuse to get closer to your mate. Everything does not have to happen in the bedroom. Sit in the living room, snuggieless, crack open the windows and go old school with a blanket.
4) Fall Selfies -- In the age of social media, something fun to do is to take a day, take in the sights, and take selfies. Facebook, Twitter and Instagram will soon be flooded with pic flics from fall festivals, pumpkin patches and more. Get in on the fun.
5) Play in the Leaves -- Who doesn't love that... no explanation necessary.
6) Take in a State Fair -- It's seriously that time of year to find a nice Ferris wheel, or Matterhorn. After you have had your share of thrill rides you can always pick up a funnel cake or elephant ear to share. Challenge each other to a game and just maybe you can home with a goldfish.
7) High School Football Game -- No matter how old you are, you're never too old to go back to high school. A local school game brings all of the memories back of fun times and care free days.
8) Carriage Ride -- The ultimate carriage ride is in New York City around Central Park but most major cities have one that you can take around downtown.
Well, there you have it. These are simple things that you can do to ease your way into the season and actually reestablish a connection with the one you love. If these don't work, you can always try some Marriage Fragrance that is being called the new Love Potion #9. If you can't romance them... put a spell on them. Either way... you have their attention.