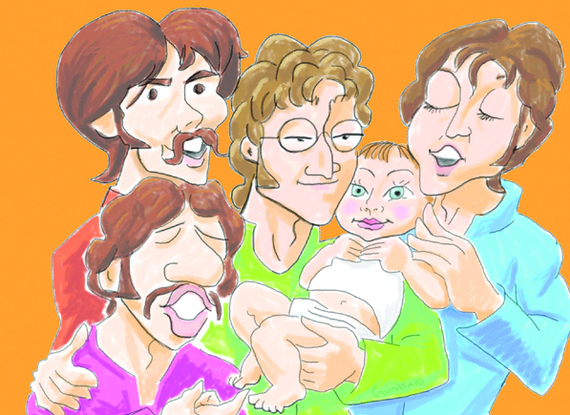 (Illustration by Raffael Cavallaro)
Life, as John Lennon told us, is what happens while you're busy making other plans. The same can be said for lessons, which sometimes arrive as unexpected gifts from our beautiful boys -- and girls.
That's what I learned nearly a decade ago when I took my then 8-year-old daughter, Ella, to Central Park's Strawberry Fields on the Dec. 8, 2005, the 25th anniversary of John's death.
I'd stopped by the park on Dec. 8 pretty much ever year since 1980, but never with Ella, whom my wife, Theresa Wozunk, and I raised as a Beatle Baby since birth. We'd spared Ella this annual ritual, even as we embarked on familial Magical Mystery Tours to Liverpool, London and Hamburg.
Only two months before, Ella unexpectedly met Paul McCartney, producing a sweet tale that traveled around the world. Now, I decided, Ella needed to experience another part of the Beatle story.
***
As I walked hand-in-hand with Ella past the Dakota in the early December chill, memory transported me back to 1980, when I was a 14-year-old high school freshman.
It was nearly 11:30 p.m., and a school night. But that didn't stop my younger brother, Drew, and me from our weeknight ritual of secreting ourselves in his room, huddled around our 12-inch black-and-white Zenith TV. With the volume turned down to a whisper, we waited for "Prisoner Cell Block H" to begin on Channel 11.
We were moments into the latest jailhouse melodrama when words to this effect crawled across the bottom of the screen: "A man tentatively identified as former Beatle John Lennon has been reported shot on the Upper West Side and rushed to Roosevelt Hospital."
The 11 p.m. news broadcasts were over. CNN was about six months old -- not that we had cable TV in our working-class corner of Brooklyn.
But ABC's "Monday Night Football" was still on.
The words "tentatively identified" and the lack of the word "dead" gave me some optimism as the dial clicked four times under my hand to Channel 7. Howard Cosell quickly dashed those hopes:
"Remember, this is just a football game, no matter who wins or loses," Cosell began in his voice-of-authority nasal tones. "An unspeakable tragedy confirmed to us by ABC News in New York City: John Lennon, outside of his apartment building on the West Side of New York City, the most famous, perhaps, of all the Beatles, shot twice in the back, rushed to Roosevelt Hospital, dead on arrival."
I pounded downstairs past my father, still in his mailman's uniform, eating dinner off the tray table in front of his Archie Bunker-like easy chair as he watched "The Tonight Show."
"What the hell are you doing?" he shouted.
"Somebody shot John Lennon," I said. "He's dead."
"Oh," my father replied, taking his attention off Johnny Carson's monologue for just a moment. "Well, it's too damn late to play any records. Go to sleep!"
I jumped into bed and turned on my clock radio, making sure I kept the volume down on my makeshift pillow speaker.
I flipped from radio station to radio station -- WPLJ, WNEW, WABC -- listening to the DJs struggle with their emotions, field calls from weeping fans and play John's music. Meanwhile, scores massed outside the Dakota brandishing candles and singing John's songs.
I wanted to be there. But there was no question I would be staying put. My father usually stayed up through Tom Snyder's "Tomorrow Show," which didn't end until 2 a.m. I wasn't going to sneak out of the house and take a train to a place I wasn't even sure how to find. Not in 1980 New York. Not at age 14.
***
I began to wonder whether I was making a mistake as Ella and I walked into the packed park. The turnout was the biggest I'd seen since the first anniversary vigil.
Thanks to both the crowd and the cops, the line leading up the "Imagine" mosaic was as orderly as it was long. As we got closer, the candles made it almost seem like we were approaching a round patch of daylight, to a soundtrack of Beatles songs provided by hundreds of voices and dozens of jangling acoustic guitars.
"I can't see!" Ella said.
Someone overheard her. "Hey, there's a little girl trying to get in!" a woman said, and the message began to travel up the line.
Suddenly, cops cleared us a path. We stopped a moment and took in the light, flowers, photos and fan art that obscured the mosaic.
I looked into Ella's gray-blue eyes. She was smiling. Ella was cold and tired -- but happy. For her, it was another fun Beatle day: full of music, nice people, a certain amount of physical discomfort and a pleasant surprise. For her, this gathering represented a celebration.
In that moment, 25 years of sorrow -- or something -- lifted. Believing in yesterday is fine, but living for the moment and embracing the future is where it's at.
I was thinking about the future that night when I extracted from Ella a vow I hope she'll keep.
"I need you to make me a promise," I told her. "I took you here tonight. I want you to take me here in 25 years, on Dec. 8, 2030.
"When I'm 64."
Adapted from "Raising a Beatle Baby: How John, Paul, George and Ringo Helped us Come Together as a Family" by Jere Hester. Published by Books by Brooklyn.