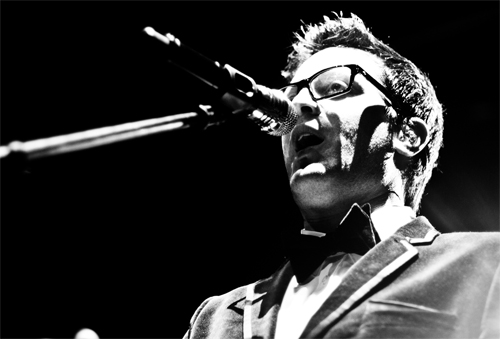 Monday night Mayer Hawthorne and the County brought the roof down to a sold-out crowd at Webster Hall. Kicking off the U.S. leg of the How Do You Do tour, Hawthorne and his four-piece band played a tight hour and a half set to a sold-out room, reminding everyone that they were at a show and not just some old concert. His "soul music for hip-hop heads" kept booties rocking and the people singing all night long, not once letting the music stop as they celebrated their return stateside after touring the globe for the past three months.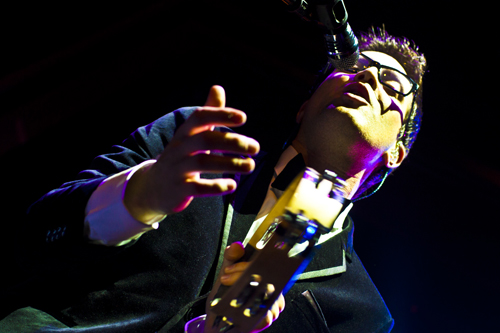 Non-stop shows in Brazil, Australia, France, Germany and Italy has helped them to hone in on their performances. Neon stars and his signature MH heart flickered to life as the band played in the introduction to "Can't Stop." Decked out in a black velvet blazer and matching bowtie, Hawthorne was a showman through and through, knowing when to belt out his signature falsetto and when to slow it down and interact with the crowd. Microphone troubles plagued the first few songs like "Your Easy Lovin' Ain't Pleasin' Nothin'" and "The Walk" but Hawthorne never broke face, ambitiously singing both songs into a dead mic, more than happy to let the crowd sing for him.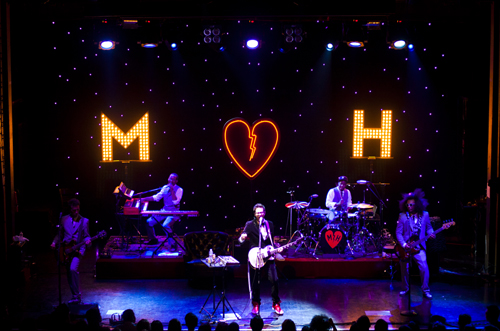 DJ Haircut (his first stage name) let his hop-hop colors show as well that night, flipping the exitlude of "The Walk" into a DJ Unk's golden single "Walk It Out", instructing the West, South, East, and Northside to get to stepping. With a pause in the music, he switched microphones and served up a special Donut, breaking into an extended J Dilla tribute in between songs before rolling into "One Track Mind." It was nice to see that major-label deals and worldwide notoriety hasn't stopped him from paying respects to his Stones Throw roots.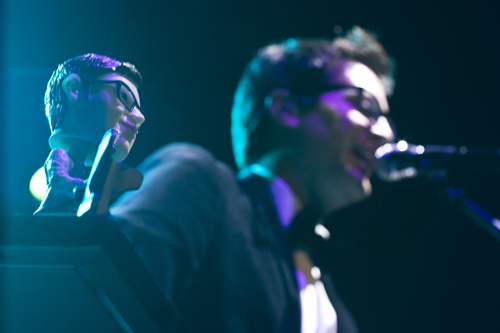 The highlight of the night came soon after as they broke out into a Bohemian Rhapsody-esque introduction of "Love in Motion," his collaboration with French electronic producer SebastiAn from last year's Total. His vocals were distorted, yet elevated as he did his best Freddy Mercury impression before his band came in to breathe life into the song. The sexed-up and grimey bass line pumped as the drums plodded along, Hawthorne taking great care to work all parts of the stage equally. Without notice, it quickly flipped into the one-night-stand anthem "No Strings." The second verse turned into the "Make It Clap" video, everyone on floor and up in the balcony gleefully slapping along in unison the entire time. At this point, he had everyone eating out of his hand, from the hipster sheik to all the parents and grandparents in the place.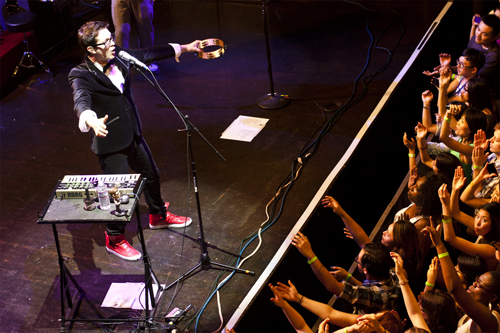 He also made sure to slow it down and really take his time with it, easing back into his falsetto for "Shiny and New" and "I Wish It Would Rain." The ease in which he flips the switch between the two personas not only shows the depth of his relatively small catalog but the immense level of artistry he shows, justifying all of the acclaim and popularity bestowed upon him. The new single "Dreaming" goes from lackadaisical and carefree immediately to a sped up version of the timeless garage karate classic "You Make My Dreams Come True." Prestige Worldwide would have been happy.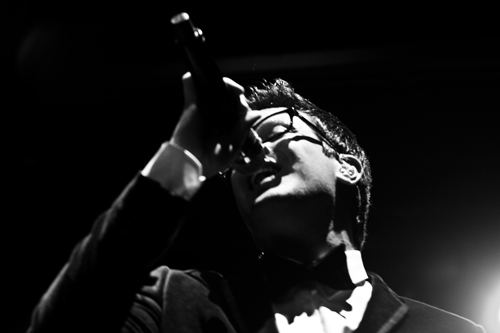 By the time their set closed with "The Ills" and the Price Is Right theme music came on to play them off, the encore chants came immediately. Coming back with a nightcap, Hawthorne and the County played "Maybe So, Maybe No" and "Henny and Gingerale" with an oversized bowl of ice and bottle of Hennessey in tow. Hawthorne was making drinks for his band and the crowd, coolly filling cups while he peppered in his verses as he pleased, more than happy to let the County go on extended guitar and keyboard solos. Monday night wasn't a concert, not even a show; it was a party. Don't miss out.
Mayer Hawthorne and the County is currently touring across the country on How Do You Do tour featuring The Stepkids -- Tickets/Information
Photos by Lucas Farrar / Far Fetched Future : Twitter/Flickr