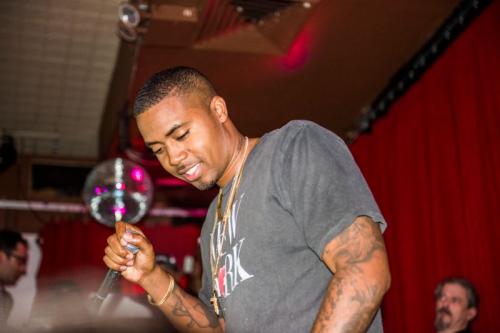 Tuesday night at Tammany Hall capped a whirlwind 24 hours for the legendary Queensbridge emcee Nas as he released his 10th studio album Life is Good (Def Jam). Coming off of Moet dinners with Jay-Z, a show at Rucker Park, and a huge wave of television appearances (ESPN, Letterman, Colbert and 106 & Park, respectively), the man was impossible to escape. All this was capped off with a special concert that for a select group of people in the know in celebration of what projects to be the number one album next week on the Billboard Charts. The capacity crowd eagerly packed the venue in hours before the show started, hyperbolically talking about the album, making sure to have a stake one way or the other.
After digesting the album for a day (or in The Internets time, a week or two), this is what we know for sure. This is a clear-headed, back-to-basics approach for Nas; removed away from the heavy whips and chain imagery of Untitled and the soapbox-ery of Hip-Hop is Dead (Distant Relatives , his 2010 collaborative effort with Damian Marley, was a welcome creative step but you know, just not a Nas album). With a majority of the production being handled by long time confidant Salaam Remi and No I.D., the man currently with the golden touch, Nas brazenly ascends to the title of Nasty once again.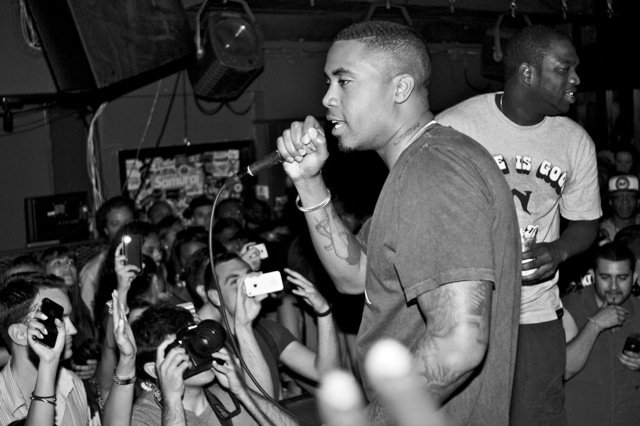 Subway riding / conductor punching anthems? See "Loco-Motives." Expertly knit storytelling raps WITHOUT any Al Capone impressions? Boom, "A Queens Story." Requisite summer cut to bang out of the car? Turn on Sportscenter from 4 a.m. onward and you're bound to hear the Ciroc splashing and summer smashing of the Swizz Beatz and Miguel assisted "Summer on Smash" in between baseball highlights. This type of consistency carries over throughout the album in songs like "Stay" and "Cherry Wine," the latter blessed with the kindred spirit of Amy Winehouse. Nas is finally in a state of mind free of fanboys, critics, and everyone in between that ascribe other worldly expectations to him to create a satisfying listen. Where it ranks in the larger canon of Nas albums remains to be seen and debated throughout the following weeks, but this is world-class lyricism in 2012 for all the dunnies that forgot.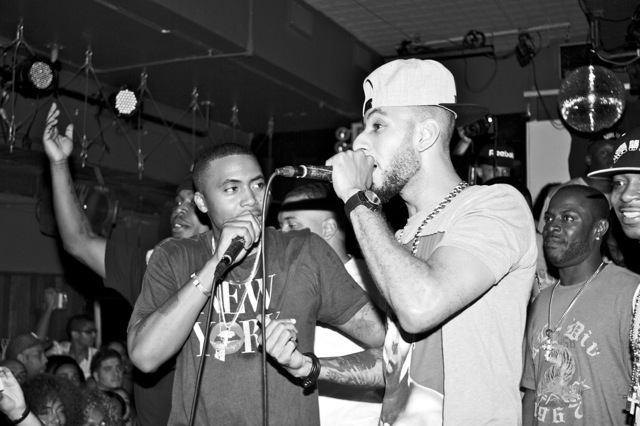 Getting back to the show, it was awesomely fitting for DJ Green Lantern to throw on Al Green's "Love and Happiness" before the he took the stage, Green encouraging everyone to get on that "Life is Good wave." Suddenly the good Reverend's crooning cut and the tribalistic chants of "The Don" dropped as Nas hit the stage to rousing approval. He welcomed and thanked everyone as he explained his new mantras in life (that it's good! Every morning) before dialing the time machine back to 1991. The little homie performed his debut verse from Main Source's "Live at the BBQ" as he worked chronologically through his catalog.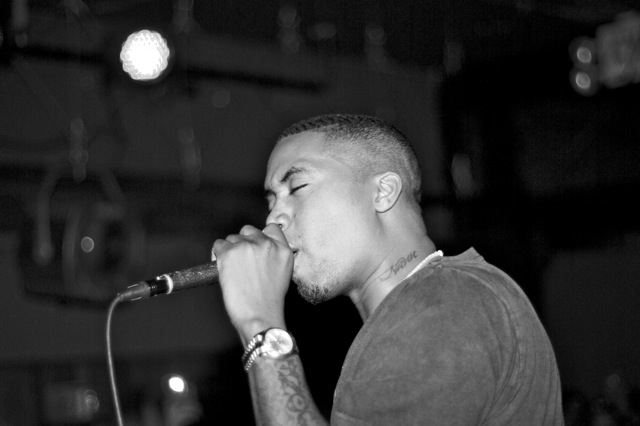 The requisite tour down Illmatic followed as he went into "NY State of Mind," "Represent" and "The World Is Yours" (video below). Nas, clearly used to the god-like status he has earned from fans, left a lot of room in between bars to soak it in and to let the crowd finish his lines back to him. This back and forth between the audience went on for a while until he brought out his true brother-in-rhyme AZ to officially set things off. Seeing the two share such a small stage together was a moment for sure, the undeniable ease and chemistry between the two still there after 20 plus years in the game. "Life's a Bitch" dove-tailed into a mini-Firm set as they rattled off "Phone Tap," "Affirmative Action," and "Mo Money, Mo Murder" with the ease of a couple assassins.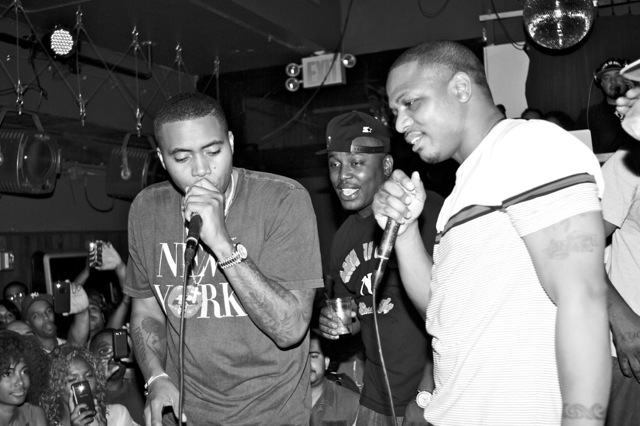 As he pivoted into the newest material, he offered his perspective on the music business today. Before launching into the aforementioned "A Queens Story" he said "F-k pop, f-k all that shit! We don't imitate pop, pop imitates us! So that's why we go back to the gutter. We're number one in about five or six countries around the world. And none of this is pop. Stick to your guns, do what you do." He kicked his foot up on the speaker and spat with conviction, continually telling Green Lantern "Don't stop it!," making sure to rattle off all four gritty verses in their entirety. He seemed as energized as he'd been in years, dancing and bobbing back and forth on stage to the break beat like Ali on the canvas, holding down the undisputed heavyweight title. It finally seemed he was comfortable and at real ease after his very public ups and downs the past few years. During "Loco-motives" he yelled, "When you hear this shit... It's OK to say this shit is back!!"
(Are we good? All clear?)
Escobar season has returned.
Nas - The World Is Yours from Meredith Truax on Vimeo.
Setlist
1. The Don
2. Live at the BBQ
3. NY State of Mind
4. It Ain't Hard to Tell
5. Represent
6. The World Is Yours
7. Life's a Bitch (with AZ)
8. Phone Tap (with AZ)
9. Affirmative Action (with AZ)
10. Mo Money, Mo Murder (with AZ)
11. Daughters
12. I Can
13. Nas Is Like
14. A Queens Story
15. Locomotive
16. Summer on Smash (with Swizz Beatz)
17. Bye Baby
Lead photo / video by Meredith Truax : Website / Twitter
Black and Whites by Pete Monsanto / Fly Life Images : Website / Twitter