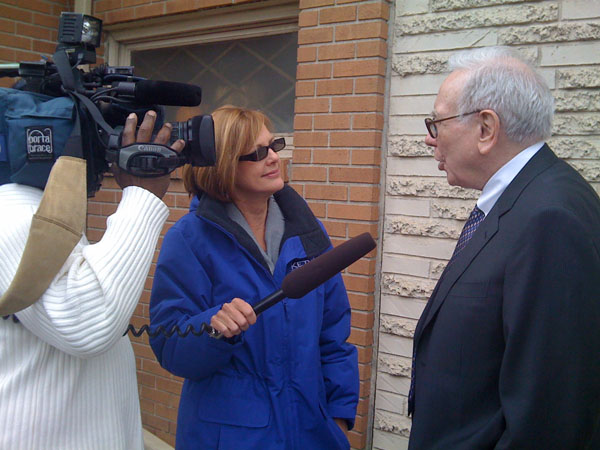 Twenty years ago, investor Warren Buffett accepted an Omaha Press Club Education Committee invitation to spend an hour talking about media. At the time, I had lived in Omaha a little over three years but had already learned to follow his teaching.
I decided to take the only VHS camcorder that was available, just in case the event could be recorded. From the back of the packed room, I taped a piece of history. The other day, while doing research for a documentary titled Mr. Buffett the Teacher, I carefully removed the old tape from its sleeve, copied it to DVD and then ripped and uploaded the video in its entirety to YouTube.
Though two decades have transformed the media business from analog to digital, Buffett's brief remarks followed by answers to a series of questions offer insights into how the practice of journalism informed the Wizard of Wall Street.
Buffett's maternal grandfather published a small town Nebraska newspaper; his mother grew up working in the business. "She worked three years to get the money to go to school," Buffett said. His father met her and also learned the trade at the University of Nebraska before selling stocks and eventually entering politics as a congressman. While living in Washington, D.C., young Warren delivered two newspapers. Buffett later bought the Buffalo News, owned the former Omaha Sun, and invested in the Washington Post and ABC. After shying away from the business several years ago, he again became bullish on newspapers. His Berkshire Hathaway purchased the Omaha World-Herald and other profitable newspapers.
Buffett's methodology as an extremely successful investor and one of the wealthiest billionaires was and is to act as a good reporter and "assign" himself a story each day to learn the true value of a company. If that company's stock sells for much less than its value, then the stock price should go up over time. But, only if the research finds that the company is in the hands of good managers.
The system works. I purchased Berkshire "Baby B" (BRKB) shares not long after they were split 50-to-1 in 2010, as part of a $26 billion Burlington Northern Santa Fe railroad deal.
BRKB is up more than $15 per share and near its high since the split. Buffett has adopted computers and digital technologies, but he retains a decidedly analog style.
Now retired World-Herald business reporter Bob Dorr introduced Buffett on that September 1992 evening at the press club. "He is invariably accessible, courteous, and straightforward, but generally non-talkative," Dorr quipped.
Buffett explained in the 1992 talk that profitability of newspapers is not related to content excellence, but rather competitive position. "You essentially have a business that will make a lot of money if you are terrific, it will make a lot of money if you're lousy," Buffett said, "...how good a newspaper is depends entirely on the wishes of its owner."
"There is no correlation between profits and excellence," Buffett added, "there's really nothing like that in American business."
The competition of Internet news may be changing this. In the 20 years since the Buffett media talk, the lack of analog competition has given way to the digital mix of online media, blogs, tweets and Facebook walls.
I was thinking about analog the other night while listening to the Omaha Symphony play Beethoven. In the same room that night was Richard Holland, one of the many Omahans made wealthy through early investments with Buffett. The Holland Center for the Performing Arts is one of the analog outcomes of Buffett's investment success. Analog music -- the technology from hundreds of years ago -- played to the joy of classical music buffs, but not the masses. A digital copy of the performance will air later on KVNO, the classical music station on my campus.
Nobody can predict what the digital media future will bring, but it is a good bet that it will be informed by solid analog principles. Warren Buffett has taken the strategy he learned from Benjamin Graham and his The Intelligent Investor (1949) happily into the 21st Century. In an updated version of the book, Buffett prefaced he was 19 when he first read the book in 1950.
"Mr. Market's" stock prices rise and fall for reasons other than company value. The same can be said about the technology sector and digital media. A "sound intellectual framework," Buffett wrote, is needed along with "the ability to keep emotions from corroding that framework."
Our media industries, as well as universities training the next generation of media professionals, would do well to check emotions when it comes to slick, new apps. It is better to be informed by the analog beauty of great storytelling and adopt new technologies with a sense of strategic purpose and vision.