In the days before my departure to China, I read about former Illinois Governor Rod Blagojevich's travel to a federal prison in Colorado. As a young reporter, I had covered him and previous Governor George Ryan, who also went to prison. So, as a lifelong Midwesterner, I am no stranger to odd political circumstances. In China, a public political spectacle of another sort is unfolding ahead of the upcoming leadership change. The Guardian reports that "a colourful political contender" and major city head was ousted.
Meanwhile, in my hometown of Omaha, there had been a buzzing with videographers, sports reporters and other visitors for the NCAA regional play that featured nearby Kansas and Missouri. It seems thousands of miles away from my destination, and it is.
I prepared for weeks to make good on an invitation to travel to Asia for the first time. Last year, my campus hosted a visiting scholar from China. I enjoyed taking Dr. Jiankang Zhang to the Omaha Symphony, a Kansas City Royals baseball game, a long weekend in Chicago and other adventures. He joined our students in an annual visit with Omaha billionaire investor and capitalist Warren Buffett, and their photo together appeared in a newspaper back in China.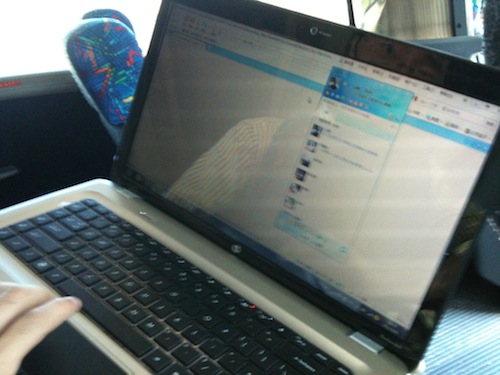 On board a Megabus outside of Des Moines, Iowa Dr. Zhang accessed one of China's internal social media sites. There are many sites that mirror Facebook, messaging and social gaming.

Since protests in 2009, China has attempted to block Facebook, Twitter, YouTube, WordPress and dozens of other U.S. sites that might harbor dissent. Recent visitors to China had told me to expect Internet restrictions. As a First Amendment researcher, I would see the access restrictions as a bit of a one-way street.
ZheJiang University City College in Hangzhou invited me to visit China. I flew into Shanghai, a city with a metropolitan area of more than 20 million -- about twice the size of what we Midwesterners find in the Chicago area.
I was also scheduled to visit Yiwu, a city about twice the size of Omaha. It is difficult for a Midwesterner to imagine the dozens of Chinese cities populated by millions of people. A Chinese student on my campus hoped I would not be disappointed by China because of its population the density. "There is no privacy," the student said.
I've been reading about China since my elementary school days. I remember being mesmerized by Pearl S. Buck's The Good Earth -- a story that seemed to bring together the two cultures around the commonality of life's struggles. It's about a poor farmer, his diligent wife and children, as they struggle against flood, crop failure and life's challenges. Now in my mid-50s, the story reminds me of my road traveled -- often across the fields of Nebraska, Iowa, Missouri, Illinois and Indiana.
Preparations for travel to China included a visit to my asthma doctor. I had been repeatedly told by recent visitors to expect that the air in Shanghai would not be as clean as Omaha. I had updated my immunizations and was advised by the travel clinic to take a typhoid shot. I agreed. I would be drinking bottled water and eating a lot of chicken and rice, though I hoped to enjoy some new foods, such as Chinese dessert pudding.
I expected to be confirming and disconfirming what is written, presented and said about the world's fastest growing economy. The world may be flat, but China is about both change and history. I am fully aware that media constructions are not always accurate. Many years ago on a family summer vacation to Yellowstone, we had been warned about the huge crowds and traffic attributed to Japanese tourists. We ignored the warnings and enjoyed a relaxing pre-July 4 visit that felt nothing like the media stories.
Japan, of course, once rose in America to the mythical level of jobs stealer. In the Midwest during the early 1980s, people even smashed old Toyotas in defiance of this invasion. Today, there is a Toyota plant in southern Indiana that generates jobs for the locals. Built in 1996, the $3.6 billion investment currently employs nearly 4,000 in Princeton. So, I entered this trip naturally skeptical of those who worry about the impact of China and its more than one billion people on America. The global economy clearly has winners and losers, but the resilient Midwest has rebounded in many cities from the title of "rust belt." Here in Omaha, the Stockyards closed in the mid-1990s, but the jobs have been replaced by a diverse and eclectic set of options -- from insurance, to IT and even the music scene that now places us among the top ten in the nation.
I would not have been surprised to see in China a more diverse country than media stereotypes portray. I've enjoyed getting to know Chinese academics since my days in the late 1980s as a doctoral student in the very international journalism program at Southern Illinois University. More often than not, we thought alike.
During Dr. Zhang's visit last year, I re-learned over many months that the human condition shares a common desire to live a good life, provide for family, and aspire for a better life in the next generations. As a Midwesterner traveling to Asia for the first time, I expected to strengthen the bonds that come from development of real relationships and partnerships. Nebraska's first wave of Chinese students from Hangzhou in recent years wants the same benefits as U.S. students preparing for careers: They want the university to help them feel comfortable, as they navigate through curriculum and any academic issues. Given our unique places in the world, we should be motivated to sponsor educational exchanges and economic development that advance both great nations.