When Ebola comes to your town, it may translate into positive or negative news and social media sentiment. We have had two patients treated and released from the University of Nebraska Medical Center (UNMC), and Omaha is learning lessons about what works.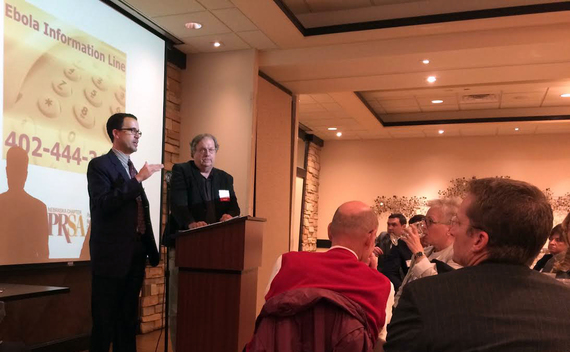 Two public relations spokespersons answered questions about Ebola media relations at a PRSA Nebraska luncheon last week.
Taylor Wilson, Nebraska Medicine PR, and Phil Rooney, Douglas County Health Department resource specialist, explained how Omaha's bio-containment unit, one of only four in the U.S., placed the community in the spotlight of "intense media."
Wilson said that PR people were proactive in the release of information, as the U.S. Department of State asked for help in treating two patients at the Biocontainment Patient Care Unit.
UNMC had been preparing since 2005, and the PR department created website content in advance. In August, UNMC began monitoring conversation as "social media started to light up," Wilson said.
"You had the people who were not as informed as others, so we took that opportunity to really jump on those (Facebook and Twitter) pages... and put out the factual information about the disease," Wilson said. "We wanted to make sure our voice was in the conversation... making sure the tin foil hat wearers weren't the majority."
At one moment, investors were "a vocal minority on social media" wanting to know which drug was being used. "In this age, social media gets that information out there more quickly than you can ever account for it, so instead of trying to hold information back, we were as forthcoming as we could possibly be," Wilson said. The exception was withholding information about the experimental drug used on the first of two patients treated in Omaha. A confidentiality agreement had been signed, Wilson said.
Wilson added that the U.S. Department of State delayed release of some information on the transport of patients to Omaha. Some talk show hosts "like to stir the pot a little bit," and Wilson made calls into shows to counter with accurate information.
"There's a lot of misinformation out there," Phil Rooney said. "We also had Hootsuite up monitoring everything that was going on... What we found was, if there was information out there, it generally self-corrected itself on Twitter, for the most part."
"One of the challenges is, you're dealing with reporters who I think are generally bright people, well intended, but they don't deal with science every day," Rooney said.
The department recently shared on Facebook the CDC's four levels of risk in evaluating international travelers and noted that the updated information was "good to have for the holidays."
The health department maintains an "Ebola Information Line" (purposely not called a "hotline") to field non-emergency telephone calls, and its website page emphasizes how the disease is spread:
The virus is spread through direct contact (through broken skin or mucous membranes) with blood and body fluids (urine, feces, saliva, vomit, and semen) of a person who is sick with Ebola, or with objects (like needles) that have been contaminated with the virus. Ebola is not spread through the air or by water or, in general, by food; however, in Africa, Ebola may be spread as a result of handling bushmeat (wild animals hunted for food) and contact with infected bats.
UNMC maintains an online newsroom, and it regularly offers Ebola updates.
Early in the coverage of the first patient, UNMC added a Ustream, built a contact list of 300 to send information to all interested media, and offered regular updates "feeding the beast," Wilson said. "Early on, we hardly could feed them enough."
In contrast to the situation in Dallas, public opinion in Omaha was primed for listening and understanding. Perhaps the secret to calming fears is to get out in front of "false Ebola alarms."
In remaining proactive on the story, for example, Omaha nurses were interviewed after news broke that a Dallas nurse had tested positive.
Ebola offered dramatic storytelling opportunities, and this filled newspaper front pages, talk radio conversation and television news.
The volume of Ebola talk shut out other important issues. As we learned last week, the drum beat of Ebola media coverage may have so dominated the news agenda that voters went to the polls with it rather than the economy or other positive news on their minds.
Too often, news media and social media chatter turn to fear mongering instead of dispassionate reporting of facts. Ebola offered "red meat" for sensational journalists, talk show hosts and social media opinion leaders.