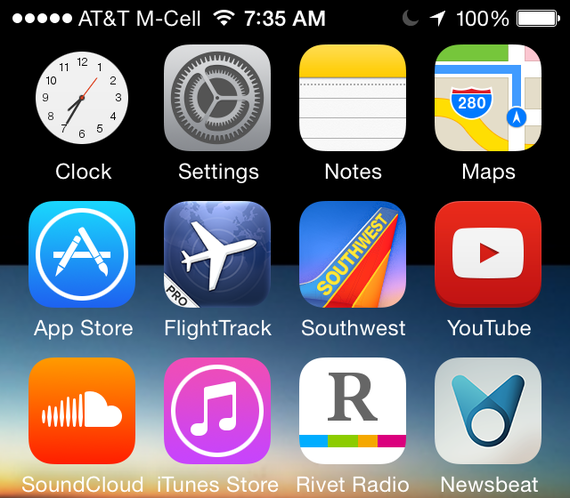 The Associated Press (AP) and A.H. Belo Management Services are among investors backing HearHere Radio to the tune of $1.7 million, the company behind Rivet News Radio has announced. Rivet is targeting smartphone users with "personalized" content from the AP, Chicago Public Media and Crain's Chicago Business. HearHere CEO John MacLeod also said, "we're working diligently to optimize proprietary technology that better understands listeners' interests and delivers them exactly what they care about."
In the eight months since launching and I first wrote about it, Rivet has attracted more than 100,000 iOS users, and Android users can now get the app at the Google Play store. MacLeod says the biggest challenge is getting people to come back to the app and build use into their daily routine. Rivet also will be delivered in elevators, phone on-hold systems and other ways beyond mobile devices.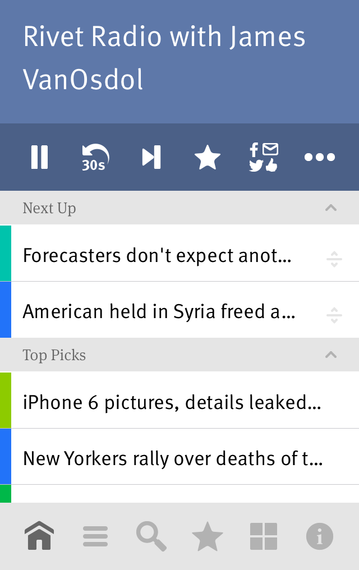 The time may be right for disruption of over-the-air terrestrial radio news in large markets where commuters spend significant time close to their smartphones. HearHere points to key developments, such as the launch of the NPR One app ("Public radio made personal.") and the Radio Disney decision to shift way from radio stations and toward digital.
In one corner, Rivet News Radio emphasizes experienced newscasters and conversational delivery. In the other corner, Tribune Digital Ventures Newbeat is developing "synthesized voice" text-to-speech news reading software that mimics radio news male and female co-anchors ("Brian" and "Leslie"), Anil Panguluri, vice president of product management says.
"It's not very good at storytelling," MacLeod says. "It's fatiguing to hear text-to-speech stories." Years ago, he explored the technology, but it's a difficult problem involving scripts and the human voice. However, Rivet plans to use text-to-speech for hyper-local weather, traffic and other data rather than for storytelling.
Newsbeat adds as many as 300 stories each day read by human news anchors and combines them with the thousands of other text-to-speech reports in the mix.
"People... are expecting more personalized news, things that they like rather than the topics and coverage that the newsrooms think people like," Panguluri told me. While traditional newsrooms now monitor trending topics in social media, this tactic does not offer each member of the audience a personal experience.
Increasing numbers of smartphone and tablet users stream music and entertainment content, and the Palo Alto Newsbeat group is targeting mobile device and data plan users with highly personalized news.
The Newsbeat algorithm filters thousand of stories in each 24-hour news cycle, and offers users text-to-voice reading of local news content, weather, traffic and other content. Newsbeat lets smartphone app users select news categories and topics to push to the front. In time, Newsbeat users build a "portfolio," Panguluri says.
"Over time, you have expressed enough to... us that we can bring in more and more elements of content (including sources) all the time." The Newsbeat app recognizes similar stories by different news outlets. "We will show you the content from the source you like covering the same topic," Panguluri says.
It remains to be proven that younger mobile users have an appetite for personalized, serious news content. Right now, Rivet may have an edge in offering the most current updates, but Newsbeat has a broader and deeper pool of current newspaper and media content - including jokes that help create the feel of a radio station. Both apps require the user to work through selecting and skipping stories in order to develop content preferences.
Newsbeat developers see it as a fundamentally new way of publishing that happens to be delivered as voice. The reward for users is content matched to their interests and intelligence. In one day, there are between 7,000 and 15,000 U.S. news stories. "We have to match a few thousand stories every day to a few million people," Panguluri says. "We're creating one news report per person every single day."
Mobile radio news needs to leverage visual social media, drive interest through push news alerts and understand what it will take to create "viral radio." It is a challenge, but large media companies are betting millions of dollars on the future.