It's worth stepping back from the pace of social media chatter about technology to reflect upon the ways we respond to the impact of rapid change.
In March, I was one of more than 300 "innovators, business leaders, growth-focused policy makers and academics" at the first Forbes Reinventing America Summit in Chicago.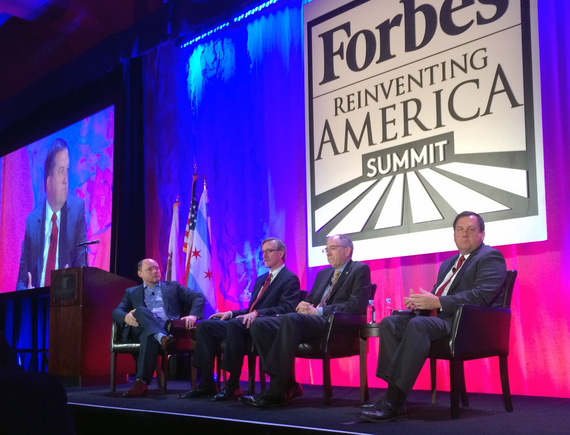 From charter schools to 3D printing, nearly every field, including Midwestern industrial manufacturing, is adapting to the disruption of technological change. "Chicago has always had a reputation as a can-do place" and "has had metamorphoses in the past, and we think one is underway now," Forbes Media Chairman and Editor-in-Chief Steve Forbes said.
Keep a close eye on how this plays out in the health field. We've known for more than a decade that aging baby boomers would impact the early part of the century, but the intersection of health care needs and mobile and social media technology was not fully anticipated.
Read the news headlines. The Veteran's Administration struggles to keep up with the demand for health services, at the same time Apple joins the push toward leveraging technology to assist patients. A recent Harvard Business Review blog noted that primary health care is "ripe for disruption" in this country:
Apple might conceivably go beyond what seems to be inevitable forays into the fitness and health-monitoring markets to create new disruptive ways to diagnose and deliver primary care and support the ongoing treatment and management of chronic illness. Doing so would require some nifty regulatory maneuvering. It would also require the company to crack a problem that has flummoxed Google and Microsoft: the creation of a simple, common electronic medical record, which could function as the glue of a new primary care value chain.
Walgreens is a more than 100-year-old company that went on a building spree two decades ago, but the corner drug store is rapidly being reinvented.
So, "at the corner of happy and healthy," Walgreens is quickly shifting toward meeting daily needs of beauty, wellness and happiness. "That's really a reinvention of our company to do that for the next 20 years of success, and also going global at the same time," Walgreens Senior Vice President and Chief Information, Innovation & Improvement Officer Tim Theriault said.
The health system currently is based upon primary care physicians, but wearable health monitoring devices and customer rewards cards collect data that can be evaluated and shared, Theriault said. "We've created the technology to accumulate that data" to develop "active health data."
Through "the Internet of things" Walgreens wants to "enhance healthcare" by connecting consumer and wearable device data, such as monitoring weight and blood pressure, and shift focus away from being sick and toward wellness, Theriault said.
The transformation includes Walgreens offering new services, such as its health care clinic, which is staffed with board-certified family nurse practitioners.
The rapid shift of the Walgreens brand on street corners across the nation presents a roadmap for those companies repositioning products and services. Employees and customers must adopt new language and perspectives on people and places for "a different consumer experience," Theriault said.
Media storytelling is how most people learn the new corporate language of change, and social media are growing in importance.
At three previous Edelman PR Academic Summits -- in 2009, 2010 and 2012 -- I've watched as the public relations industry and its corporate and other clients shift focus from traditional media relations. So, I'm anxious to see what is said at the June 25 summit, also in Chicago.
Dubbed "Storytelling at the Speed of Now," the largest public relations firm sees real-time storytelling as "aligning cultural moments with brand moments." One of Edelman's examples is the CVS Caremark decision earlier this year to stop selling tobacco by October 1, and their Vice President of Communications Carolyn Castel is scheduled to speak.
Although they had $1.5 billion in annual tobacco sales, CVS President Helena Foulkes said the decision was about consistency "as it relates to the future as a health company."
Increasingly, reinvention means taking a fundamental look at business models, goals and objectives. For PR storytelling to be successful, change must align with shifting social values and perspectives. Long-term results are a matter of risk-taking that understands brand value and builds upon natural strengths.
Still, it may be a stretch to say America needs to be reinvented. Instead, we are seeing strategic responses to rapidly changing technology and a need for new narrative storytelling within a social media engagement context.