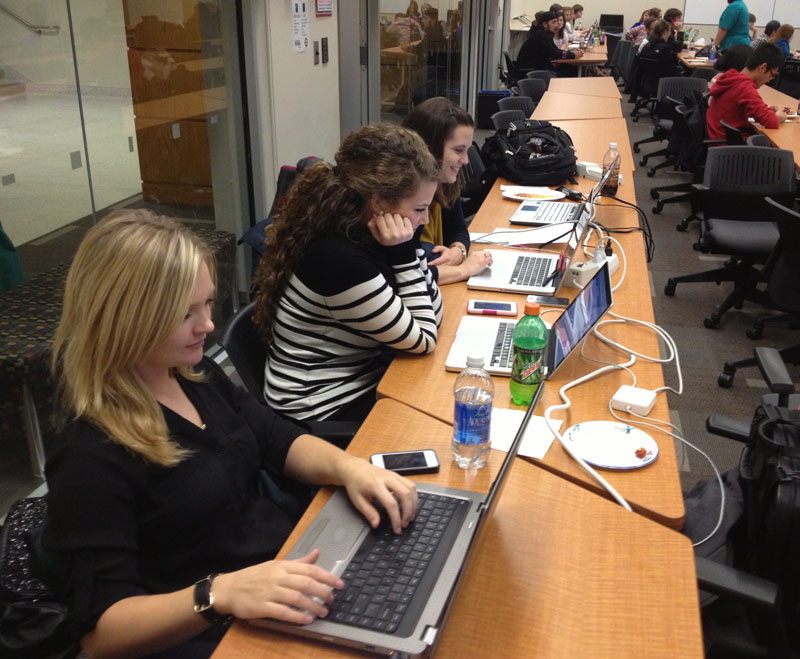 It has been a great year for driving student engagement, and the teaching moments from 2012 offer insight into the future value of higher education.
Students examined political extremism demonstrated in Facebook memes from the Left and the Right. Professors and their students could also consider behavioral responses, such as the simple act of hiding or "un-friending" a relative with a different point of view.
From the moment election 2012 interest grew, it was a great year to connect theory and best practices. The Obama campaign, which utilized its 2008 technology and ground advantage in Ohio and other battleground states, is a case study in how social business and marketing works. Hari Sreenivasan's PBS reports documented "digital armies" and voter targeting. "So it's all about data and algorithms to get the biggest bang for your buck, the idea that targeting the right voters will deliver more votes on election day," Sreenivasan explained.
PHOTO GALLERY
Teaching Moments, Politics, Social Media and 2012
My campus sponsored two DebateWatch events, in which students met for the first and last of the presidential candidate exchanges and live-tweeted quotes and comments. I observed high levels of interest, such as when Barack Obama talked about student debt.
On the eve of the election, our School of Communication had the opportunity to host former Nebraska governor, U.S. senator and university president Bob Kerrey over a lunch-time discussion of politics and media. Student questions were challenging -- and recorded by a line of television and newspaper reporters. You cannot simulate this type of experience in a classroom exercise, but an engaged metropolitan university can offer such experiences to our students. A student reporter for our campus newspaper, the Gateway, had a front-row seat and filed a story on the event. A little more than a day later the paper was reporting on Kerrey's concession, in a Senate race that cost Democrats an important seat.
Likewise, our journalism professors and students worked on months of planning leading up to their continuous election night broadcast that went out statewide in Nebraska over NET2. They worked to continue ongoing curriculum blending and convergence, as students collaborated with professionals at KVNO-FM news and other journalism students blogging on the UNO Vote site. In the newsroom, students interviewed political scientists and media professors, and they watched as we applied Nate Silver's projections to election returns.
As we have done in previous elections, student reporters were sent to all of the local campaign sites to experience atmosphere, cover the victory and concession speeches and file stories on a tight deadline.
I cannot write about 2012 without emphasizing the impact of social media. From Facebook memes to Twitter hashtags -- from the Olympics to the election -- this has been a year of daily developments and teaching moments. It's one approach to tell students to exercise media literacy skills and be careful with online behavior. It's quite another lesson when indiscretion in emails bites a local school superintendent, a CIA director and a general.
As we close out the fall semester with final examinations and look ahead to 2013, the emergence of "big data," analytics and social media will redefine our politics, social business and curricula. We have been teaching targeting and psychographics for decades, but the online trail we now leave behind and the ability to analyze it offer an important shift.
Our politics and business are not the only social spaces influenced by the mobile revolution. Higher education is also responding by exploring new ways to demonstrate knowledge in real-time. From Facebook course groups to Twitter chatter and Pinterest boards, taking advantage of events and using them as teaching moments can be a useful way to explore communication theory and research.
We have moved beyond digital divides, technology adoption, apps and basic Internet studies. In 2012, we looked deeper into the cultural shift of politics, media use and the power of the social network. Whether we "follow" celebrities or family members, "friend" a neighbor or politician, 2013 will be an "awakening to the reality" that social media are now simply part of the social fabric. Imagine the teaching moments possible from this dynamic time.