It has been two years since billionaire Berkshire Hathaway CEO Warren Buffett launched his Twitter account with, "Warren is in the house." In just six total tweets and with more than one million followers, the Oracle of Omaha demonstrates the importance of personal branding and traditional media relations.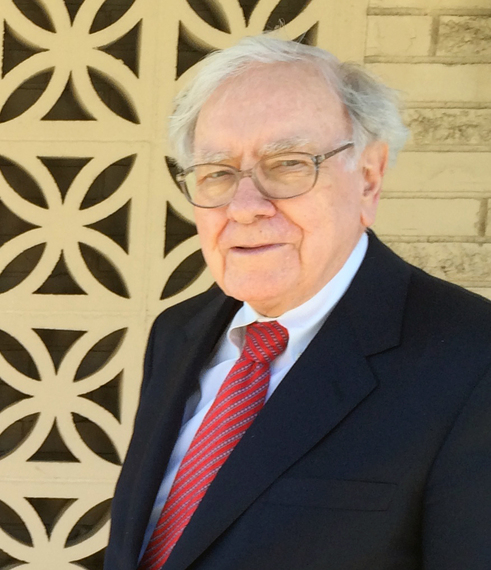 Buffett did not tweet during the annual shareholders' meeting that attracted an estimated crowd of more than 40,000 earlier this month, but his loyal fans, brand ambassadors and business media did the heavy lifting by tweeting and re-tweeting about Buffett, Vice Chair Charlie Munger and board member Bill Gates.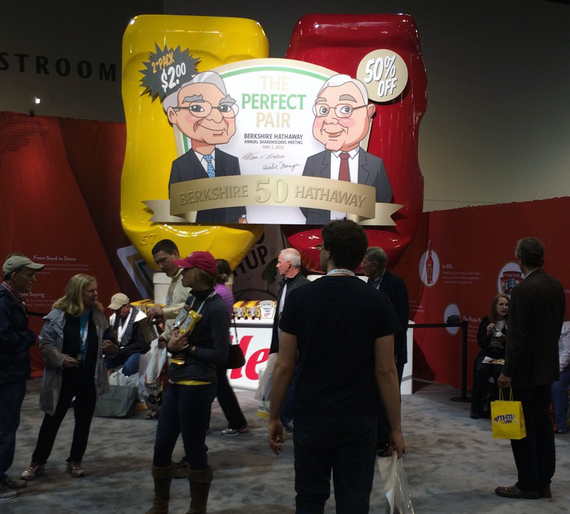 A NodeXL UNO Social Media Lab analysis reveals some of the secrets behind the power of the Buffett social network. By the end of the annual meeting, The Hill quoted Buffett about Hillary Clinton in a Fox Business interview: "she is the most likely person to be president of the United States, elected in 2016, and I'm going to vote for her," and the story shifted social media attention.
Earlier on April 28, days before the start of the meeting, there were only 24 Twitter accounts using #BRK2015 - one of the official hashtags.
Still, without tweeting, the @WarrenBuffett account was most central to the early conversation because users like to tag it in tweets. The @borsheimsbrk Berkshire jewelry store account was third most central and second most mentioned, as it has historically lead Buffett's online presence. At this point in the conversation, Buffett's annual letter to shareholders was driving the most traffic to company websites, along with business media activity.
By the opening of the meeting May 2, though, we were able to examine 1,248 users over a one-week period. Buffett's account still was most central to the #BRK2015 social network, but two media accounts had emerged right behind: @BeckyQuick and @WSJ.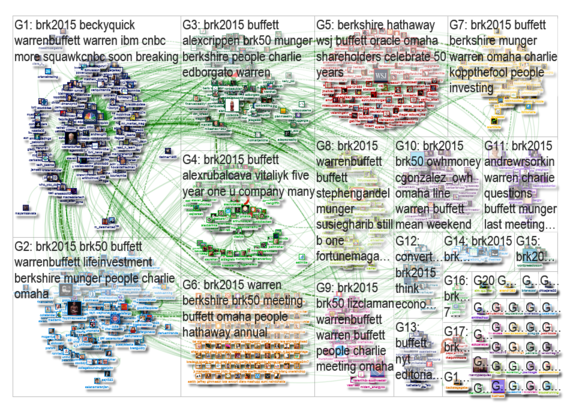 In the three years we have been watching the "Woodstock for Capitalists," CNBC's Becky Quick consistently has been a key influencer within the Twitter conversation. The top links in the network were the Wall Street Journal, The New York Times and CNBC. Instagram, Twitter, Omaha.com and Fool.com also were top website domains.
This was the was the 50th annual meeting, and the #BRK50 hashtag also emerged as very important. We were able to study 1,240 Twitter users active in just one day. Business media were important here, too, including the WSJ live blog.
A newer social media player, Periscope, emerged on this graph as important, as some users were streaming mobile video from the convention hall site. This hashtag featured some talk about a group of picketing Netjet pilots. Among other top hashtags here: #labordispute, #netjets and #njasap.
The top word pairs in the tweets reflected negative sentiment that could have derailed Buffett's annual meeting message:
netjets,pilots
warren,buffett
labordispute,brk50
labordispute,njasap
netjets,breaches
breaches,trust
trust,employees
employees,customers
customers,warren
buffett,labordispute
But, Buffett's day-long meeting began with his annual movie - this year featuring a clip in which he challenged Floyd Mayweather with both men in a boxing ring. Buffett and Munger followed with hours of explanations, jokes and one-liners, including references to their old age, a love of Coca Cola and See's Candy, as well as business predictions:
• "Hi, I'm Warren... This is Charlie. He can hear, I can see. We work together."
• "If I lived my whole life eating broccoli and brussel sprouts, I probably wouldn't live as long."
• "I don't see smiles on the faces of people at Whole Foods, so I like the brands we're buying."
• "I will predict we buy at least one German company in the next five years. We're far more on the radar screen than we were five years ago."
Buffett also successfully deflected criticism from news stories about alleged predatory lending practices in the manufactured home business: "I make no apologies whatsoever for Clayton's lending practices," Buffett said. "Clayton has behaved very well."
Buffett answered hours of questions throughout the day, and Twitter and media websites were very important because there was no live stream allowed for the event. Through Q & A, dozens of media interviews and photo opportunities - the annual newspaper toss, ping pong match and bridge game - Buffett deflected the message toward positive sentiment and his key points. By the end of the meeting, the Netjets story was gone from the top of the Twitter social network and the major media conversation.
Buffett demonstrates that Twitter influence is a function of the size and strength of a social network, as well as an ability to manage media messages through traditional media relations strategies. We do not need to tweet a word to be important on Twitter, if what others say about us meets the goals of the brand.