 In my 12 years of experience leading a social enterprise that creates jobs for some of the most disadvantaged people on the planet, I've learned that just giving people work is not enough. If we truly want to empower people to emerge from poverty, we must do more.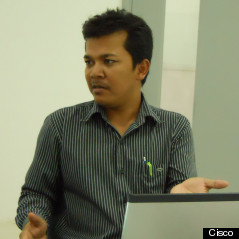 In 2001, I co-founded a social enterprise in Cambodia called Digital Divide Data (DDD). Shortly after, we hired a young man named Kunthy Kann. Kunthy, the son of a very poor family, grew up in a rural area of Cambodia. Through his hard work and perseverance, he graduated from high school and enrolled in a computer-skills training program. He showed potential doing basic work with data, so we gave him additional responsibilities and helped him get a bachelors degree. In 2003, he participated in our company's management training program where his final project was to write a business plan for a new office. When he finished, he opened a DDD office in Battambang, Cambodia's second-largest city. Kunthy rapidly grew the business to become a profitable operation employing 100 people. Later, he came back to Phnom Penh to lead operations, managing a 300-person staff in the largest technology-related business in the country.
For people living in poverty, any kind of paid work enables them buy food for their families, pay for housing and school fees, and access medical care. And work creates an essential sense of dignity that comes with self-sufficiency. I'm tremendously excited by the emerging opportunities for digital jobs that can be done almost anywhere, with tools as minimal as a basic mobile phone. And the fact that these new digital jobs allow very poor people ways to earn additional income has the potential to change lives. However, if paid work is only a short-term project, people may end up in the same situation in which they started. In addition, ongoing work that does not provide opportunities to build knowledge and skills does little to unleash individuals' long-term success and the opportunity for economic growth in the community.
Last week at the World Economic Forum in Cape Town, South Africa, the Rockefeller Foundation announced a new initiative to create digital jobs in Africa with an extraordinary commitment of nearly $100 million. This is unprecedented news, due to the 21st-century employment opportunities that will be created in countries where technology is a critical lever for development, as well as the set of private and public sector partners the Rockefeller Foundation has engaged to ensure this contribution will have a transformative impact.
Digital Divide Data is proud to be a partner in this initiative. With the support of the Rockefeller Foundation, we established a Business Process Outsourcing operation in Nairobi, Kenya in 2011. Using a model called Impact Sourcing, we currently employ 250 staff, including over 200 youth from slum areas. The Rockefeller Foundation has committed to scaling the Impact Sourcing model. You can see more about how our colleagues and we are creating value for clients and changing lives in a short video we produced with the support of the Sundance Institute.
DDD uses a model of Impact Sourcing that supports the personal development of every employee. While working at DDD, data management operators like Kunthy have the opportunity to study and earn a degree. Helping our staff to build professional skills enables our business to do value-added work for clients like Ancestry.com and Stanford University. And, this investment in human potential has a transformative effect, not only for individuals, but also for their families and communities. Our employees start to plan for professional careers and also can afford to send their siblings and their children to school. Because technology skills are transferrable and in demand, this ripple effect not only contributes to DDD's success as a business, but is also a critical investment in the local economy.
I believe that our model is only one way to empower people on a path out of poverty through digital work. Indeed, we're continually working to strengthen our approach. However, I'm convinced that using digital work as a means to bring people out of poverty is not just about providing work opportunities for the poor. There must also be a path for individual development -- and real demonstrable outcomes -- if we are serious about ending poverty.
Recently, Kunthy was recruited to become the CEO of a rice mill. We miss him, but we're proud of his success -- and even prouder that DDD is the kind of organization that is developing this kind of talent. We hope our peers and colleagues will use the opportunity of digital work to create more leaders like Kunthy in Cambodia and around the world.