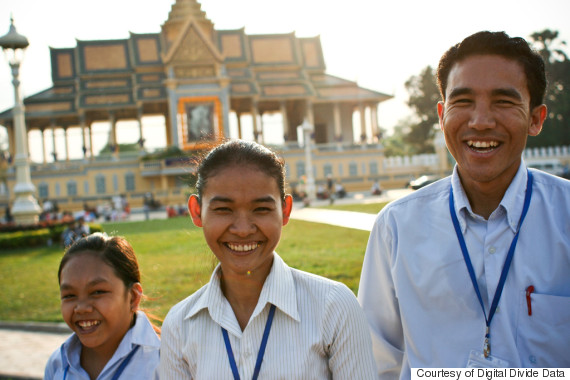 Doing business profitably, while minimizing societal harm -- and potentially doing good -- has become an essential strategy for large corporations and institutions. Call it corporate citizenship, conscious capitalism, shared value or triple bottom line (Profit, People, Planet). Now socially responsible business practices are no longer restricted to the Corporate Social Responsibility (CSR) department. Conscious capitalism has not only changed the way we consume and invest but also the way our businesses produce -- and the way they outsource.
In the world of business process outsourcing (BPO), where companies' internal processes are outsourced to third parties, frequently offshore, socially focused practices are called "Impact Sourcing." According to Accenture, Impact Sourcing is "outsourcing that benefits disadvantaged individuals in low employment areas." Firms in this industry structure their employment practices to create impact in part because buyers are demanding it. Large corporations like Intel and Microsoft have in recent years hired responsible sourcing staff whose job it is to align purchasing decisions with company values. Others are slowly but surely following suit. In fact, every company and institution that outsources work should consider how their outsourcing spend can have impact.
Digital Divide Data (DDD), the social enterprise I co-founded, is one of about 40 firms that helps to outsource with impact. My organization's roots go back to 2001. While traveling in Cambodia, a country still recovering from the devastation of the Khmer Rouge regime, I saw that young people had opportunities for training, but no jobs once they graduated. With DDD, we emulated India's BPO model, first in Cambodia, then in Laos. We opened another office in Kenya in 2011 and most recently launched in the U.S. Over this time, we've employed over 2000 youth, more than 800 of whom have graduated from our work-study program with college degrees and earn much higher incomes, lifting their families out of poverty.
From its humble beginnings only some years ago, Impact Sourcing has come a long way. Impact Sourcing Service Providers (ISSPs) range in size from 20 to 2000+ staff and in delivery models from crowd-sourced work to traditional BPOs with owned facilities, dedicated employees and professional project management. In addition, traditional large BPO firms such as Teleperformance and Infosys are testing this model. As a result, an estimated 10 percent of the total BPO global employed workforce works in Impact Sourcing -- and the number is growing.
There are many reasons why Impact Sourcing is becoming mainstream. Part of this development is driven by the growing demand for competitively priced outsourced service. As buyers search for new labor markets beyond traditional sourcing destinations such as India and the Philippines, there has been tremendous growth of outsourcing to non-traditional markets in Africa, Asia and Latin America. Most important, Impact Sourcing has demonstrated evidence of positive business and social impact.
High-quality, competitively priced services
By accessing a qualified, trained, untapped talent pool with skill sets aligned to match client needs, Impact Sourcing performs on par with traditional BPO companies. In addition, impact workers are stable and highly motivated. Research by the Everest Group has shown that attrition among ISSPs are 15-40 percent lower compared to traditional BPOs. Impact workers stay because they feel loyal towards the employer that helped train, provide employment, and in the case of DDD, educate them. When employees stay for at least four to five years, the level of employee engagement is much higher and these committed teams get to know clients' needs over time. The outcome is better quality work, especially over the long term.
Impact makes a difference in recruiting and retaining talent
One of the main drivers behind the social consciousness trend is the largest population group in world history: the values-driven, tech-savvy generation of millennials. With 50 percent of the global workforce projected to be millennials by 2020, companies are racing to expand CSR initiatives to meet their value demands. For firms that buy outsourced services, contracting with a provider who delivers quality at a competitive price plus impact turns a necessary business spend into a unique opportunity to do good, an attractive characteristic in a competitive employer market. A study by TBWA/Worldwide and TakePart showed that three in four young adults who consider themselves social activists seek out employers who support a social cause.
Recognitions by the Global Sourcing Council, International Association of Outsourcing Professionals (IAOP), the Rockefeller Foundation, plus research by Accenture, Avasant, Everest Group, Monitor and others have contributed to legitimizing Impact Sourcing in the public eye. I was elated when DDD was included in the IAOP's prestigious Global Outsourcing 100 list. The fact that DDD is the first exclusive Impact Sourcing provider to be included not only validated that the team's efforts have not gone unnoticed, but also means that the industry is taking note of Impact Sourcing.
Nowadays, almost every major company and institution outsources business processes offshore. Imagine the social impact if each of these companies directed just 5 percent of that spend toward socially targeted outsourcing? If your company outsources back office work and other business process, there's no reason not to consider Impact Sourcing. The resources on the Rockefeller Foundation's website are a great place to start.