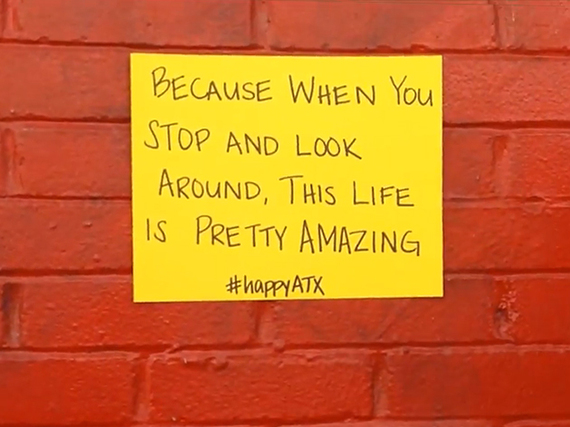 What if your class grade depended on making people smile?
MBA students in Marketing Professor Raj Raghunathan's "Creativity and Leadership" class at The University of Texas at Austin recently put their ability to spread happiness to the test, as part of a project that involved "altruistic pranks" -- creative and unexpected acts of kindness directed toward strangers. The class, which is only the second to tackle the project, captured their results through photos and videos.
In this graduate course at the McCombs School of Business, Raghunathan puts forward the idea that true leadership flows from leading an authentic and fulfilling life. "The overall objective of the class is to give students an overview of what science tells us about the recipe for leading a happy and fulfilling life. One of the most reliable ways to lead a happier and more fulfilling life, it turns out, is to be pro-social or altruistic," Raghunathan explains, adding that increasing happiness has important implications for business, too, by boosting both personal and team productivity and success.
That's where the class project comes in. Raghunathan says his idea for the assignment grew out of the "smile cards" developed by a group of Bay Area social workers, who would perform a random and anonymous act of kindness and then leave behind a card that motivated others to perform their own good deeds. The result was to "propagate a chain of generosity," Raghunathan says. Unlike typical pranks, where only the prankster derives enjoyment, smile cards also bring joy to the recipient, he says.
It's an approach that generates what might be called a positive-positive feedback loop.
To teach that lesson to students, Raghunathan shares studies that demonstrate how making others happy can improve one's own level of happiness and success. For example, one study showed that employees at a Belgian firm who were asked to boost their colleagues' happiness exhibited significantly greater personal motivation and productivity for a full month.
Back in his classroom, "I felt that it would be more powerful if the students could experience, firsthand, the link between exhibiting generosity and experiencing happiness," Raghunathan says. "That is the overarching objective of this project: to give the students an opportunity to test the link between being kind and feeling happy for themselves."
Below, watch one of the videos from Raghunathan's class. More of the student projects can be viewed on YouTube.
Jeremy M. Simon is an editor on the McCombs School of Business communications team. This article originally appeared on the McCombs Today website.