On June 16 in Washington, Cynthia Quarterman - the government's top official on pipeline safety -- appeared before a committee to urge Congress to update America's pipeline safety laws. Congressman Bobby Rush of Illinois cited a rash of recent pipeline spills and asked Administrator Quarterman whether pipeline regulators had evaluated the safety of transporting raw tar sands material from Alberta via pipeline. "We have not," replied Ms. Quarterman.
With the Keystone XL pipeline igniting a groundswell of public opposition against dirty tar sands from Canada, the safety risks of transporting tar sands oil by pipeline are finally ripe for action. The delay in permitting the 1,700 mile Keystone XL pipeline defied all odds and predictions for a project that had long been assumed to be a "done deal." Encouraged by hundreds of thousands of Americans who wrote to oppose the pipeline, President Obama announced last week that the administration would "take the time to ensure that all questions are properly addressed and all the potential impacts are properly understood." This prudent assessment is expected to move the government's final decision on whether to approve the project until at least 2013.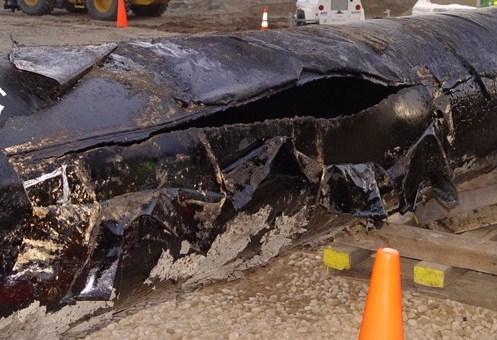 But the president's announcement is by no means the end of the story, and it is just the beginning of the fight to protect America's clean water, wildlife and lands from pipelines spilling toxic tar sands oil. Pipeline companies are already navigating to circumvent the latest decision. TransCanada Corporation, which hopes to build the Keystone XL pipeline from Alberta to Texas, quickly struck a deal with Nebraska legislators to re-route a small portion of the pipeline and avoid the fierce opposition in the Sand Hills, hoping for a smoother ride in the forthcoming review.
And other companies have quickly hatched their own plans to achieve the long-sought prize of turning the land-locked tar sands region of Canada into a global supplier by winning access to port facilities in Texas. For example, Enbridge Inc., another Canadian pipeline company, made a bold move after Obama's announcement. Enbridge has bought up a large share of an existing pipeline -- the Seaway Crude line -- that currently transports conventional oil from Texas to Oklahoma. Enbridge plans to reverse the flow of oil in order to be able to ship tar sands oil from Alberta through Enbridge's existing pipelines in the U.S. midwest, and now all the way to the port refineries of Texas. They hope to exploit loopholes in our current law that would allow such a strategy without the environmental assessments required of the Keystone XL pipeline.
Here is the 2.8 million gallon question: Now that the Sand Hills of Nebraska are safe from Keystone XL, which communities will next draw the short straw and be stuck with a pipeline with the potential for a 2.8 million gallon spill of toxic tar sands sludge? According to the State Department's environmental impact statement, 2.8 million gallons is the maximum spill potential for Keystone XL. The State Department also concluded that the pipeline would likely have "1.18 to 1.83 spills greater than 2,100 gallons per year." In other words, despite all the empty assurances on safety, we already know that this pipeline is unsafe and going to leak, and leak often.
When Vice President Dick Cheney called in 2001 for America to expand our reliance on Canadian tar sands oil as a "pillar of sustained North American energy and economic security," Canadian tar sands represented only 2% of U.S. oil supply. New pipeline capacity built in the past year has allowed us to crank up imports to almost three times that level. But these pipelines are rupturing at an alarming rate: tar sands oil accounted for a majority of the oil spilled from pipelines in the United States last year, even though it accounts for only a small fraction of the oil transported by pipeline throughout the nation.
The transport of tar sands oil through pipelines is riskier and more dangerous than the transport of conventional oil through pipelines. In its raw form (called bitumen), the "oil" extracted from tar sands mining is actually a tar-like sludge. It must be refined in special refineries to turn it into liquid gasoline and diesel (a process that creates more pollution than refining conventional oil). Increasingly, oil companies are diluting the raw sludge with secret chemicals and forcing it through pipelines under high pressures to get it to the refineries at the far end of the pipeline. The Environmental Protection Agency, which is responsible for cleaning up spills, has expressed alarm that pipeline companies are not forced to disclose the chemicals they are mixing with tar sands and injecting into the pipelines. They point out that they've had to deal with unknown toxic compounds like benzene in responding to recent tar sands pipeline ruptures. The mixture of secret chemicals and tar sands sludge creates a blend that is particularly corrosive on pipelines, as documented in the report "Tar Sands Pipeline Safety Risks."
Spills are happening on both sides of the border. Alberta's tar sands pipeline network has more than 10 times the number of spills as U.S. pipelines. Here at home, Enbridge's pipeline system dumped millions of gallons of toxic tar sands sludge into the Kalamazoo River in Michigan last year. Enbridge claims - and the media has dutifully reported -- that 843,000 gallons spilled. But EPA recently disclosed that it has already recovered 1.1 million gallons of oil (keep in mind that only a small portion of spilled oil is actually recovered -- usually less than 15%). The river is still closed, and EPA reports that there is no end in sight to what they had initially hoped would be a quick cleanup. They attribute the delay to the difficulties of dealing with tar sands oil, which is heavy and sinks quickly in water, unlike conventional oil that floats and can be skimmed or absorbed with pads. Likewise, TransCanada's most recent tar sands pipeline, Keystone 1, has already spilled 14 times in just one year of operation, including a 60-foot geyser in North Dakota.
Pipeline safety is the responsibility of the Department of Transportation's Pipeline and Hazardous Materials Safety Administration, but our safety regulators are currently blindfolded to what is actually being transported through the system. This means that pipeline operators can change what is being shipped through the pipeline with no guidance on whether raw tar sands sludge can be transported safely. U.S. pipeline standards must be updated to prepare for the corrosive effects of moving tar sands sludge at high pressure, and other potential hazards unique to this dirty fuel.
The Deepwater Horizon disaster in the Gulf of Mexico was a terrible lesson in what happens when outdated safety standards don't keep pace with modern industry trends and the quest for extreme energy. We are ignoring that very lesson as we pump more and more dangerous tar sands sludge through pipelines designed for conventional oil.
With more than a year before the final decision on Keystone XL is expected, President Obama now has an opportunity to ask his pipeline regulators to review recent tar sands pipeline spills and develop new safety standards to better deal with this new threat. The Pipeline Transportation Safety Improvement Act, which was recently passed by the U.S. Senate with strong bipartisan support, calls for just such a study. But the Transportation Department doesn't need to wait for the House to act in order to begin its investigation.

To learn more, visit NWF's Website. I highly recommend a new article on the impacts of tar sands on wildlife has been published in the current edition of National Wildlife magazine. And don't miss the new documentary on the inspiring fight in Nebraska against the Keystone XL pipeline -- Pipe Dreams, directed and produced by Academy Award nominee Leslie Iwerks. The movie premieres in Los Angeles and San Francisco next week.