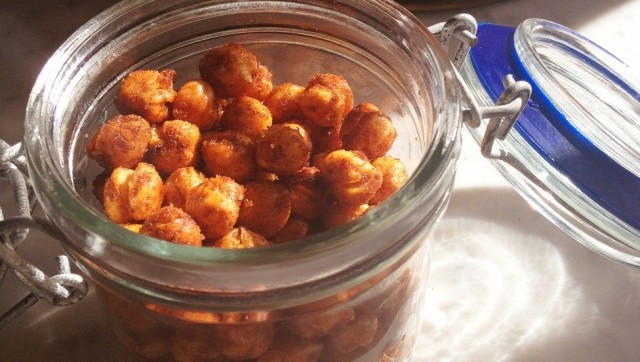 Okay... right out of the gate, I feel that I should tell you that I am not a "health food" kind of girl. If you read my first blog post about the Meyer Lemon Shaker Pie, you've probably already surmised that. But what you may not have fully understood is just how seriously, deeply, vehemently NOT into the idea of food eaten solely for its health benefits -- flavor (i.e. pleasure) be damned - I really am. I am, after all, married to a French chef. A French French chef. Food, for our family, is so much more than just fuel, and sharing food together is something we don't take lightly. Part of what we love about it is not only the time we all spend talking and laughing together around the table, but also the knowledge that the food we've cooked is giving genuine pleasure to the people we love most in the world.
I think that little disclaimer is necessary before I get to the recipes I'm sharing today in this post. It would be awfully easy to jump to the conclusion that they are, in fact, "Health Food" with a capital H. (Okay, fine...and F.) They are all incredibly nutritious and pretty low in fat, and one of them involves (gasp!) KALE.
Now, having said all that, I should also tell you that I consider nutrition a totally separate issue. When I was pregnant with my daughter...well, let's just say I became very focused. I had this tiny, perfect, pristine little person on her way to me; I was determined to keep her that way. I still take pride in the fact that her first solid foods were picked straight from my garden. The fact that my maternity leave coincided with the writers' strike gave me lots of free time to indulge my obsession with cooking for her. I was positively militant about what she ate for the first two years of her life. We loved exposing her to many different flavors and types of foods, but she had no processed foods or sugar until she was two. (I'm not sure why I arbitrarily decided that two was the magic age, but my husband good-naturedly went with it. I love that guy.)
Anyway, back to nutrition. It's reasonably easy to be sure you're getting a range of nutrients during your meals. The "eat a rainbow" approach is a good rule of thumb - as long as you're trying to eat all the colors of vegetables and fruits, you can be pretty sure you're covering most of your bases. Snacks, though, are a little trickier, especially with kids. These three recipes are favorites with both of my kids, and they're a great way to squeeze in some extra vitamins at snack time. The most important part, though? DELICIOUS. Promise.
I made these on Access Hollywood this week and wanted to share the recipes with all of you here.
LEMON-BUTTERMILK POPSICLES
During my daughter's first two sugar-free years, I tried every recipe I could find that used alternative, natural sweeteners. We were truly shocked to discover that some of them were genuinely delicious. (Hey, I already told you my prejudice against "health food"!) I love sugar. REALLY love it. But I know it's not great to overdo it. So I've found a balance that works for us: if the flavor isn't sacrificed by substituting another sweetener, then I do it. These popsicles are a perfect example. I got the basic idea from a couple of recipes I'd seen, but I played around with options for replacing the sugar they originally called for. Agave has a "darker" flavor; adding just a tiny amount of white sugar adds the brightness it needs against the lemon.
1/3 c. fresh lemon juice
1/2 c. agave
1/2 tsp sugar
Pinch of salt
1 2/3 c. buttermilk
Whisk lemon juice, agave, salt and sugar in a 4-cup measuring cup (or bowl with a pour spout) until sugar dissolves. Whisk in buttermilk.
Pour into popsicle molds and freeze.
ROASTED CHICKPEAS
Crunchy, a little salty-sweet...these are addictive. You can also do savory versions - think fresh herbs/sea salt or Old Bay seasoning. They're so ridiculously simple and quick to make it's almost embarrassing. Almost.
1 can chickpeas, rinsed well & drained
2 tsp olive oil
1/2 tsp maple syrup
1 1/2 tsp brown sugar
1/4 tsp salt
1 tsp. cinnamon
Preheat oven to 450.
Place chickpeas on a Silpat (or parchment paper) -lined baking sheet.
Bake for about 30 min. (Watch them closely after about 20 minutes -- you want golden brown & crispy, not black.)
Stir the chickpeas once, halfway through cooking time.
In a bowl, drizzle hot chickpeas with olive oil & maple syrup and toss to coat them well. Combine cinnamon, brown sugar and salt and sprinkle over chickpeas. Toss again to coat evenly.
***Note: If you're planning to make the chickpeas and the Kale Chips together, you can roast these at 400, so you can do them both at the same time. You'll just need to take a few extra seconds to dry the chickpeas thoroughly with paper towels before putting them in the pan. Bake for about 35 minutes.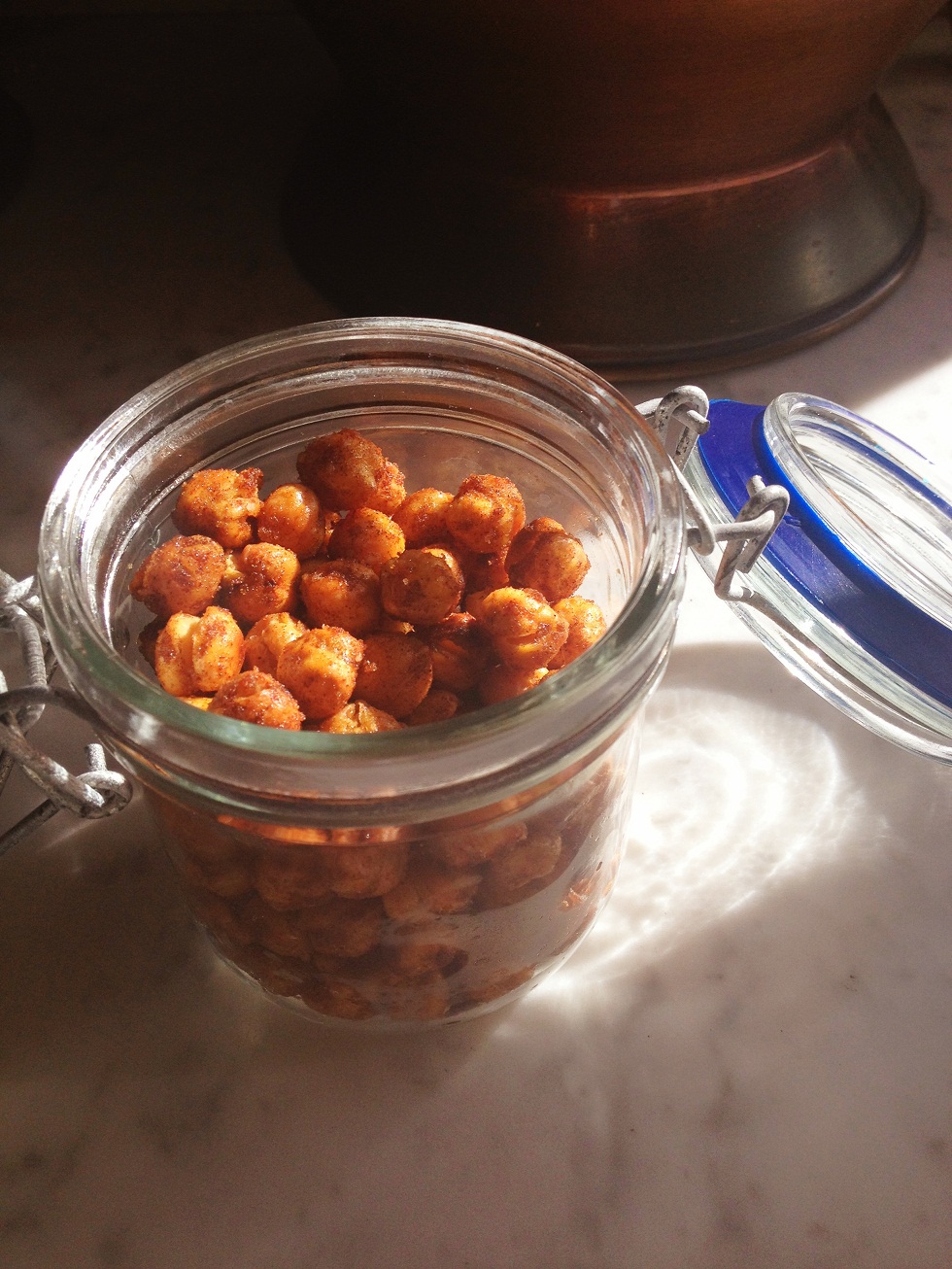 KALE CHIPS
You can use any type of kale here, but I prefer Tuscan kale (also called Dinosaur kale). I love the way it holds its color and you can use bigger pieces, which I like. If you have tender, young leaves you can keep them whole, just discard the bottom inch or so. For larger leaves, use the top 4" or so, then remove the tough stem from the bottom half of the leaf. If you use curly kale, you'll need to tear it into bite-sized pieces. Smoked paprika is something I just discovered recently and I love it. It really makes these chips sing.
1 bunch kale, stems removed & leaves torn into 1/2" pieces (see above)
3 Tbsp olive oil
1 Tbsp apple cider vinegar (be a bit generous)
Kosher or sea salt
Smoked paprika (optional)
Preheat oven to 400.
Whisk oil & vinegar together in a large bowl. Toss kale in the oil-vinegar mixture, rubbing with your fingers to thoroughly coat all the crevices in the leaves. Think of it as an exercise in zen.
On a parchment paper-lined baking sheet, arrange kale in a single layer and sprinkle with salt.
Bake approx. 15 minutes, or until crisp. Remove from oven and sprinkle with smoked paprika.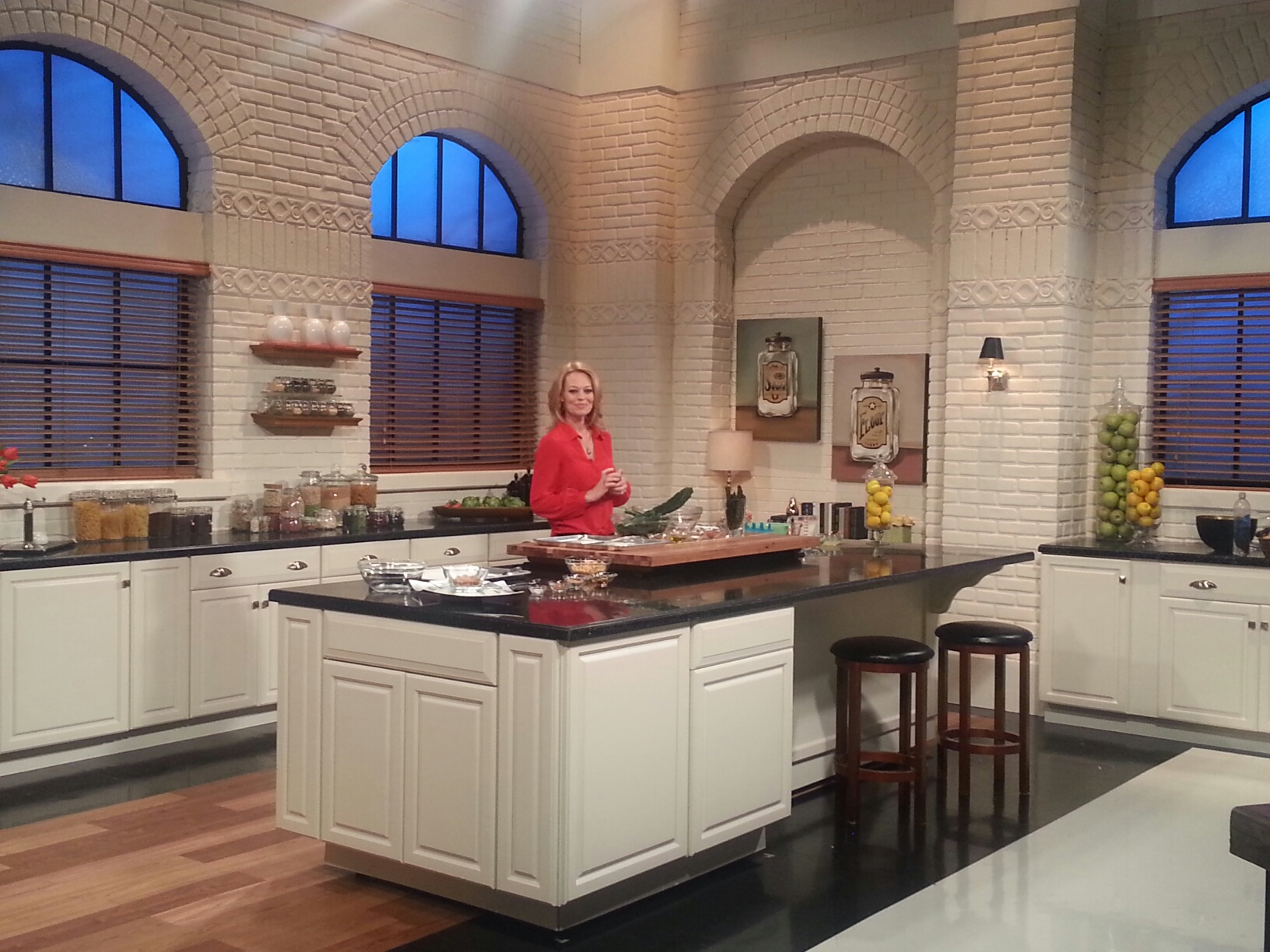 Here I am, on the set of Access Hollywood.