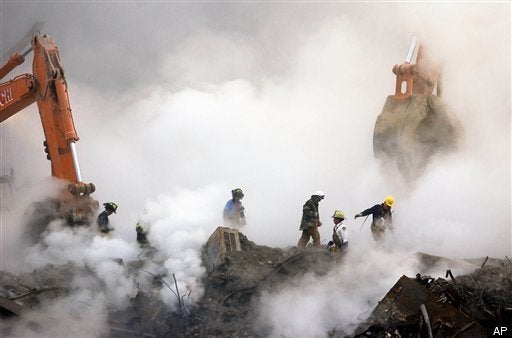 When the United States was attacked on September 11th, thousands of Americans from every city, town and village in the nation put down their daily work and rushed to New York City. They cared nothing for their own health and safety. Instead, they thought only of the lives of others.

In the days that followed, those that perished at the World Trade Center were never alone. The first responders never slowed their pace, never thought about themselves, and never showed any concern for their surroundings. Instead they rolled up their sleeves and put their hearts into the smoldering ruins, working around the clock to clear through the choking fumes and mountains of toxic rubble so their brothers and sisters could have a proper burial. It was a job that had to be done and these were the people who stepped up to do it. Even the most microscopic piece of DNA evidence was given respect, often cloaked in an American flag as it made its way out of the ruins, to be laid to rest by a waiting family.

No matter where you stand in the political spectrum, you know that we owe these brave men and women a tremendous debt of gratitude for the work they did, helping to heal the nation in the wake of an unspeakable tragedy. The glow of their work lights in the nights that followed 9/11 helped us believe that together, we could accomplish anything, overcome any obstacle, defeat any foe, so long as we watched out for one another. None of us doubted then that we had an obligation to take care of these heroes of ours.

Yet, nine years later, we still haven't.

Thursday, in a disgraceful display of partisan politics over people, Senate Republicans once again stonewalled the James Zadroga Act, a bill that would given aid to those thousands of construction workers, firefighters, police officers, and paramedics who inhaled dust and handled debris at the World Trade Center site and have since fallen ill.

The Zadroga Act has been in the works for six long years, and while folks on the Hill engage in endless debate and continue to play politics, our heroes are hurting; many have already passed and many more of them are left fighting for their lives, alone and unprotected. In fact, three former New York City police officers died in the last month from injuries that have been attributed to their work at the World Trade Center site.
For some, this legislation could be their last hope of receiving health care benefits and victim compensation for themselves and their families. Hundreds have been excluded from a recent settlement because they unknowingly missed the deadline to file a claim -- a deadline no one ever told them about until it had already passed. Though an appeal on this issue is pending in federal court, the Zadroga bill goes beyond that litigation and offers different benefits. The most significant of these benefits are the guarantee of health monitoring and health care for those heroes that were injured.

Who are these heroes we talk about? They're people like Richard Dambakly, a Verizon employee from North Carolina who spent four months at the World Trade Center site after the attacks. The 49-year-old father-of-five contracted blood cancer from the toxic dust at the site. His chemotherapy and other medical bills have cost hundreds of thousands of dollars, yet he can't get financial assistance because he missed the secret filing deadline by only 2 weeks.

Then there's Lieutenant Steve Mozes, a first-responder who arrived in lower Manhattan from Florida just days after the attacks. About three years later he was diagnosed with leukemia, but learned too late that he could sign on to the lawsuit that would give him financial assistance.

It's a travesty that the United States would turn its back on heroes like Dambakly and Mozes and the thousands of others who have sacrificed their health and ultimately their lives for the sake of their country.

This lame duck session of Congress represents the Zadroga bill's best shot at becoming law and so far it hasn't even made it to the Senate floor. Procedural rigamarole is keeping it from coming to a vote. We must continue to pressure our lawmakers to pass this bill by the end of the year.

The 9/11 first responders didn't stall and play games before risking their lives for us. They did what they could because it was the right thing to do. We will continue to fight until they get the assistance they so desperately need and deserve.
Lyndon Johnson used to say that his daddy taught him to always do the right thing. The problem was, Johnson said, in figuring out what the "right thing" was. Nothing is clearer than what the "right thing" is here, even on Capitol Hill.