Suppose you are sitting in your backyard on a lazy summer afternoon watching baseball. You open a cold beer, press a button and a section of the wall of your house spins around turning your backyard into an amphitheater with a large-screen TV. In fact, the entire entertainment module that was previously in your media room is now in your backyard. What is more, your guests are arriving just in time for the first pitch.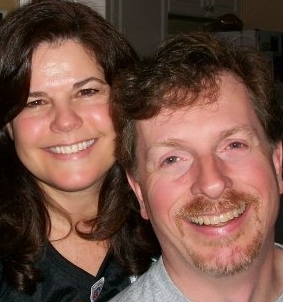 If this scenario sounds like magic, it does not to Georgians Tim and Laura Pulver. That is because they invented and patented Mr. Spinwall, an entertainment center concept that is now available for purchase from their web site. Furthermore, they expect to sell it though distributors and have it available in stores.
Tim Pulver, an architect, says that he initially installed Mr. Spinwall in his own house "as a cool space so my youngest daughter and her high school friends might desire to hang out at our home more often." But after seeing the reaction of his daughter's friends and his guests, he thought his invention might be marketable. "That's when we found out about SCORE and starting getting some business advice," he says.
Dick Fenster, a business mentor with Atlanta SCORE met with the Pulvers at the nonprofit's office. SCORE is an all-volunteer resource partner of the U.S. Small Business Administration. It has 385 offices and 13,000 members nationwide. The members come to SCORE with small business and corporate experience from a diverse array of industries and provide free mentoring, advice and coaching.
Fenster has an accounting background. "I could counsel them on business concepts," he said. But the Pulvers also needed help with forming a legal entity, advice on marketing and on protecting their product against knockoffs. So Fenster put together a team of SCORE volunteers that included a lawyer and two engineers with patent and marketing experience.
The Pulvers were bootstrapping their start-up on a limited budget. "Due to our tight budget and the estimated cost of using a patent lawyer, which we could not afford at the time, I decided to do the provisional application myself," Tim Pulver says.
The filing fee for a provisional patent application is only $125, according to the U.S. Patent and Trademark Office. The PPA sets the filing date for 12 months, allowing you to research your product's marketability before shelling out approximately $8,000 in filing and legal fees for the full, utility patent.
But whether or not you should file for a PPA on your own depends upon whom you ask. So I asked Greg Hunt, a patent lawyer with Jenkins, Wilson, Taylor & Hunt in Durham, North Carolina. "Provisional patent applications are a way to save up front costs," he says. But because there are statutory requirements to be met, "we do not recommend filing provisional patent applications without review by an attorney or patent agent."
After making application for the PPA on their own, the Pulvers ordered a marketability report for Mr. Spinwall from a new product research division of the University of Wisconsin. "We had the Wisconsin Innovation Service Center complete a new product feasibility assessment," Tim Pulver says. The report confirmed that there is a lot of "money being spent on outdoor living spaces currently, and the trend for this is to increase in the long term future." He added, "It is a $60 billion dollar plus industry."
Given their limited budget, I asked Tim Pulver if he is prepared for the high cost of defending his patent against copycats. "We will cross that bridge when the time comes," he replied. "At least we have a chance to defend it (in court)."
But lawyer Hunt warns, "Patent litigation is not for the faint of heart." He continues, "Survey data from the American Intellectual Property Law Association indicates that the average cost for such litigation where the potential damages at stake are between $1 million and $25 million is $3.1 million through trial."
Hunt also notes that there is a human cost. "Key employees who spend their time innovating and/or managing your company's business will be required to collect and provide documents, provide testimony and -- worst of all -- meet with company lawyers."
Ultimately the Pulvers hired an Atlanta-based patent lawyer for help with the final, utility patent. Their patent was approved in October three years after the process began.
Jerry Chautin is a volunteer SCORE business counselor, business columnist and SBA's 2006 national "Journalist of the Year" award winner. He is a former entrepreneur, commercial mortgage banker, commercial real estate dealmaker and business lender. You can follow him at www.Twitter.com/JerryChautin