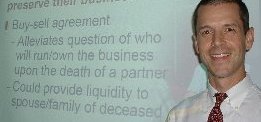 Charlie Spence's advice to prospective small-business owners is to visualize your exit before you start. But even if you are already in business, it is not too late plan your exit.
Spence is a financial adviser with Edward Jones Investments in Murphy, N. C. and I caught up with him at a workshop in this small, Western, North Carolina, Appalachian Mountain town. "At some point, undoubtedly you will exit (your business)," he says. "And that time could be rather soon for unexpected reasons, in the distant future, or sometime in between."
But unexpected occurrences can also happen to your business partner and you need to be prepared. "Two ways business plans for joint owners can become derailed is by either the death or disability of a partner," Spence says. "The transition after a death can be made much easier with a buy-sell agreement."
My brother-in-law had a buy-sell agreement when he unexpectedly died leaving behind a wife and five children. His business partner was also left behind to fend for himself.
A buy-sell agreement is a critical first step in exit planning. It should be one of the first requirements when starting a small business with multiple owners.
Without one, my brother-in-law's wife would have inherited his half of the business. In that instance, she could have taken his place in the company, whether or not his partner was pleased with that arrangement. Alternatively, she could have sold her inherited portion to an unqualified stranger with the chance of destabilizing the company.
Instead, the buy-sell agreement mandated the purchase of life insurance to cover both partners. Their spouses were the beneficiaries and the tax-deductible premiums were paid by the business.
So when my brother-in-law passed away, his wife got the insurance benefit. It turn, she was required to sell her inherited interest in the company to the surviving business partner for the amount of the insurance proceeds.
Disability insurance works in a similar fashion if a business partner becomes disabled. In that event, the insurance pays off so that the disabled partner continues to have income. It protects his or her family from experiencing financial hardship during that time. "In the case of a partner's disability, disability insurance would help replace income and protect the family of the disabled from experiencing financial hardship during that time," Spence says.
Additionally, disability of a partner or key salesperson can adversely affect the revenues of a small business. To protect the company's cash flow, insurance policies can name the business as the beneficiary so that the income stream continues.
But exit planning is also for business owners who are in good health and envision a comfortable life in retirement. More specifically, it is designed to help business owners save and invest their earnings while deferring income tax payments until they retire.
"One day we all hope to retire and the earlier we plan for that day the more likely it will take shape as we hope," Spence says. Exit planning is "to protect themselves, as much as possible, from taxes and inflation, and to build a retirement nest egg."
Retirement plans also offer benefits to the employees. It helps companies attract and retain them.
Yet, "workers in small firms with fewer than 100 employees are much less likely than larger businesses to have a retirement plan available to them," according to a study by the U.S. Small Business Administration's Office of Advocacy. "Nearly 72 percent of workers in small companies have no retirement plan available."
The study says that about 58 million workers do not have access to any type of retirement plan through their place of work. But even when a company-sponsored retirement plan is offered, "20 million workers do not participate."
According to SBA's Susan Walthall, the study is to ensure business owners and their employees "plan and save adequately for their retirement."
The study blames the cost of setting up and running a retirement plan as reason that many small businesses do not offer them. Importantly, however, the cost varies with the complexity of the plan that you choose. And some simple plans are cost effective.
To help you structure the best retirement plan for your circumstances, a financial adviser or your accountant can help. Additionally, an attorney who specializes in pension plans may be required to set it up and keep it current.
For more complicated plans, an actuary will be needed.
To estimate how much you need to save for a comfortable retirement, check out MSN's retirement calculator online.
Jerry Chautin is a volunteer SCORE business counselor, business columnist and SBA's 2006 national "Journalist of the Year" award winner. He is a former entrepreneur, commercial mortgage banker, commercial real estate dealmaker and business lender. You can follow him at www.Twitter.com/JerryChautin