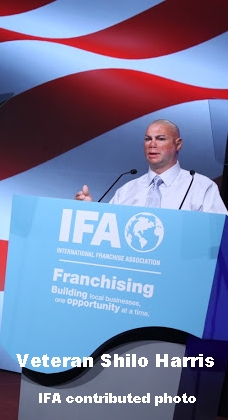 Staff Sgt. Shilo Harris, a heroic squad leader was a wounded warrior during Operation Iraqi Freedom. He lost three fingers, both of his ears and suffered severe burns over 35 percent of his body doing his job to protect America, according to news reports. After 45 days in a coma and nearly three years recuperating in San Antonio, Tex., he received a medical discharge, returned to family life and became an entrepreneur.
Like Harris, hundreds of thousands of troops return from the Iraq and Afghanistan wars as we celebrate Veterans Day on November 11. But even with the leadership skills and team participation competencies they have perfected under the most extreme conditions, transitioning to civilian employment is proving to be a difficult task. That is why many are turning to entrepreneurship to take control their own destinies as they have on the battlefield.
"Many studies have shown that veterans are naturals for being entrepreneurs," says Ted Daywalt, a retired Navy captain (O-6). He is the founder of VetJobs.com and is a relentless advocate to get veterans off the unemployment rolls and into careers and entrepreneurship. He says that military-trained men and women transitioning from the armed forces are ideal candidates for top jobs and running their own business "because of their leadership skills and their ability to assess risk and make appropriate decisions."
"Access to capital to buy a franchise or start a new company is the biggest challenge for veterans wanting to become entrepreneurs," Daywalt says. So when he heard about the Veterans Business Fund (VBF) being announced on Veterans Day, he said, "Thus what VBF is proposing would be of great value."
According to Robert Tannenhauser, a financial contributor to VBF, "Too often veterans lack the equity or down payment that banks require before they make a loan." He is the chief executive officer of BoeFly.com, founder of VBF, and a prolific supporter of veterans' organizations, including the Syracuse University chapter of the Entrepreneur Bootcamp for Disabled Veterans, an organization that assists disabled veterans with business training. "BoeFly founded VBF as a not-for-profit, philanthropic organization to help veterans who have done so much for us."
"The fund supplements the down payment or equity needed by veterans to start an enterprise or buy a franchise or small business," Tannenhauser says. "Bankers require borrowers to inject 20 percent to 30 percent of their own cash but veterans may not have saved (enough) while serving our country during their years in the military."
VBF bridges the gap between bank loans and other programs that provide debt to veterans. Other programs include VetFran, a franchise fee discount program offered by some franchise brands that reduce their franchise fee for veterans. "Even with a discounted franchise fee, some veterans may still not have compiled enough savings and will turn to VBF for a subordinated, low fixed rate loan," Tannenhauser says. "Since its priority is subordinated to the bank's first position, many lenders will look at it as their required equity."
Meanwhile, Shilo Harris, the wounded warrior, attended Texas A&M University's chapter of the Entrepreneur Bootcamp for Disabled Veterans. That is where he first heard about the VetFran Program and franchising opportunities. "I met Mary Thompson, president of Mr. Rooter (franchise brand) and chairwoman of VetFran, and Beth Solomon (vice president of the International Franchise Association)," he says.
Harris decided to purchased a home inspection franchise unit in San Antonio. "Shilo (Harris) learned of franchising through VetFran, and we are delighted and proud to welcome him to the franchise community as a WIN Home Inspection franchise owner," says Beth Solomon. "He served his country so bravely. Now he will help lead the U.S. economy back to prosperity as a business owner and job creator."
Kansas-based Midwest Community Bank agreed to make Harris a business loan using the U.S. Small Business Administration's Patriot Express Loan Program. "I believe the Patriot Express Loan Program is one of SBA's most worthy programs," says Deryl Schuster, the bank's chief executive officer. "From a patriotic standpoint I wanted the bank to be able to make these loans." It will be the bank's first Patriot Express loan and "will permit this deserving individual to establish a WIN Home Inspection franchise business."
Schuster says that he is waiting for Harris to complete his home inspection certification and finalize his loan application. "I have committed our bank to make this loan subject to SBA's approval," Schuster says.
WIN Home Inspection is a VetFran member and reportedly will reduce its franchise fee for Harris. Midwest Community Bank will tap SBA's special program for veteran's and VBF will bridge the gap between the lender's required down pay payment and Harris' out of pocket cash investment.
Harris says, "I believe with my leadership skills, military experience, and marketing skills, this small business will become a true blessing to my family and me, the lenders, and the community of San Antonio."
Jerry Chautin is a volunteer SCORE business mentor, business and real estate columnist, blogger and SBA's 2006 national "Journalist of the Year" award winner. He is a former entrepreneur, commercial mortgage banker, commercial real estate dealmaker and business lender. You can follow him at www.Twitter.com/JerryChautin
Copyright © 2012 Jerry Chautin -- All rights reserved