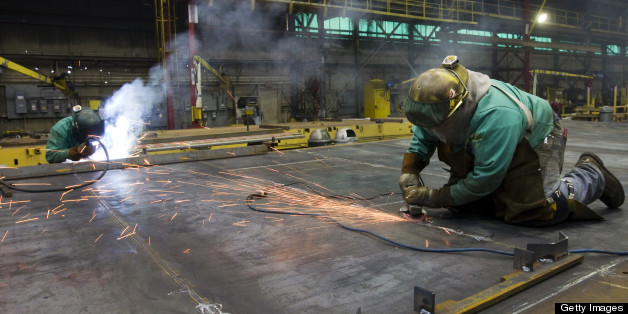 There are contradictory analyses in the media about a resurgence of manufacturing - some praising it as the second coming and others insisting it is imaginary. For instance, on April 2, The Washington Post featured a front page report of European manufacturers setting up shop in the U.S. to take advantage of low natural gas prices, while the New York Times had a story on the front page of its business section entitled "Manufacturing's Mirage, A Jobs Boom Built on Cheap Energy Has Yet To Appear."
In reality, there is no contradiction. Even the optimistic souls like me who perceive a resurgence in manufacturing do not contend manufacturing will ever be the fountain of jobs that it once was. It is a fact of life that low skill manufacturing jobs have fled the U.S. and they are increasingly fleeing developing nations as more and more rote tasks are automated.
Even so, manufacturing remains a key driving force of economy growth and a critical seedbed for innovation. Akio Morita, the founder of Sony, said years ago that the world power that loses its manufacturing base will cease to be a world power. That is why the Chinese are so determined to build their manufacturing sector. Manufacturing is key to economic growth.
The reality on the ground is that U.S. manufacturing is today giving a good account of itself, but with sensible incentives, it could do much more. Thomas J. Duesterberg of the Aspen Institute suggests there is a realistic path for growing manufacturing's contribution to GDP by 4 percentage points, from 11.6 percent to 15.8 percent by 2025. To do it, he advocates:
• Expanding exports and reducing imports. We need a much more aggressive effort to open foreign markets to our exports, a greater effort to promote exports, and a tougher stand on violations of trade agreements, such as currency manipulation.
• We need a clear strategy for taking advantage of plentiful and cheaper natural gas that is attracting foreign investment. In many key manufacturing sectors, this gives us a once in a lifetime opportunity to grow and expand.
• We must intensify our investments in productivity gains, knowing our competitors are nipping at our heels, and we should also streamline the U.S. regulatory process and apply manufacturing technology to the service industries.
• We need a coherent national commitment to endow workers with the skills they need in modern manufacturing. For though manufacturing will never again be the fountain of jobs it once was, it is creating millions of fresh opportunities for qualified people.
The Aspen Study on the Manufacturing Resurgence provides a practical framework for increasing manufacturing's contribution to economic growth, and the corporate and public policies we need to make it happen. We should read it and heed it.
Jerry Jasinowski, an economist and author, served as President of the National Association of Manufacturers for 14 years and later The Manufacturing Institute. Jerry is available for speaking engagements. April 2013