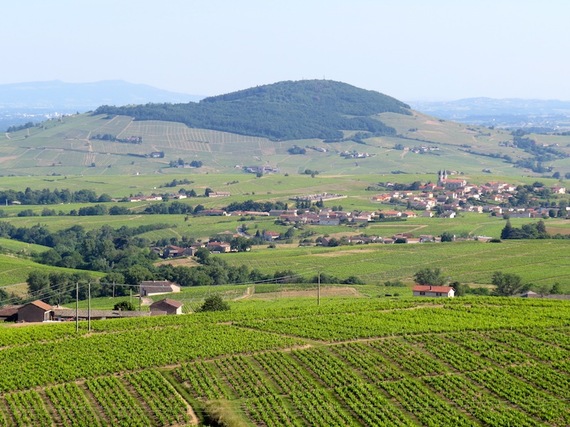 It felt like we'd landed in the magic kingdom.
It's always special to arrive someplace you've never been, without a lot of expectation, and to discover you really like it. But when that someplace turns out to be a roughly 30- by 9-mile stretch of land filled with rich green vineyards as far as the eye can see, when those vineyards are planted on gentle, rolling hills and set amid small villages, church steeples and chateaus, special becomes an understatement.
We had planned to dawdle two days on our slow lane journey in the Beaujolais region. We stayed nearly four.
My wife, Kathy, and I arrived in the village of Saint Lager for a noon lunch date on Thursday. My French language teacher in Boston, Emilie Paul, had a good friend who worked here. I wanted to learn about her work trying to create a regional Geopark, a UNESCO-sanctioned designation that helps draw tourists and interest to an area by celebrating the land, its geology, its related architecture.
I soon learned much more. June sparkles here. Roses, poppies and other flowers bloom along stone walls and around the vines. The summer crowds have yet to arrive. Time, too, has its own pace. If the islands of the Caribbean have island time, Beaujolais has vineyard time, typically measured around wine tastes and easy talk. No one seems hurried. The hours amble by.
Our first wine taste came before lunch, our second, third and fourth stretched until 7:30 in the evening.
Kathy and I went to bed dead tired, slightly tipsy and very happy. We had sampled eight different wines at three wineries, eaten a tasty plat du jour of chicken in mushroom sauce in an outdoor courtyard at Restaurant Le Saint Lager, spoken French for more than seven hours straight, and toured the hills and vineyards on small, winding roads, thankfully leaving the driving to others.
No question, it helped to have a fairy godmother of sorts. (That's mandatory in magic kingdoms, isn't it?)
Anna-Maria Yordanova, who studied anthropology in Lyon with my teacher Emilie, not only ate lunch with us, but orchestrated our day to perfection. She was patient, kind, funny and truly proud of her adopted region. She helped us find a beautiful place to stay in a vineyard. She taught us how to use le nez in inhaling a wine's aroma, how to swivel the glass to let the wine breath, how to appreciate its taste. And she introduced us to two other wonderful people, Gabriel and Michele Savoye, he a third-generation vintner who recently retired but still grows enough grapes to fill 1,200 bottles of Beaujolais a year under his small label Domaine des Chaponieres.
Like his wife Michele, Gabriel is a teacher, a man who knows and appreciates the wine and history of a region filled with small, multi-generational, family wineries. We learned, for example, that there actually are three types of wine in the region -- Beaujolais, Beaujolais Village and Beaujolais Cru -- and two types of rock in the soil, granite to the north and limestone to the south. That the region's growers can plant only one grape, Gamay, which makes up about 85 percent of Beaujolais wines. That there are thousands of wine domains in Beaujolais, including some with tiny parcels of land. And much more.
"For the wine you need three hands," Gabriel told us as we began our second real taste of the day, "two to hold the table and one to drink."
Though we were lucky to have such a wonderful guide, it's not hard to explore this region on your own. The people are friendly, the wine tastes free of charge. To make the most of your visit, I'd offer these suggestions: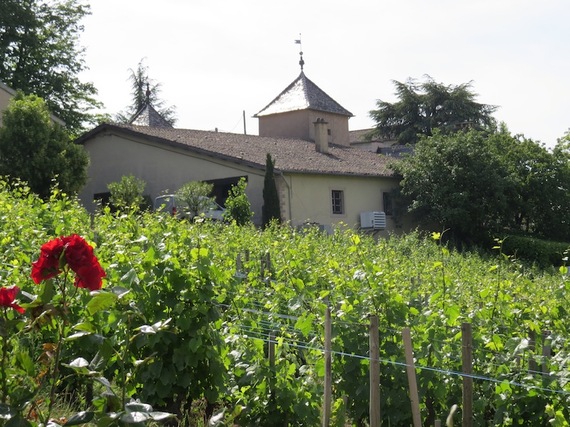 Slow down
Beaujolais is the kind of place in which life unfolds. Don't plan too much.
Get a good map
Kathy is a map nut, and this is her idea of heaven. You don't want to rely on a GPS system in Beaujolais. Explore the itty-bitty roads. They're not bad. And every turn seems to lead to another surprise -- a chateau, grazing sheep, an artisan's shop, a tasting room. Distances aren't great. Don't take the fastest route from A to B. Take whatever strikes your fancy.
Enjoy the food
For five months we relished the fresh vegetables and fruits of Aix-en-Provence's market. But when it comes to restaurants, this region seems to have the south of France beat. Remember, you're close to Lyon here, which for decades held the title of France's center of gastronomie. Look for where locals eat and use your nose.
Enjoy the wine
The wine-tasting rooms here are filled with good fellowship, good wine and lots of history. One thing we learned is that though the region is known for its red wine, its white wine is awfully tasty, too. We loved Caveau de Cru Morgon, opened as the first group tasting cellar of the region's wines in 1953. It's set in an 18th century chateau and has everything from massive wooden wine casks to a long wine bar, where you can order goat cheese ($2) or sausage ($8) to nibble on while you drink. And we particularly liked the wine at Chateau Thivin, the 6th generation winery from which we rented a gites or guest house to stay in.
Try a hike or a bike ride
Just to the west of Beaujolais is a mountainous countryside of grazing cows, forested trails and Queen Anne's Lace. It's possible to hike for miles along the ridge, descending into towns for a meal or a wine taste. Bikers are everywhere on the roads, too, and there are plenty of horseback riders. One hub of trails where we stopped and took a short walk can be found in St-Cyr-le-Chatoux, a village set at about 2,300 feet. Tourist offices in the area sell a hiking trail guide for about $8.50.

Consider staying at a vineyard or in a chambres d'hotes
You can find excellent hotels here. But this is the place to try something different. Stay amid the vines if you can. Our beautiful apartment at Chateau Thivin cost roughly $110 a night. It had a fully equipped kitchen, a porch, a view of Mont Brouilly, a tree loaded with cherries in the side yard, and lambs and goats jumping around just outside the gate. We loved it and would have stayed longer if it hadn't been booked for the weekend. The Practical Guide to Beaujolais, available in tourist offices for free, lists dozens of places to stay. Try something different from a desk clerk.
"OK, I'm ready to move here," Kathy said our second day as we drove toward Oignt, a restored fortress and village dating back to the 14th century that's on the list of les plus beaux villages de France (the most beautiful villages in France).
Well, maybe not ready quite yet. But we will surely return to this most charming region and, perhaps, leave our watches and clocks at home.