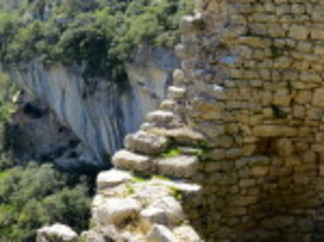 The fortress and village of Les Baux-de-Provence need no introduction from this blogger. The 11th century citadel is a magnet for tourists in Provence, with more than 1.5 million visitors each year. You'll find multiple pages on it in many guidebooks.
The ruin at Fort du Buoux is also in the heart of Provence. It draws perhaps several dozen visitors on an average day in early spring. It's little more than a footnote in most guidebooks and flies so far under the radar that the director of the language school in which we studied, IS-Aix, had never heard of it, though the school leads many trips around the region.
And yet Fort du Buoux probably commands a more beautiful view than its much better known Medieval counterpart. What's more, you can enjoy it largely on your own and at a fraction of the cost.
There's ample reason, of course, for Les Baux's fame. It is a largely intact fortress perched in a dramatic location overlooking the surrounding countryside. A visit here comes with a chance to explore the weapons and fortress walls through which its knights kept watch over the surrounding countryside centuries ago. There are audio guides, and lots of other media, displays and things to read. From time to time, Les Baux provides cross-bow and jousting exhibitions and other special shows. And the adjacent town is filled with eating and drinking establishments and tourist shops of all kinds.
If this is for you, gird yourself for the crowds and carry a bit of extra cash. Admission from spring through summer costs $14 a person and that doesn't include parking.
Fort du Buoux? It has no audio guide, no demonstrations of weaponry, no snack bar, no bathrooms, only modestly restored ruins -- and no people. Yet it's only an hour's drive into the Luberon Mountains from Aix-en-Provence.
What les Baux spells out, Fort du Buoux leaves largely to the imagination. Oh, there's a walking map, with sparse information in either French, German and English. And there's a wonderful auberge down the road, worth a visit for a drink, a dessert or a night's lodging if you're inclined. There's little else, however, but the wild. This is a climbing and hiking area with steep, striated cliffs. From the ruins themselves, there's a 360-degree view and little noise but the sound of the breeze or the occasional shout of a climber. Leave a good two hours for the hike -- and keep in mind that this is a place that demands sturdy shoes and a willingness and ability to walk.
The first time we visited Fort du Buoux, at 3 p.m. on a mid-February afternoon, we had the entire plateau to ourselves. No other cars were in the parking lot. The caretaker -- there is a $5.60 a person charge -- said we were the 12th and 13th people to come that day. An opera recording was playing inside her small stone house. I asked if she lived there year round -- the entire population of nearby Buoux today is 118 people. She said, "but of course."
Last week, when we visited again in the early afternoon of a sunny, 70 degree day, Fort du Buoux was positively bustling. We were the sixth car in the parking lot, and it wasn't until the second hour of our visit to the plateau that we again had it entirely to ourselves.
For the record, the valley on which the ruins stand was inhabited many centuries before the middle ages. A brief history handed to visitors says that the caves here have been occupied since the "mid-paleolithic" era, meaning since perhaps 100,000 years ago. It wasn't until the Celto-Ligurian Age, around the 4th Century BC, that people moved onto the rocky outcrop where Fort du Buoux was later built.
"From the earliest Middle Ages, this stronghold played an exceptional role in the defense of the country," the brochure handed to visitors notes. But Louis XIV, "always concerned with rising regional independence," ordered the fort's destruction in 1660.
What remains are 37 stops along the plateau, from the arch of the fort doorway dating back to the XIIIth century to a watch tower at the highest point of the plateau.
This is a stunning place, with distant views of snow-covered mountains and closer views of the striking cliffs rising from the valley floor.
Visit and stay a while. It doesn't take an audio tour to travel back hundreds of years in time. A staircase, a stone wall and a little imagination can accomplish that just fine.
Before leaving, however, you should bring yourself back to contemporary times and drive a mile down the road to the 27-room Auberge des Sequins. We stopped for a glass of wine on the patio of the auberge and so loved its lawns, stone buildings and lazy feel that we plan to return and spend a night.