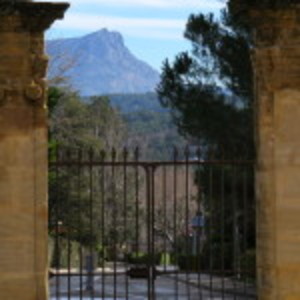 Don't get me wrong: I love to plan ahead when I travel.
I'll sit for hours in bookstores, flipping through guidebook pages in search of interesting places or suggestions. When we do hit the road, I'm sure to have a Rough Guide, Rick Steves or Lonely Planet tucked in a backpack or the car pouch.
Still, putting too much stock in guidebooks limits the serendipity of surprise and the opportunity to slow down and see the roadside flowers. That's especially true in a Provence, a region dotted with small villages and vineyards, cafes and crossroads, bustling markets and ruins, seemingly around every curve. Provence stretches from the southern French Alps to the Mediterranean Sea, from beyond the Rhone River fortifications to the beaches and chateaus of the Riviera. It's both too big and too small to bind intelligently in a tourist book. It's a place to explore.
So whatever piece of Provence you hope to see, look up from that travel guide. For one thing, the guidebooks will inevitably lead you to where everyone else is. For another, guidebooks are by definition dated. Sure, Roman ruins tend to stay Roman and ruined. But restaurants, hotels and shops turn over all the time. And most importantly, much of the joy of Provence travel comes from making your own discoveries, from poking around places that make up in character what they may lack in historic cachet.
I write this from experience. Midway through our fourth visit and second five-month stay in Aix-en-Provence, my wife Kathy and I are still discovering and writing about places we've never seen before, places we're finding on our own or with the help of friends.
Here are six ways that will help you set your own pace and course in Provence.
1) Walk frequently and take unfamiliar routes
It'll certainly help your conditioning. It's also a way we find lots of little surprises. Earlier this week, we decided to follow a new route to our apartment in northwest Aix, one that led us to a street called Rue des Chaudroniers (street of the cauldron makers). There we found an artsy place called Boutique des Musees that carries goods from museum stores throughout France. As we were admiring a coffee pot that looked like a woman, hand on hip, we heard, in English, "Star Market, Boston." We looked up to see an old acquiantance, someone we'd met in Aix seven years ago. Turns out she lives above the store.
About a month ago, we walked to Hotel Roi Renᅢᄅ in Aix from a direction we'd never taken. As we approached, we looked up and saw Mont Sainte-Victoire towering in the distance. We'd never before realized one could see the mountain from city center.
Visiting Avignon last week, we wanted to stop for lunch. We didn't just read menus. We looked in windows. One place, the Brasserie du Theatre across from the city's tourist office was packed, even at 1:30 p.m. We loved our light lunch, my wife Kathy's chevre chaud salad and my fish soup.
When we visited Aix-en-Provence four years ago, it had two English language bookstores. One, the Paradox Bookstore, was mentioned in Rick Steves' guide. The other, Book in Bar, was not. But it was easy to see that Book in Bar had a bigger collection; excellent tea, coffee and desserts, and a far livelier atmosphere. Today Book in Bar is mentioned in at least the guidebooks it stocks.
It's always packed. No one mentions Paradox -- if it still exists.
3) Listen to those locals
Just one of the seven restaurants recommended by our lovely landlady Martine, a native of Aix, appears in the latest Rough Guide. We've eaten in two of her suggestions that are not, Jacquou le Croquant and Le Bistroquet. Both serve well-prepared, traditional and reasonably priced Provencal meals. I mean yummy. Yesterday, at Jacquou le Crouquant, I ordered the confit de lapin, rabbit. It came with a warm plum on top, squash, beans, asparagus and potato gratin. The raspberry coulis we shared for dessert was just as good.
Last week, we drove to the village of Banon in northeastern Provence at the advice of my French teacher Juliette. Turns out the village has one of the most remarkable bookstores in France, Le Bleuet, with 100,000 titles. It's one of many places we'd have never found relying solely on guidebooks.
4) If something intrigues you, stop the car
Seven years ago, on my first sabbatical in Provence, we were driving the narrow and largely empty D17 south of Mont Sainte-Victoire, when we saw a sign, a dirt road and an inn with colorful umbrellas. We stopped for a glass of wine at Le Relais de Saint Ser, chatted with the owner and learned of a one-hour hike to a chapel, dating back 1,100 years, halfway up the mountain wall.
That day we didn't take the hike. But we returned later in our stay for a sumptuous, three-course lunch at the inn, a French wedding party at the next table. Afterwards, we hiked to the chapel. Last week, we returned to find the inn closed for renovations. But the hike to chapel, La Chapelle Saint-Ser, was just as much fun. Neither chapel, guest house nor D17 are mentioned in any of the three or four Provence guidebooks I thumbed through yesterday.
5) Read rental comments religiously
I'll be honest. When traveling overseas, I'm not a fan of Yelp or Trip Advisor in looking for restaurants. For one thing, too many Americans seem to want to eat only what's familiar. Right now the top-ranked Yelp restaurant in Aix is a pizza place.
I have, however, learned to rely heavily on the comments of others in renting apartments. In fact, I won't put money down on a place that doesn't have reviews.
The apartment we're renting in Aix this year is spacious, sunny, quiet, reasonably priced and an easy walk to town. The bed is good. It has two patios, front and back, for morning and afternoon sun. But at first we hesitated to rent it because the landlady lives downstairs and we could see that it's near a busy circular route around Aix. The comments of previous renters sold us. They said it was quiet, that it had good beds and that the landlady is both friendly and discreet. All proved true.
6) Trust your instincts

We thoroughly enjoyed Peter Mayle's best-selling A Year in Provence. He wrote it while living near Menerbes, a village we never visited because of what we had read.
"Menerbes is (in)famous as the village that drew author Peter Mayle's attention to this region, but offers little of interest (unless you're into corkscrews)," wrote Rick Steves.
Again, really? Last month, I finally convinced Kathy to visit. We found the town charming (if a bit hoity-toity). It has views of surrounding vineyards and mountains, a perfect park for a picnic, narrow streets to poke down, a few interesting shops.
No, there is no Palace of the Popes here. No Eiffel Tower. Nothing terribly weighty. But Provence is a place to experience, not check off a list. That's precisely why relying too heavily on those guidebooks will get your wanderlust lost in the fine print.