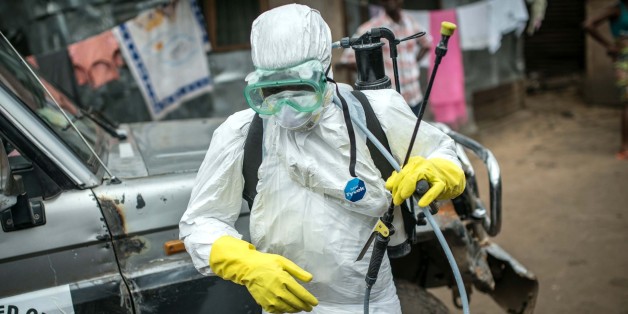 President Obama has cleared his schedule for a second consecutive day to focus on the United States' response to Ebola, NPR reports. Thank goodness, because the government's response to date has had as many holes as Swiss cheese.
In a front-page article today, The New York Times' Kevin Sacks writes that if Texas Health Presbyterian Hospital in Dallas is the "canary in the coal mine for the country's Ebola response, the results have not inspired confidence."
Pretty much the same thing, it seems, can be said about the federal Centers for Disease Control under the direction of Dr. Thomas R. Friedan. Two pieces of news circulating today are particularly discomforting.
1) The second Dallas nurse to be diagnosed with Ebola after treating Thomas Eric Duncan not only flew to Dallas from Cleveland the day before going into the hospital with Ebola, but got clearance for her flight from "federal health officials" though she reported having a low-grade fever.
2) In another article, The Times reported that "Sean G. Kaufman, who oversaw infection control at Emory University Hospital while it treated Dr. Kent Brantly and Nancy Writebol, the first two American Ebola patients, called the earlier C.D.C. [safety] guidelines 'absolutely irresponsible and dead wrong.'" Furthermore, the article said, Kaufman warned the agency "as recently as a week ago" that its safety guidelines for handling Ebola patients were inadequate, yet told The Times, "they kind of blew me off." (Finally today comes news these guidelines will be strengthened.)
By this time, most of us know all the caveats about Ebola, most prominently that it's transmitted only by contact with bodily fluids and not through the air.
But we also know Ebola is a deadly disease rampaging through West Africa at exponential rates. Its mortality rate is comparable to the Bubonic Plague. So it's well past time for this administration and the medical system to get things right. This includes applying the rigorous standards and protocol for using protective gear developed by Doctors Without Borders, providing and monitoring training in hospitals, tracking all those known to be exposed and, perhaps, even restricting the travel plans except in emergencies of those being monitored after exposure to the disease. It's also clear that in order to coordinate a public response and to inform a panicked public, the president needs to appoint someone who can communicate with him, the public, and doctors and hospitals around the country.
That needn't be Sen. John McCain's "czar," but it needs to be someone.
Yes, so far there are but a handful of U.S. Ebola cases. The key right now is to keep it that way, not tell the public a lot more people die of the flu.
With the American public, competent action will count far more than hollow reassurances.