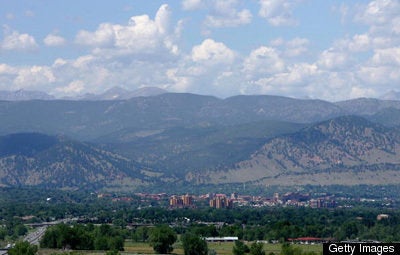 Sometimes all it takes to get people buzzing is a new catchy phrase.
That happened this week when Foundry Group venture capitalist Brad Feld told attendees of the Boulder Economic Summit that he thinks Boulder has a really great "entrepreneurial density."
Boulder, the city that whips itself into a frenzy in nearly any discussion of "growth," has had more than its share of "density" debates, usually around downtown high-end condos or retail redevelopment.
But somehow entrepreneurial "density" suddenly sounded like a pretty good thing.
On an "entrepreneur per capita," Feld said, "this place feels special." The city's "large enough to be interesting, but small enough to get your mind around," he continued.
Feld is a Boulderite who, in blue jeans and loud shirt, keeps Boulder's sport jacket and tie types (OK, yes, they are Jerry Garcia ties) wondering just what he's going to come up with next. After all, it's Feld's business to invest in entrepreneurial ventures and try his best to make sure they succeed.
And the more innovative entrepreneurs Boulder breeds is good news for the network of lawyers, bankers, accountants, real estate brokers and financial advisers happy every time the entrepreneur's ship does come in.
This year's one-day Boulder Economic Council summit, titled "Boulder's Innovation Economy," just happened to coincide with Boulder Startup Week, a four-day event packed with seminars such as "The Mobile Web and Why It Sucks," a bike ride up Flagstaff Mountain, happy hours and overall tweeting geek networking of mostly 20- to 30-somethings all hoping to be the next Mark Zuckerberg, or, at least for now, to get onboard early with a fast-tracking Internet startup.
At a Boulder Startup Week kickoff party at Boulder's Trada, Gabe Kangas, founder of Omaha-based startup Hollrback, marveled at how he was one of seven lucky geeks picked for a free plane ticket to Boulder and a place to stay "as long as you aren't allergic to couches" to join the startup activities.
"I have no idea why I won," Kangas smiled, "but Omaha looks up to Boulder as the big brother of what it's trying to do."
Kangas fits the profile of the hundreds of young entrepreneurs that duke it out every summer for a coveted spot at Boulder's TechStars.
One of Boulder's real success stories over the last few years, led by Boulder entrepreneur David Cohen, Feld and a slew of volunteers and business mentors, TechStars is a business incubator model that's worked so well it's now been duplicated in Boston, Seattle and New York City.
The competition for about 10 slots in the three-month Boulder summer program is intense among web and software startups from around the globe, with hundreds of competitors. Yes, they're competing for the $17,000 in seed funding, but more importantly, they receive one-on-one access to a network of mentors and eventual introductions to angel investors.
"We figured out how to professionalize a system for angel investors," Cohen told a panel on information technology at the summit. In the five years the program's been maturing, nearly half of all the participating firms ended up staying in Boulder. And from the first 20 companies that went through the summer business camp, seven were acquired, an almost unheard of successful exit rate.
Boulder, a city of only 200,000 but with a mountain backdrop and biking, climbing, kayaking, brewpub-hopping and at least four Italian wood-fired gourmet pizzerias, has one crazy entrepreneurial eco-system that everyone loves to try and define. And it just seems be keep getting better -- right through the recession.
Home-grown web and software companies like Agile and Trada compete for elbow room with startup clusters in natural foods, outdoor sports, biotech, info tech, aerospace and clean tech. There's a few other software companies snagging computer engineers -- Microsoft and Google, to name a few. Although the city's local venture capital community is much smaller than Silicon Valley, good deals are never ignored, said VC Kyle Lefkoff with Boulder Ventures.
Colorado itself, CU economist Rich Wobbekind told the summit, is always in the top U.S. rankings for venture capital investments, number of patents and Small Business Innovation Research grants per capita.
"Capital is extremely portable," said John Grubb, a managing partner with Boulder's Sterling-Rice Group, a long-time Boulder-based advertising and marketing company that bucked the need to be in L.A. or New York but still attracts name-brand national clients.
Boulder is one of those places where business leaders are accessible, easy to meet for coffee (coffee shop density is intense, too) and serial entrepreneurs keep giving back. "Sometimes I'm having IM conversations at 1 or 2 in the morning," said Robert Reich, a founder of OneRiot who launched the Tech Meetup in Boulder, an event that's become so popular it attracts a standing-room only crowd to its meetings on the University of Colorado campus.
"Boulder is an open-door community," where businesspeople in all sectors are willing to share their experiences and help each other, summit panelists agreed.
Silicon Flatirons Center is one more "connecting" point for entrepreneurs, said Brad Berthal, the center's director. The University of Colorado law school center brings in national experts and facilitates discussions on telecommunications, IT and entrepreneurism.
Boulder's thirst for networking fills up monthly open coffee club meetings, Entrepreneurs Unplugged speaker sessions, and wild Ignite Boulder meetings called "Geeky Goodness," where presenters race through five minutes to teach something on any topic with 20 Powerpoint slides timed to 15-second intervals.
The list of challenges for Boulder's entrepreneurs, discussed at the summit's wrapup, revealed little that hasn't been haggled over for years.
* The city's lack of larger commercial space means that many fast-growing companies eventually will find larger and better-priced space outside of the city limits. But that's good news for a healthy Boulder Valley-wide roster of high-pay employers in cities like Longmont, Louisville and Broomfield.
* Boulder still doesn't have its own space for small to medium-sized conventions that could handle meetings of a thousand or more. Frank Hugelmeyer, CEO of the Boulder-based Outdoor Industry Association, said if the city did have such a meeting facility, his group might try to develop its own "Thought Leader" center, bringing in leaders from an industry now valued at $289 billion.
* And Boulder business leaders, year after year, almost always ponder what seems like quite a bit of just plain good luck. "Boulder's been fortunate, but a little too passive," one panelist said, in branding its entrepreneurial innovation.
Maybe, heads of the panelists nodded in agreement, it's time to talk more about "the highest density of entrepreneurs in the world."