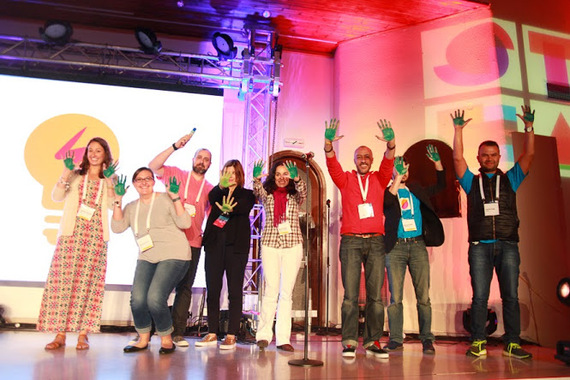 I had the unique privilege to attend a recent WPP Stream conference, hosted by Sir Martin Sorrell and Yossi Vardi. The self-proclaimed (un)conference, included leaders within B2C and B2B companies, advertising and media companies, venture capitalists, academia, entertainment, and start-up companies.
The guiding principles for Stream are designed to encourage free-thinking and informal interactions (no PowerPoint allowed) with the greatest portion dedicated to concurrent series of self-selecting, discussion groups. Key organized events included "Gadgethon" -inventors and entrepreneurs competed to win by showcasing their gadgets (e.g., cat meow translator, drones, and fat thinning iPhone application for photos), "Ignite" -individuals shared "their most inspiring story" with all attendees, animation drawing and sculpture workshops, and "The Pitch" to be discussed below.
This fusion of participants from multiple disciplines and geographies in a fluid, interactive environment underscored five leading challenges and opportunities facing the marketing world.
The Technology Race: technology is a top agenda for CXOs, as enterprises and agencies alike are grappling to understand how technology impacts the way they interact with customers/ partners and the way they run their business internally. While technology promises opportunities for increased productivity and enhanced user experiences, it's also a disrupter -- growth companies keep an eye out for the next generation of game changers. For CMOs, this focus on technology is amplified, as customers expect brand interactions to be delivered with personalized and relevant content, at the time it's required, and where it's most likely to be consumed. This technological mastering of the customer experience requires: (1) a single source of customer truth, (2) knowing the customer's whole experience, and (3) being ready to shift with the customer.
Diversification: diversification can help organizations through globalization, portfolio mix, and by bringing differing points of view together to create business solutions. Organizational top-line growth can benefit by having growth and loss spread across different geographies and/or product lines. With variance in-market, due to political or environmental factors, it's incumbent upon companies to identify those pockets of growth to maximize overall profit margins. Globalization provides unique opportunities in developing markets (e.g., South Africa), as countries leap frog and adopt mobile technologies (e.g., wallets, banking), prior to the consumers ever having internet access via computers or iPad devices. Lastly, bringing different points of view together from various geographies, disciplines, genders, orientations, and generations to create solutions increases the chance of "best-in-class" thinking emerging.
The Monetization of Advertising: through robotics, it's estimated that 20%-40% of digital advertising is fraudulent, due to publishers misrepresenting their URLs through masking. Fraud by robots doesn't stop at click through rates -- robots can complete registration pages, watch videos, and even complete purchase transactions. This problem is likely to increase as more advertising dollars are earmarked for digital marketing, especially if organizations make price the key determinate in the media companies and business partners they chose and/or use reach as a primary, key performance indicator of campaign success.
Corporate Social Responsibility: brands realize the importance of giving back to the community and the benefits of connecting with their consumers on a personal level in order to achieve a common goal. Giving back was underscored at WPP Stream through "The Pitch", whereby 7 teams competed on a campaign to raise awareness/funding for Ebola on behalf of the Save the Children Foundation. While all campaigns were strong there were two winners:
- "Wi-Five, Give5" - a movement that raises awareness and donations for Ebola with digital high-fives or a "wi-fives". People share photos of digital high fives and donate5 to Ebola.
- Green Hands - a sponsored soap product that leaves your hands green for a couple minutes to raise awareness for Ebola. Each product sold helps raise money for Ebola.
Importance of Brand: having a strong brand is critical for today's environment, as strong brands outperform weak brands on both valuations and stock price. Through social media listening, brands can understand in real-time: (1) what conversations are happening, (2) where they are occurring and (3) who are the most influential voices, and directly interact with their customers. Regarding brand acquisitions, a mutually beneficial relationship can happen between start-up companies and the parent brands who acquire them - the parent brand gets growth and subject matter expertise, the start-up gets instant notoriety and access to a mature base of customers.
The speed of technology transformation has direct impact on organizations and growth markets alike, which is especially true in marketing. Successful companies are able to: (1) identify the technology and data that are the most relevant and (2) apply them to being more customer-centric. In addition to a creating a resilient portfolio, diversification provides organizations with diversity in thinking - allowing companies to tap into alternative ways of creating business solutions. With an increasing dichotomy in social economics (this dichotomy also fosters the monetization of advertising), organizations and individuals alike are giving back to the community, which provides an opportunity for individuals and brands to interact together in ways never possible before via social media.
Strong brands are in a unique position to be a platform for something much greater than the sales of their products or services alone, which is best exemplified by WPP and its generous sponsorship of Stream.
To visit SAP's key owned digital properties; visit sap.com, SAP Community Network and our corporate LinkedIn, Twitter and Facebook and YouTube pages.