What's the most popular fruit in the United States? It's eaten in more quantities than oranges and apples put together. It's a fruit so beloved it's sent here from thousands of miles away.
Give up? It's the banana.
"The banana is by far the most popular fruit worldwide.We consume about 25 pounds of bananas per person per year," explains Dan Koeppel, author of Banana: The Fate of the Fruit That Changed the World. "It's the cheapest fruit in the supermarket even though it's very perishable and imported great distances." Also, the banana has been around for a very long time. "People have been growing bananas for about 10,000 years," adds Koeppel, "which puts us right back in the dawn of organized agriculture. It's the oldest cultivated fruit."
The banana can also be well paired in interesting combinations. There's bananas foster, the famous New Orleans recipe. Banana vodka. How about Jufran Hot Banana Ketchup? Or ever try peanut butter and bananas? "It's an amazing combination," says Lee Zalben, president and founder of Peanut Butter & Co. "Sweet, creamy bananas are a great foil for rich, savory peanut butter." The beloved combination was recently taken one step further when Peanut Butter & Co. and Turkey Hill joined forces to create a limited batch all-natural Banana Peanut Butter Ice Cream, featuring banana-flavored ice cream swirled with Peanut Butter & Co.'s Smooth Operator peanut butter.
And today being National Banana Lovers day, Koeppel shared some cool facts about America's beloved fruit.
Bananas don't grow on trees. (Trees have bark and the banana plant doesn't have bark.) The banana plant is actually the world's largest herb and closely related to vanilla and ginger.
And bananas, like apples and watermelons, can float in water. Who knew!
Bananas were never really heard of until 1880. However, by 1910, they were so popular that cities had a problem disposing of used banana peels. Back then, there was no urban sanitation and people were literally slipping on banana peels and hurting themselves. In fact, in 1910, the City of St. Louis had an ordinance specifically prohibiting people from throwing banana peels on the ground. And for much of the early 1900s, one of the suggested Boy Scout manual good deeds of the day was to pick up banana peels from the street.
For more fun banana facts, click on this story at Parade.
The limited edition all-natural Banana Peanut Butter Ice Cream from Peanut Butter & Co. and Turkey Hill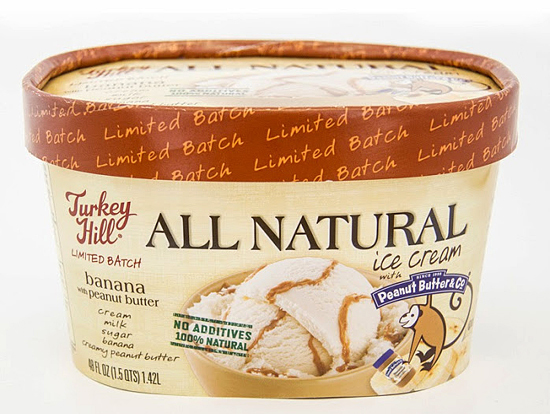 (Photo used with permission.)