Several years ago, when best-selling novelist Ridley Pearson was reading Peter Pan to his 5-year-old daughter, she covered up the book and asked a question.
How did Peter Pan meet Captain Hook in the first place?
How exactly did Peter Pan become Peter Pan? Pearson was intrigued and inspired. He mentioned the idea to his pal and bandmate, Dave Barry. (The both played in the Rock Bottom Remainders with Stephen King, Amy Tan and other literary luminaries.)
So the friends soon decided they would write a book about how a boy became Peter Pan. A prequel of sorts, Peter and the Starcatchers became a best-seller. Luckily for us, the novel became the basis of Rick Elice's evocative and multi-layered play, Peter and the Starcatcher. The show, which opened this past April and was directed by Roger Rees and Alex Timbers, won five Tony awards.
Peter and the Starcatcher is refreshingly short on special effects and pyrotechnics, but overflows with imagination, innovation and gorgeous lines like, "to have faith is to have wings."  Twelve actors play more than 100 roles, from sailors to orphans to trees. Set designer Donyale Werle, devoted to working sustainably, used as many recycled materials possible -- including kitchen timers, turkey basters, plastic bottles, ropes, corks, buttons and zippers.
The one female in the stellar cast is Celia Keenan-Bolger. The wildly talented and eclectic actress was nominated for a Tony award when she debuted on Broadway in The 25th Annual Putnam County Spelling Bee and more recently played Mary Flynn in Merrily We Roll Along at City Center Encores. I had the opportunity to chat with Keenan-Bolger to talk about Peter and the Starcatcher, playing a child once again, marrying fellow actor John Ellison Conlee and the rest of her talented family.
You're so convincing as 13-year-old Molly. What is like to play a young girl?

Molly is so amazing that you don't even feel so much like she's a little girl. I also like that at the beginning of the play, we all walk out as a group of actors and basically tell the audience that we're going to share this story. Then throughout the prologue we transform into the characters we're playing. So I feel a little alleviated of the pressure to make people believe that I'm actually 13 years old. But with Spelling Bee and a couple of other projects that I've done, I do tend to play younger.
The show is creative in every way, right down to the mermaid costumes that are designed with kitchen sink drains, bottle caps, combs and plastic mustard bottles.
I think that the costume designer, Paloma Young, probably had one of the smallest budgets that's ever been given to somebody to create a show on Broadway. So she used such incredible imagination. The detail on the costumes, especially the mermaid costumes, are just so brilliant and hilarious.
I love that you and your brother, Andrew are both staring on Broadway right now. (Little brother Andrew Keenan-Bolger stars as Crutchie in the hit Tony-winning show Newsies.)
The fact that we get to live in the same city, that we're both basically doing what we dreamed about for all those years growing up, and that we're doing it at the same time -- I do not think that is lost on either of us. It's so special.
With your show's schedule, have you been able to see Newsies yet?
I've seen it a couple of times. He's just amazing. The musical has so much dancing and unbelievable athletics. I remember the first time seeing that beginning scene between my brother and Jeremy Jordan. I just burst into tears because it was so sweet and quiet and such a lovely beginning of what was going to be a pretty wild evening. That moment always stays with me.
Growing up, did you put on shows together?
We were definitely into it as kids. I did a lot of community theater around Detroit. My sister is also an artist and a teacher and was an actor for years, I remember when I was a little bit older, I did You're a Good Man Charlie Brown. We would do sections of whatever show I was in so the three of us would do those shows in the basement. We did a lot of The Wizard of Oz, which I was also in. I played the scarecrow, much to my disappointment, and my brother and sister were munchkins.
Who was the basement director?
I'm sure it was me. I'm six years older than my sister and seven years older than my brother. The age difference isn't so significant now. But when we were kids, I was definitely the boss.

Do you remember that first moment where you thought there's nothing else I want to do other than perform?
When I was about 5, I saw The Sound of Music at a community theater. I loved the "So Long, Farewell" scene. I sill love that musical. I'm not sure that I was able to say this is what I want to do for my life, but I remember feeling something like, I have to do this. And I started children's theater right after that.
Then, in the eighth grade or so, I was in The Grapes of Wrath and played the kid, Ruthie. I remember reading the book and doing the play and thinking, Maybe theater is not just all fun and amazing singing and dancing around? Theater could actually affect people's lives. I remember people coming and seeing that play and having a very big experience. I thought this could be something that could interest me for a very long time. There was a theater grad school in downtown Detroit and so whenever the needed a kid, I was in Cat on a Hot Tin Roof, and The Christmas Carol. I did a couple of things with them whenever they needed a young person I got to be a part of it.
Was music a big part of your life growing up?
Huge. My grandparents would always play records. My grandmother plays piano so I would sing with her a lot. I would sit on her lap or sit on the piano bench and we would sing Rogers and Hammerstein songs from her big songbook. I don't remember people saying, "You have a great voice." But people said, "You have very good pitch for a young person.' I could sing on key, I guess.
You were in The 25th Annual Putnam County Spelling Bee before it went to Off-Broadway and then Broadway.
We started in this little cafeteria in Barrington, Massachusetts [at the Barrington Stage Company]. If you'd told me in that cafeteria that we were performing in for the summer, that the show was going to be on Broadway, I would have never believed it. But James Lapine came to see the show when it was in Barrington. I remember being so excited that he was in the audience because he was a real hero of mine and then finding out that they were going to produce it Off-Broadway, and that James was going to direct it. I was really, really excited to just to do it Off-Broadway. It also seemed sort of ragtag to imagine it on Broadway. And then after we opened Off-Broadway, to good reviews, they pretty much immediately planned to move it to Broadway. For many of us in the cast, it was our Broadway debut. We'd been with the show for a while, so it was really special. It's similar to Peter and the Starcatcher. When you do a show twice before you do it on Broadway you feel a part of people's lives, of the company's lives. You become really good friends and you start to really care about each other. So getting to start rehearsals for a Broadway show with a bunch of people that you really care about is a magical thing.
Your husband [John Ellison Conlee] is also a successful actor. How do you balance life and work together? [Tony-nominated for his role in The Full Monty on Broadway is also a recurring guest star in the TV series Parks and Recreation.]
For so long, I thought, I will not end up with another actor. I think it's just really hard and so many of them are a little bit nutso. I'm just the luckiest person in the world because my husband is very sane, very supportive and enormously talented. We get to share our experiences and really understand one another's lives. But we're also pretty well rounded and interested in things outside of the theater. It helps a lot, too, that our entire lives don't revolve around our careers and our job. He works in television and film a lot more than I do.
I read that you got married in Vermont because you wanted to wed in a place that recognized same-sex unions. [The couple were married in 2010.]
Both of my siblings identify as gay. And John and I have so many gay friends that we thought we couldn't ask all of those people to celebrate us in a place where they weren't allowed the same rights. And both of us really love Vermont. It was a perfect place to get married.
You and Andrew recently appeared in a reading of your sister's Maggie's play, Queering History, to benefit Green Chimneys NYC, which assists LGBT homeless kids who have been kicked out out their homes.
Celia Keenan-Bolger My sister has been working with a LGBT Homeless Shelter. Her degree is in applied theater, so she went into the shelter and wrote a play with the kids to try to help them feel less marginalized. My sister sort of provides a map for the kids so they can tell their stories and draw from their experiences. And my brother and I got to do a reading of it with a bunch of other Broadway performers and kids from shelter. That was an amazing experience and a great family affair.
For more information about Peter and the Starcatcher, visit, www.peterandthestarcatcher.com
Celia Keenan-Bolger as Molly in Peter and the Starcatcher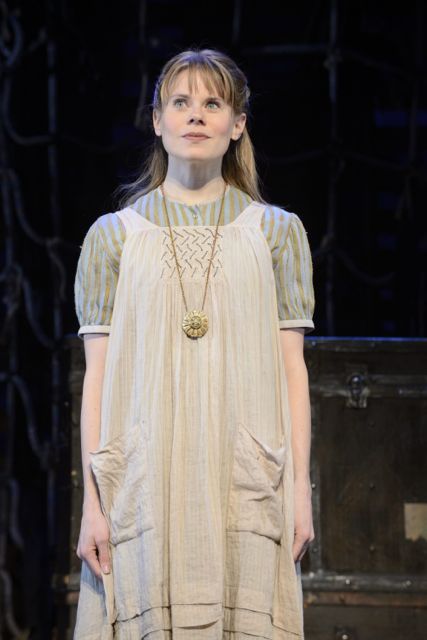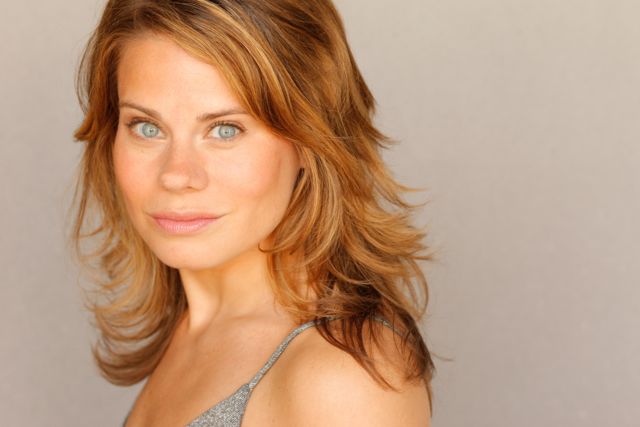 With castmate Adam Chanler-Berat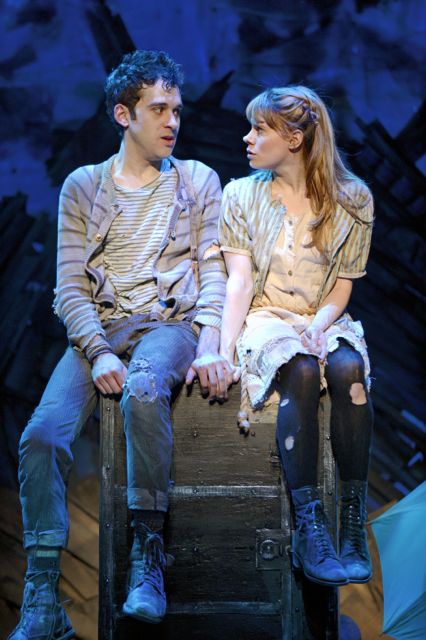 Photos Courtesy of O&M Co.