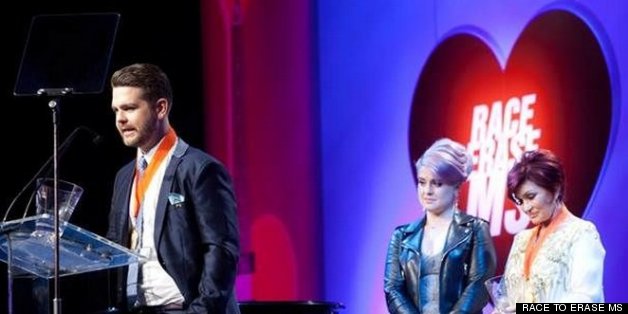 When she was 33, Nancy Davis was diagnosed with multiple sclerosis. It was 1991, Davis had three young sons. There was no cure and no available drugs on the market. She went to a doctor and the only advice he could offer was to "go home, go to bed and expect to stop walking," says Davis who has black belt in karate, is a serious skier and plays tennis. Her doctors told her that she would be lucky just to operate the TV remote control.
Unwilling to accept her doctors' grim prognosis, by 1993, Davis founded Race to Erase MS. The organization's key mission is to raise funds for aggressive, cutting-edge and promising research in an effort to find a cure.
Davis also saw the need for the top MS research institutes to join forces and communicate. So Race to Erase funds The Nancy Davis Center Without Walls program which  brings together top MS researchers from Johns Hopkins, Yale, UC San Francisco, USC, Oregon Health Sciences University and Harvard. In order to have their studies funded, the researchers are required to regularly communicate with each other and share the results of their studies and findings -- even if they fail. In fact, this past march, the FDA approved the ninth drug to treat MS. And Davis has since given birth to twin girls and is thriving.
Since Race to Erase MS's inception, Davis and her team have organized the much beloved the Race to Erase MS benefit in Los Angeles at the Hyatt Regency Century Plaza. Now in its 30th year, the annual event has raised over $30 million for multiple sclerosis research to date. Held on May 3, this year's benefit was once again a star-studded affair with Rod Stewart, Ray Romano, Anne Heche, Neil Patrick Harris, Cybill Shepherd, Amy Yasbeck Linda Gray, Harry Hamlin, Lisa Rinna, Ziggy Marley, Howie Mandel and many others.
Guests filled the Los Angeles Ballroom at the Hyatt Regency Century Plaza (the largest ballroom in Los Angeles) and rocked as Taio Cruz sang Dynamite. Elton John joyfully performed Tiny Dancer, Rocket Man, Your Song and many of his classic hits. He even gave a generous nod to Rod Stewart. "Rod and I have been battling around for 40 years or so, and we're still around and at the top of our game," John declared. "I love him very much. We've had our differences, but in the heart we're great mates."
When Davis presented the Medal of Hope Award to Sharon Osbourne and Jack Osbourne (who was diagnosed last year when he was just 26), she said, "he had just become a father and was diagnosed at a time in his life when his career and family were at an all time high. Jack, sought out information to make the best of his diagnosis and to chart a positive course for his life with MS." As for Sharon, Davis shared, "She really rose to the occasion and made it her mission to do everything in her power to help publicize what MS is. They have put a new face on this disease and made it not so shameful." When it was his turn to talk, a humbled Jack Osbourne was visibly moved and told the crowd, "this is like the bar mitzvah I never had."
Here are a few highlights from the festivities:
When it comes to auction items, impressive is an understatement. And this year was no exception.There was five night stay in a luxurious villa at Vomo Island Resort on a privately owned island in Fiji and adventures far (like the African safari) and near (a jaunt to La Valencia Hotel in La Jolla). A Centenary Edition DB9 Aston Martin Coupe was also snatched up. "The car has picked my husband's interest, but I said, 'don't even think about it,'" said Melissa Rycroft. "And two years ago we almost walked away with a little maltese." Four years ago, Camille Grammer actually won a white convertible Mercedes AMG 63 series at the gala. "I'm still cruising in it and I love it, It's one of the best cars I have," she said. Christine Devine an anchor on KTTV's Fox 11 News revealed one of the more unusual items. "I'm so embarrassed to say it, but at one silent auction we bid on fertility treatments. How LA is that? And we won!"
Many of the guests, like actress Lea Thompson, showed up out of pure love for Nancy Davis and her family. "I'm such fans of the Davis family. I've been friends with them for 30 years. Marvin Davis [Nancy's father], produced All The Right Moves, my second film. It's really great cause and I admire them so much. La Toya Jackson added, "there's Nancy's kindness, her gentleness, her serenity. Nancy is always so mellow and calm. And I love nice and positive people."
Sara Gilbert gushed about Sharon Osbourne, her co-host on The Talk. "Sharon is the most real person. She's unfiltered and such a fighter. No matter what she goes through in her life, she faces it head on and that's really inspiring. It makes me want to take on the fight with her. She's got this wild side, she'll say anything and be uncensored, but she's the kindest most sincere person. I see her treat people come up to her who are fans and treat them like family. She's very nurturing."
The month of May not only marks the 20th Anniversary of the Race to Erase MS event, but also acts as "Orange You Happy to Erase MS" awareness month. www.shop.erasems.org features a variety of products for sale with all or a portion of proceeds to benefit the cause. Items include a Stuart Weitzman Frenchcuff, coral suede shoe and a limited edition Damiani silver, and round diamond necklace -- all specially made for Race to Erase MS.
Elton John not only sang eight songs but added a bit a comic relief. "The only reason I'm doing this is that Sharon [Osbourne] has so much information on me," kidded the superstar. "The Osbournes have been my friends for so long. I know Sharon for longer than 35 years. She is a fighter, a survivor and a crusader. And Jack is an amazing boy and has great courage like the whole family."
For more information visit EraseMS.org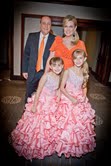 Nancy Davis, her husband Ken Rickel and their twin daughters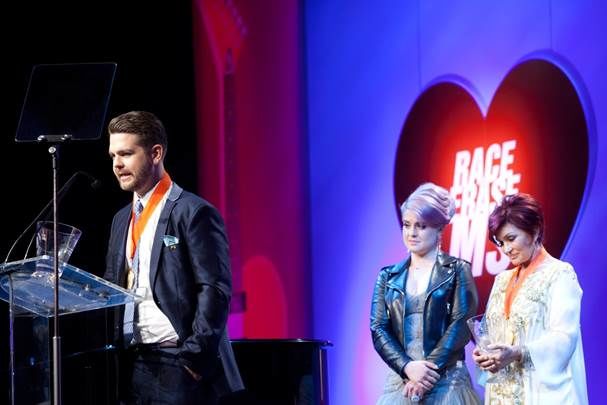 Jack, Kelly and Sharon Osbourne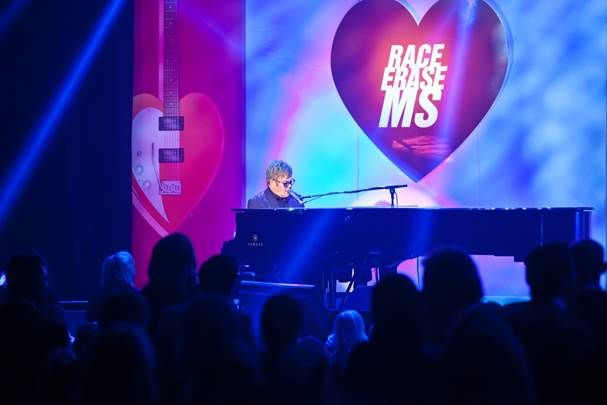 Elton John Performs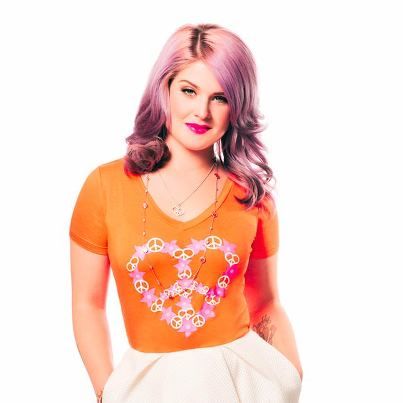 Kelly Osbourne models the Race to Erase MS t-shirt, exclusively designed by Peace and Love Jewelry by Nancy Davis.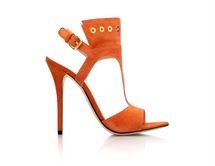 Stuart Weitzman's Frenchcuff, coral suede shoe
Photos used with permission.