If you only heard sections of this online video commercial without seeing it, you might have an idea of the product advertised.
I've always believed that real innovation sits at the crossroads of technology and art -- where intelligence and simplicity combine to create something that is truly magical. From the moment you pick it up, you instinctively know how to use it. There's no up or down there are no rules at all when it comes to holding it. I don't change who I am to fit the product. It fits me.
But think again. Curiously, the ad is NOT an Apple commercial. It's actually an advertisement to promote the debut of a new flavor, Stride Mintacular chewing gum. The hilarious mockumentary with actors in black shirts against a white background, brilliantly parodies Apple ads. In fact, it already has over 550,000 hits on YouTube.
The star of what the ad calls the "celebrity-endorsed chewing product," is no other than snowboarder/skateboarder and two-time gold-medalist Shaun White, whose photo is emblazoned on all the packaging. Last week, to celebrate the launch of the sugar-free gum, White and Hunger Games actress, Leven Rambin, (who soon stars in Chasing Mavericks with Gerard Butler) were on hand at a a New York City 7-Eleven. The store emptied its shelves for a limited time and stocked it only with Mintacular gum.
I had the chance to briefly chat with the White and Rambin about certain chewy subjects.
Q: Growing up, were you one of those kids who had to chew gum all the time?
Shaun White: Yeah. I was all about any sort of candy. But gum was one that you could eat and get away with. It was, mom's cool with buying me [sugar-free] gum, rather than tons of sugar filled kind of stuff.
Leven Rambin: Yes. But I liked the sugary kind, which was really bad for you. I had to go to a hypnotist when I was about, 15 to stop chewing so much gum. It was pretty intense. I was just an oral thing. So, now I definitely found a happy medium. Moderation is key.
Q: Is there etiquette when you're out and about to chewing gum?
Shaun White: I don't know, but it's an instant friend maker. You're like, "Hey! Want a piece of gum?" I mean, it's kind of the opener for any scenario. We were doing some of the commercials and looking at studies of gum. I's interesting, because gum is shown to help be a confidence builder.
Q: So, Shaun, shifting to the Olympics, what would surprise us about your training this time?
Shaun White: What's interesting is that we had built this giant facility out in Silverton, Colo. for me to train. And the only way we could get there was by helicopters and snowmobiles. Because it was only for a limited time that we used it, and then we had to tear it down. So we kind of one-upped that, At Northstar in Tahoe, we built the same sort of scenario. But when I'm not there we open it up to the public. So, every kid at the mountain can come ride that half-pipe and learn the trade. That's where I'm training. It's like, if you got to play like, Kobe Bryant's private court or something. So that's like my secret zone, but it's not so secret when I open it up.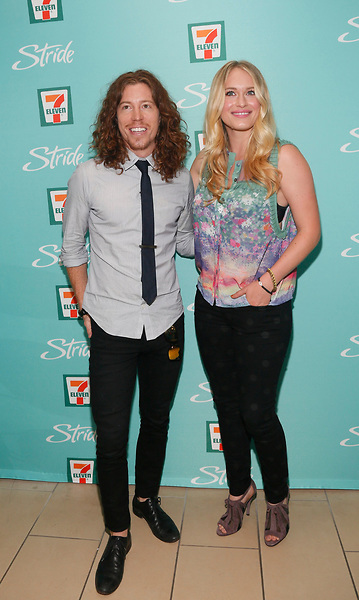 Shaun White and Leven Rambin celebrate the launch of Stride's new gum flavor, Mintacular, in New York City. (Photo and YouTube link used with permission.)