George Bernard Shaw said, "The great advantage of a hotel is that it is a refuge from home life." Quite right, but for many people hotels are a place of business, a pretty exciting one at that. Money Magazine once ranked a hotel general manager as having one of the best jobs in America.
Yet, with some exceptions, the profession is still a man's world. According to the American Hotel & Lodging Association, there are about 51,000 lodging properties in the U.S. Only a small percentage of them employ female general managers. This is especially true at luxury properties.
Enter Shan Kanagasingham, general manager at the esteemed Surrey Hotel in New York City. Malaysian born, multilingual and educated at Ecole Le Roches in Switzerland, Kanagasingham has worked in the luxury hospitality industry for two decades. She's only been at the Surrey for a year, but the Upper East Side hotel has already seen a significant increase in revenue. The 1920s Beaux-Arts-designed townhouse with a lavish mosaic tile floor, a Café Boulud and private English roof garden, has become a go to spot for Manhattan hotel dwellers, especially those who stay long term.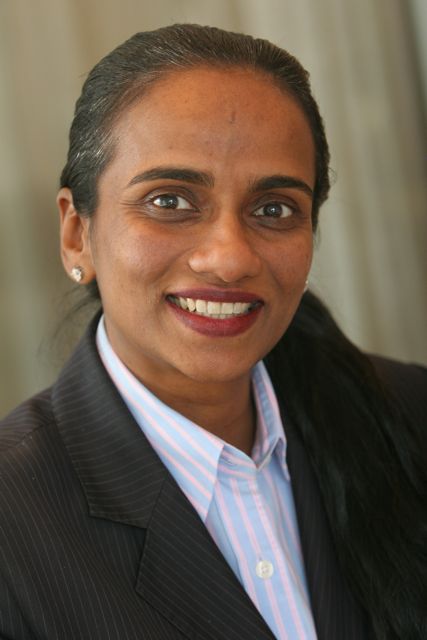 Kanagasingham shares her story.
Q: When did you know that you wanted to work in a hotel?
Shan Kanagasingham: My first love was travel. I was born in Kuala Lumpur and was fortunate to go to boarding school in the United Kingdom. So I traveled back and forth. My family then moved to London and as children, we traveled extensively. My father worked in government and traveled and he took us with him. I adored discovering different people, cultures and languages. At some point, I connected the dots and thought, if I work in a hotel that would enable me to enjoy the richness of the world through my job.
Q: What is one of your earliest hotel memories that stands out?
Shan Kanagasingham: When I was about nine or ten-years-old, I stayed at the Peninsula in Hong Kong. I remember afternoon tea there. It's such a tradition and celebration of food and tea. For a young girl, it was absolutely special with all the chocolate, scones and sandwiches.

Q: Have you worked in many hotels?
Shan Kanagasingham: This is my tenth move in twenty years. After I attended university in Switzerland, I had an amazing opportunity to join Ritz-Carlton. They hired me right out of school. Actually, Four Seasons and Ritz-Carlton both asked me to join their groups, but Four Seasons was in an urban destination and Ritz-Carlton was in Kapalua, Maui with palm trees and beaches. So the choice, especially when I was twenty-years-old, was quite simple.
Q: What do you adore about your job?
Shan Kanagasingham: I have to say, it's developing people. I think about some of the jobs I've held and the staff who have been loyal. Most recently, I was in Miami and six of my leaders relocated with me, which was very kind of them. When I think how they started and where they are today, that's definitely my biggest pleasure. I always say, we're not saving lives. But if someone has the desire and passion to want learn and grow, it's my absolute pleasure to provide that opportunity and help them develop. It's the greatest privilege to do that. I employ 400 people, but each of them may have two children and a spouse. That's really 1,200 lives that my decisions influence. And so I take that very seriously.
Q: Lately, the property is really experiencing a surge in extended stays, which is interesting, especially in this economy.
Shan Kanagasingham: From 2010 to 2011, extended stays grew by 50 percent. Designer, Lauren Rottet, did the interior designing for The Surrey and she made it very much like one's home. Most guests buy suites. They have a living room, a private bar to make an in-room cocktail, double vanities, club chairs. There's a refrigerator and stovetop for those who want to cook. The color scheme is also very soothing.
Q: So now that you are living in New York City, what's your favorite thing to do here?
Shan Kanagasingham: I am huge fan of museums from the Guggenheim, to the Whitney, to the Metropolitan Museum of Art. But the MoMA (Museum of Modern Art) makes me feel like I am home, because it reminds me of the great museums in Europe - like you could be in Paris. I love going to the Bar Room at the Modern in the MoMA and having lunch. Sometimes I go by myself. It's a great place to people watch visitors from all over the world and locals, is always lively and has great buzz. And they make a great dirty martini with an olive.
I also love being in Central Park and seeing all the buildings from that perspective. Walking from the East to the West, you run into the spot by the boathouse where people rent model boats and sail them in the pond. The first time I saw Central Park, I was 24 years old. It was winter and I thought, my God this is just amazing how everything was just beautiful and white. Everyone said, it's so cold. But I thought, it doesn't matter. There's nothing like New York. This is the most amazing place on earth.
Q: The surrey has a private outdoor rooftop lounge, which is rare for a New York City.
Shan Kanagasingham: We don't have many roof gardens on the Upper East Side, so we are fortunate to have one. It's such an oasis and only open to hotel guests and patrons. Because it's private, people have an access card to get in and it's unexpected. You can find 360-degree views Central Park, all the beautiful buildings and the Metropolitan Museum of Art. When the weather is beautiful, we serve great cocktails and light fare from Café Boulud downstairs. We have selection of muddled lemonades, executive chef Gavin Kaysen does parmesan truffle dusted French fries, Wagyu beef sliders, artisanal cheeses and rosemary focaccia with smoked mozzarella and beef bresaola. And there's a wonderful charcuterie plate with pate and cured meat. Of course, the pièce de résistance is the warm Madeline. A guest will arrive and say okay, I want a cocktail, but I need a warm Madeline as well.
To learn more about the the Surrey, visit, http://www.thesurrey.com.