Last week, Ryan Seacrest launched the 2013 Ford Fusion in the center of Times Square in New York City. So I asked the American Idol host about his mettle behind the pedal.
Q: What kind of driver were you when you first learned how to drive? 
Ryan Seacrest: I was actually not a bad driver. My father used to take me to a parking lot about 10 minutes from where i grew up and we would learn how to go forward, go backward and learn how to parallel park. So by the time I could really drive, I wasn't so bad. Just a few minor fender benders. Nothing major, thank God. 
Q: Did you pass on your first try? 
Ryan Seacrest: I did pass on my first try, but i have to tell you,  I was nervous.You know,  I'm not nervous when I'm hosting American Idol, but I remember being nervous. Anytime I'm testing, I'm nervous. I still actually get a little parallel parking fright, now to this day, because we don't have to do that very much now, but I do get a little bit of parallel parking fright. 
Q: What is your favorite spot to take a drive?
Ryan Seacrest: I like to drive home, because I'm so rarely there. It's nice to go from where ever I go back to the house.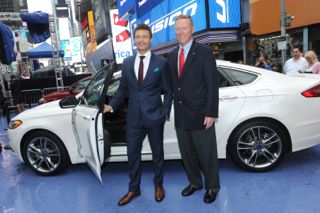 Ryan Seacrest, (left) and Alan Mulally, Ford's president and CEO, launch the new Ford Fusion in Times Square
(Photo courtesy of Ford. Used with permission.)
Correction: In a previous version of this post, the Ford Fusion featured above was incorrectly identified as the 2012 model. It is a 2013 Ford Fusion.