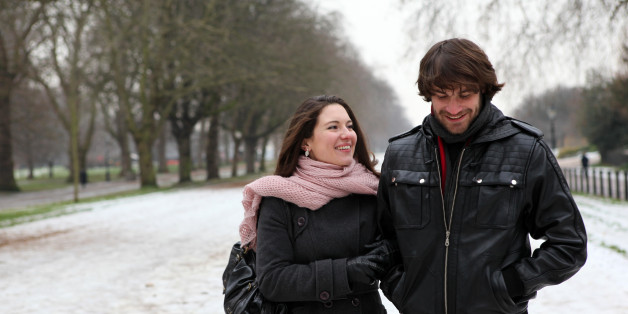 Baby, it's cold outside. The polar vortex may have consequences that are more than environmental. While we always have known that weather affects behavior, Zoosk's recent study indicates that neither rain nor sleet nor snow can prevent individuals from finding love! Online dating activities may vary, however, according to the weather conditions you face. So, what does this year's love forecast bring us?
Rain
"What a glorious feeling I am happy again..." Chances are you're not a cast member of "Singin' in The Rain." If you are looking for love, however, you might be singing the refrain from the song "Rain, Rain Go Away!" In cities like Chicago, LA and Houston, where online dating activities decrease when raindrops are falling on your head. While seemingly counterintuitive, individuals do not spend their free time searching for the one when rain fills the street. Although rain may put a damper on one's everyday or extracurricular activities, the rain does not encourage people to look for love. Perhaps individuals have a hard time mustering the courage to put themselves out there online when their mood is already low. Although the answer may not be clear, the solution could be to wait until the skies are slightly clearer or filled with snow until sending that next message.
Snow
Singles on the East Coast and in the Midwest should rejoice over the recent snowfall. While the winter of 2014 is one for the books meteorologically, the winter of 2014 may also be known for relationships blossoming. According to Zoosk, white, fluffy precipitation increases online dating activity significantly. In New York City, 56 percent more messages were sent and 38 percent more profiles were viewed during recent snow storms. Individuals may be more likely to look for that special someone when snow rather than rain is falling because snow is traditionally considered to be romantic. We all want that special someone to cozy up with in front of the fire, or at least that is what the data suggests.
Fog
Cloudy with a chance of online dating signups. In cities like Phoenix, Chicago and New York City, foggy skies signal more online dating signups. For example, there was a 45 percent increase in online dating signups when clouds filled the skies in Phoenix. In other words, fog brings snow, showers and online dating success.
Blue skies may not be singing a song for prospective lovers. While you may be unhappy that gray skies and precipitation interfere with your morning commute, remember that gray weather might bring some sunshine to your love life!