The recent arrest of Shia LaBeouf at a performance of Cabaret in New York City and his decision to seek treatment for substance abuse are just the latest in a series of incidents that have established the 28-year-old actor as a cultural lightning rod. What began as plagiarized Twitter apologies for his plagiarized short film, HowardCantour.com, has expanded into a series of stunts enacted in various locations around the world. In a manifesto that the actor tweeted in December, entitled "TWITTER AS ART," LaBeouf called his antics "meta-modernist performance art":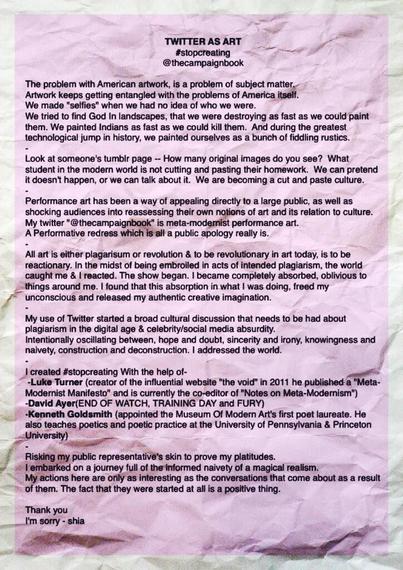 This manifesto, along with a second one, entitled, "But Is It a#RT?" (pictured below), were removed from Twitter shortly after they were posted. His name then appeared in the byline of a document originally called "The Metamodernist Manifesto":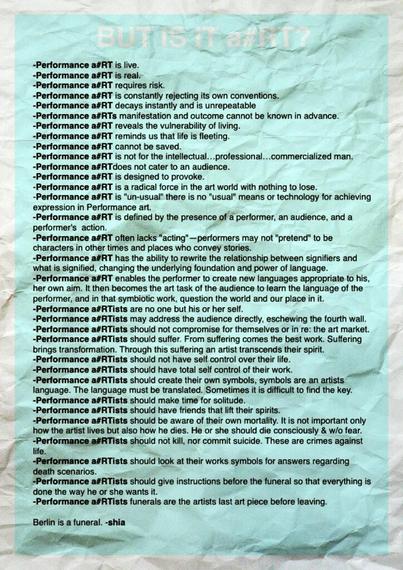 In response to LaBeouf's theatrics, James Franco -- whose film Palo Alto was released this spring -- came out in defense of his Hollywood peer in The New York Times:
Any artist, regardless of his field, can experience distance between his true self and his public persona. But because film actors typically experience fame in greater measure, our personas can feel at the mercy of forces far beyond our control. Our rebellion against the hand that feeds us can instigate a frenzy of commentary that sets in motion a feedback loop: acting out, followed by negative publicity, followed by acting out in response to that publicity, followed by more publicity, and so on.

Participating in this call and response is a kind of critique, a way to show up the media by allowing their oversize responses to essentially trivial actions to reveal the emptiness of their raison d'être. Believe me, this game of peek-a-boo can be very addictive.
LaBeouf's recent activities have been typified by uncertainty over whether they are performances or indicative of a real-life implosion. The same questions could be asked of Franco's behavior over the last few months. He made headlines in April for his correspondence with a teenage tourist in New York City, and most recently earned the ire of North Korean dictator Kim Jong-un for his upcoming film, The Interview; Jong-un maintains that the movie is an act of belligerent provocation. Only days later, a new "Metamodernist Manifesto" appeared online, purportedly penned by Franco -- who is currently enrolled in the English-literature Ph.D. program at Yale.
Similar in form to LaBeouf's earlier manifestos, but different in content, this new response to the cycle of publicity and infamy Franco has criticized raises the question: What's going on here? Given its lack of promotion and uncertain authorship, we can't know for sure if this is his work, but with its structural resemblance to a piece he published in The Common in May, is it possible that Franco is staking a claim to his own brand of performance art? If the last few months of national and even international publicity for LaBeouf are any indication, we'll soon find out.