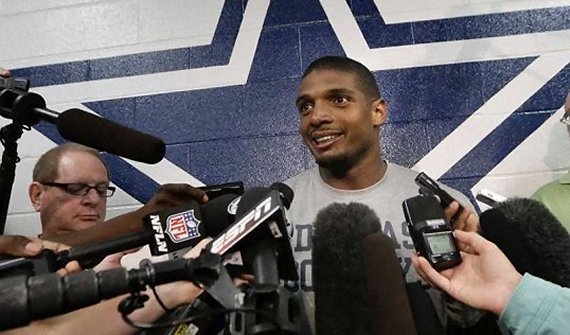 Michael Sam addresses the media after signing with the Dallas Cowboys (AP photo)
Michael Sam has joined America's Team.
On Wednesday Sam officially became the first active, openly gay player in NFL history when the Dallas Cowboys signed him to their 10-man practice squad. The Cowboys, nicknamed "America's Team" since 1979, are currently in need of defensive reinforcements, and Sam, the 2013 SEC co-defensive player of the year and a unanimous All-American, appears by all accounts to be a great fit. And while many in the LGBT community (including me) would have loved Sam to be immediately thrust into a starting role, given a multi-million-dollar contract, and anointed league MVP on his first day, the significance of his signing -- even if just to the practice squad -- should not be underestimated.
Texas is among the most conservative states in the nation when it comes to gay rights. Its constitution was amended by popular vote in 2005 to ban same-sex unions by a whopping 52-percent margin. The state does not protect employees from discrimination based on their sexual orientation or gender identity, and a law requiring teachers to refer to homosexuality as "not an acceptable lifestyle" and "a criminal offense" remains on the books even though the Lawrence v. Texas decision struck down Texas' sodomy laws over 10 years ago.
One might reasonably think that Cowboys owner Jerry Jones is taking a significant financial risk in signing an openly gay player to a team that operates in such a conservative state. That said, the team has repeatedly asserted that the decision to sign Michael Sam was based on football, not politics. "We're bringing a player in we wanted to see on the practice field and got nothing but good reports about him," said head coach Jason Garrett shortly after Sam was hired. "We just want to give him a chance to come in and see if he can help our football team." He downplayed Sam's sexuality, simply calling his signing "a good move for our football team right now."
That said, signing Sam could also be a shrewd business decision. The Cowboys are already the NFL's most valuable franchise, with an estimated 2014 net worth of approximately $3.2 billion. (The average team valuation is $1.4 billion.) Merchandise sales make up a significant portion of that revenue, and Michael Sam's St. Louis Rams jersey -- he was drafted by the Rams and played four games for them during the preseason -- has been the NFL's sixth-bestselling jersey since April 1, beating future hall-of-famers like Tom Brady (seventh), Drew Brees (eighth), and Aaron Rogers (ninth). Sam's appeal could translate into big bucks for the Cowboys, who are already ranked number one in the list of most popular NFL teams, a distinction they've held every year since 2007.
The risk of fan backlash against an openly gay player seems to be fading as well. In early 2013, nearly a year before Sam came out in The New York Times, Cowboys fan site The Landry Hat conducted an informal poll asking its readers if they'd support an openly gay Cowboys player. Some 55 percent said they would, with many participants adding that an athlete's sexuality was a non-issue for them. An ongoing ESPN poll is similarly encouraging, with 64 percent of Americans saying they believe the NFL is ready for an openly gay player.
With national sentiment steadily shifting in favor of LGBT equality and acceptance, it's heartening that Michael Sam's signing is being seen as a football decision not just by Cowboys leadership but by a majority of fans as well. And by looking beyond the SEC All-American's sexuality and simply giving him a chance to play, the Dallas Cowboys have proven that they truly deserve to be called "America's Team."