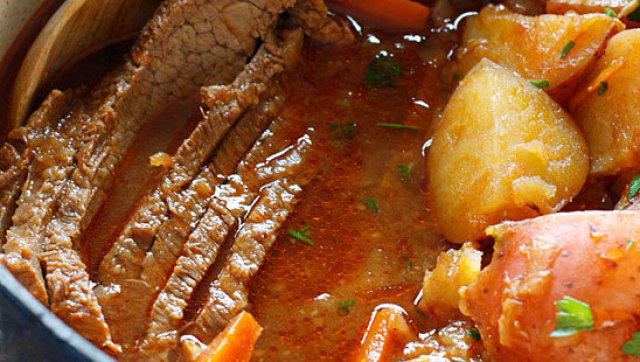 We were giving a dinner for an Important Person, so we made up a guest list of friends we regard as Important.
It is a measure of my wife's skill in the kitchen that we don't hesitate to invite Melissa Hamilton and Christopher Hirsheimer, the team that produces the Canal House cookbooks.
Because the Important Person was foreign, we decided to give him an All-American meal: Sloppy Joes and Mac & Cheese. Naturally, both recipes had been personalized.
Christopher noticed.
My wife explained: "Before I sprinkle buttered breadcrumbs on top of the macaroni, I put on slices of American cheese."
Christopher had an admission of her own -- there's a brick of Velveeta in her refrigerator.
The moral of that story: The foundation of Hamilton and Hirsheimer's success is their deep populist understanding of the unlimited bounty that America offers to those willing to embrace it, contradictions and all.
Really, these women might as well have stepped out of a Norman Rockwell painting. After decades at the pinnacle of New York food magazines, they set up shop along the Delaware River, just across from New Hope, Pennsylvania. In their little town, there's still a noon whistle, and church bells toll the hour.
Their studio, located in an old redbrick warehouse, overlooks a canal. But "studio" makes their loft sound professional. They prepare food on an old wooden carpenter's worktable, with their pots and pans hanging overhead. They cook on the kind of stoves you find in rental apartments. They have a dishwasher, but prefer to clean up by hand.
But let them tell you about their workplace:
In warm weather, we throw open the French doors and the voices of the people walking or fishing below float up to us. We plant herbs in our window boxes and grow tomatoes in pots on our wrought-iron balcony. In the winter we build fires in the Franklin wood stove to keep cozy when its snowy and gray outside.
It is a dream. And yet it is their lives. Enviable? Yes, especially because they come in every day and live that day -- these are women of weather and season, of inclination and intuition.
Of course they toss stale bread to the ducks in the canal.
Of course, in late summer, they eat tomato sandwiches over the sink. ("The tomatoes are so sensual that they should probably be eaten behind closed doors.")
Of course they have a "studio dog" they take on walks.
Of course they wear aprons all day.
Of course their idea of a big dream involves acquiring a... walk-in refrigerator.
Everything about Melissa Hamilton and Christopher Hirsheimer delivers the same message: We won the lottery. We get to live authentic lives and cook real food and write books that are both creative and simple.
Disclosure: If I sound certain of these perceptions, it's because I know these women. They were friends of friends when I wrote about their first, self-published cookbook. By Number 2 and Number 3, admiration had become acquaintance. By Number 4 I was like those groupies who run after the rock star's limo. By Number 5, 6 and 7, we were in a form of friendship.
Not, however, the kind of friendship that has them confiding in me. So I was stunned to get a 384-page brick of a hardcover book, with 250 recipes and 130 of Hirsheimer's photographs and Hamilton's illustrations. Canal House Cooks Every Day is just that: recipes for every season, using ingredients of the season.
That means you get tone poems to asparagus and berries, hymns to tomatoes. Again, let them speak:
We call ourselves salt-and-pepper cooks. We forsake the convenience of the supermarket and live in the season -- slicing big ripe tomatoes, preserving tomatoes, grilling leeks, roasting chickens and slathering them with herb butter, foraging for chanterelles, turning corn into succotash, baking berry cobblers, and making apricot jam. Cooking is a wonderful way to immerse yourself in the season around you... .
And an easy way. Want to make deviled eggs but have no time? Split hard-boiled eggs, spread mayonnaise over them, drizzle with olive oil, sprinkle salt and pepper. And... done. Spare ribs? Baste them with hoisin sauce and bourbon. Chicken in a pot needs only scallions. And no recipes call for foam or truffle oil.
The book's final recipe? Thin, crisp chocolate chip cookies. Of course.
Some recipes...
Cleansing Ginger-Chicken Soup
Serves 6

Ginger has long been known for its health benefits. Prized for its anti-inflammatory properties, it is also known to calm an upset stomach. We love the heat it adds to this rich, satisfying broth. We remove the chicken breast halfway through cooking to keep it tender and juicy. The purity of this broth needs little else, but if you want more substance, add rice or noodles.

1 onion
Sliced 2 ribs celery
Chopped 1 big hand fresh ginger (about 8 ounces), unpeeled and sliced into big pieces
1 clove garlic
10 black peppercorns
1 organic chicken, cut into 7 pieces (2 breasts, 2 thighs and legs, 2 wings, and the back)
Salt
Handful fresh cilantro leaves

Put the onions, celery, ginger, garlic and peppercorns in a heavy large pot, then add the chicken pieces, placing the breasts on top so they will be easier to remove from the hot broth halfway through the cooking. Cover with 4 quarts cold water and bring just to a boil over medium-high heat. Reduce the heat to low. Skim off any foam that rises to the surface.

After about 30 minutes, remove the chicken breasts and set them aside to cool. Continue to gently simmer the soup for 1½ hours.

Remove all the chicken from the broth and set it aside until it is cool enough to handle. Pull off and discard the skin, bones, and gristle. Strain the broth through a fine-mesh sieve into a bowl then return the broth to the pot. Boil the broth over high heat until it has reduced to about 8 cups. Season with salt to taste.

Put a handful of chicken in each of 6 individual bowls, then ladle in the hot broth. Serve garnished with cilantro leaves.


Braised Beef Brisket with Onions & Currants
Serves 4-6

We're often looking for ways to add saltiness or sweetness to a dish by using more complex ingredients than straight-up salt or sugar. Anchovies, capers, preserved lemons, and pancetta are some of our favorite saline seasonings. In this recipe, we add sweetness to the beef brisket and its rich, silky braising sauce with onions, ketchup, sherry vinegar and dried currants. This is how we build flavor. The trick to cooking is learning how to balance flavors and seasonings while keeping them from getting murky. We've been cooking a long time and we're still learning constantly. It's one of the reasons we love to cook.

2 tablespoons olive oil
4 medium onions, sliced into thick rounds
3 cloves garlic, peeled and crushed
One 3-pound beef brisket with a nice layer of fat
1 tablespoon pimentón
Salt and pepper
1 cup ketchup
2 tablespoons sherry or red wine vinegar
1 cup dried currants or raisins

Preheat the oven to 300°. Heat the olive oil in a large enameled cast-iron or other heavy ovenproof pot with a lid over medium-high heat. Add the onions and garlic and cook until softened and slightly collapsed, about 5 minutes. Remove the pot from the heat. Rub the brisket all over with the pimentón and a generous seasoning of salt and pepper. Put the brisket in the pot, fat side up on top of the onions.

Stir together the ketchup, ½ cup water, the vinegar, and currants in a small bowl, and pour over the brisket. Cover the pot and transfer it to the oven. Braise the meat until it is very tender, about 3 hours.

Remove the pot from the oven, then transfer the meat to a cutting board. Skim off the fat from the sauce. Slice the meat and serve with the sauce.
Cross-posted from HeadButler.com.