The Decision was unlike any event TiqIQ has ever seen, and we don't expect to see anything like it for a while. It was drama on media-injected steroids, and for a night it was the center of the universe. It also recalled a pre-DVR world, and the kind of must-see TV that could gather families, nuclear and otherwise.
To measure how big it was, we looked at the Ratio of People In Attendance to TV Viewers for seven notable 2009-2010 events, including The Decision. The Verdict: The Decision was 10x higher than anything else this year, and likely an all-time viewer/attendee record.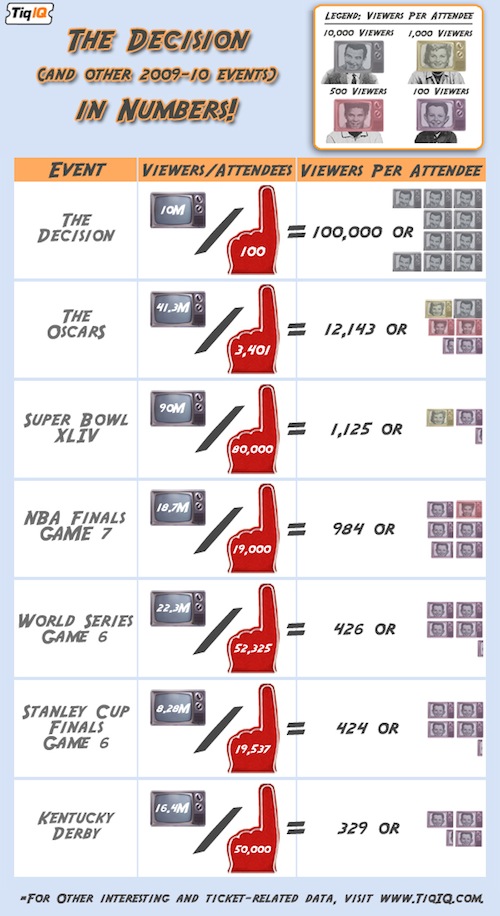 Approximately 10 million people tuned in to ESPN to see LeBron announce that he was taking his (considerable) talents to South Beach. The crowd at the Greenwich Boys and Girls club gym numbered approximately 100, all on folding chairs in the 1939-built Clubhouse that seemed almost miniature next to LeBron, both the body and the decision. Of those 100, approximately 70 were Boys and Girls, 10 or so were with James family and around 20 were sports journalists. Notably, one was Kanye West.
For an event of this magnitude, a crowd of 100 seemed unfathomably low. We actually thought LeBron could have sold tickets, and at TiqIQ, we like anything that we think could sell tickets. So, the above is our attempt to strip down 'The Decision' to 'The Numbers' and see if we can measure its uniqueness, with some degree of objectivity.
While the official records are kept for the historical viewership/attendance ratio, we feel pretty safe in declaring this an all-time record; a record that will likely hold for a long time to come, regardless of how many rings LeBron wins in Miami.

(We're also wondering what would have happened if Kayne had turned it into 'The Interruption'. We're thinking that might have given LeBron time to reconsider his decision and make one that came a little closer to justifying the epic hype).
Cross-posted from TiqIQ